Today, manufacturers of smartphones and computers are both trying to make each and every aspect of using their technologies as simple and user friendly as possible. Cross-platform operations, like transferring files from PC to smartphone and back, are getting easier and quicker than ever. You just need to stay up to date with the modern solutions to this problem. In this article we'll be taking a look at some ways that can help you save time and effort when it comes to transferring big files from and to various devices with different operating systems.
Transferring Files From Windows to Windows
Usually, Windows to Windows transfers are not a problem at all, and the best way for a single file transfer is probably using Bluetooth or Wi-Fi Direct. Make sure both Windows devices are Bluetooth compatible and have version 4 or above. This will ensure the fastest transfer possible. Wi-Fi Direct works much like Bluetooth, except for the fact that the data exchange is made over the Wi-Fi connection. If your signal strength is low, you should probably think of another way to do it, as it will take you a lot of time to transfer big media files.
Wi-Fi Direct is much faster than Bluetooth, but the downside is that it isn't as universally available across devices as Bluetooth is.
Another way may be using Dropbox or a shared local folder. Keep in mind that a free Dropbox account allows you to share up to 2GB of files only. If you need a higher size limit, you may want to consider FileWhopper, which lets you send up to 5GB for free and actually has no size limits with paid service.
Transferring Files Between Windows, Mac, and Linux
It may be a real headache having to transfer large files between Mac, Linux and Windows, and not only because of the size. The thing is that every operating system uses its own file storage type. While most Windows computers use NTFS, Macs use APFS or HFS+ and Linux works with EXT3/EXT4. It's not always an easy task to convert the formats to fit a certain operating system.
However, transferring from Windows to Mac still isn't that hard to do. macOS X 10.6 and higher versions are able to read and write in NTFS format, so you can actually share files and folders easily.
Transferring between Windows and Linux is quite similar. One thing you should do prior to starting the file transfer is set up a folder that can be accessed by the other system. To do this in Linux, you'll have to install cifs-utils and samba on Windows.
Transferring Files Between Windows and iOS
In most cases you will probably want to transfer music or some media files from Windows to iOS. For this purpose, iTunes is a good option, but launching it on a Windows computer can be a real problem. If you want to avoid this trouble, you have to think of FileApp, which is a file manager app available on both iPhones and iPads. Using it you can easily open different file formats native to Windows OS, like MP4, PDF, PPT, etc.
The most interesting feature in FileApp is the option to connect devices using Wi-Fi so you can directly upload and download files. The only issue is that anyone can actually connect and have access to all the files.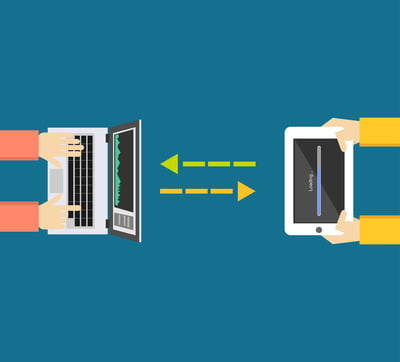 Transferring Files Between Windows and Android
Using Google PlayStore, you can easily download programs like FileApp that can turn any Android device into an FTP server. When the app is turned on and active, you can instantly connect your Android device and manage files.
There are so many apps that do this job effectively that you can look at a few and choose the one you like.
You can always resort to a standard cable connection which will ensure safety and maximum speed for your transfers. The cable option is the best when you need to transfer a big amount of data, as using the app the speed depends on your Wi-Fi connection while the cable allows for direct transfer.
Transferring Files Between Any Two Devices
The ultimate way to share and transfer files across different operating systems and devices is using cloud storage. To choose the best one for you, read our article.
As described above, FileWhopper is the best service to transfer big files and folders. It actually provides users with the option to send up to 1Tb online with a one-time payment based on file size. In case you need a smaller amount of data sent, you can simply use Dropbox or Google Drive.
You can also use your email to send small files attached to the letter. It's quite convenient for both the sender and the recipient, and it's totally free.
Another good tool is the app called Feem which helps to transfer files from one device to another directly using the same Wi-Fi network. The transfer is really quick and works even without the Internet. Feem is available for Windows, Mac, Linux, Android, and iOS devices.

Any Other Ways to Transfer Files?
If you need a single transfer, it's best to go with device-specific options to ensure the best possible speed and safety. However, nowadays online file transfers are getting easier and less expensive, so that you can consider cloud technologies in any situation.