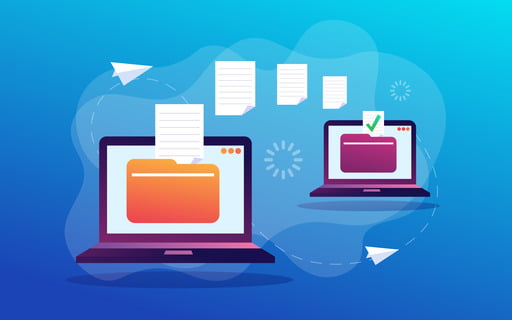 Migrating to a new PC is always an exciting moment because it comes with a lot of cool features that your old PC couldn't provide. However, despite all its beauty and coolness, your new PC is a clean slate, meaning there are things on your old machine that you can't leave behind. I am talking about your personal files, work files, audio and video files, and your computer settings. Although it's a fresh start, you still want your new PC to be familiar so you can easily maintain or increase your productivity, hence the need to transfer important things from your old machine.
Although transferring files from an old Windows 10 PC to a new PC might seem an easy task, the volume of data is usually too big to mail it. So, to solve the issue, I have come up with the best options that you can consider when looking to migrate to a new computer. With these trusted methods, you can migrate important files to your new Windows 10 PC with no hassle at all.
Option 1: External Storage Device
This is one of the easiest options, and in most cases, it is the most reliable method of moving your files from an old Windows 10 PC to a new one. To get things done, you can choose from various external storage devices available, such as USB drives, SD cards, and external hard drives. Here are some of the advantages of using this method:
There is no need for an internet connection, the installation of dedicated software, or using third-party services. You do it all by yourself, and you don't have to be an expert.
External storage drives are portable and convenient to use. You can carry them around wherever you go.
Using a USB drive to migrate your files is one of the fastest and most cost-effective methods available.
Take note, if your PCs have got USB 3.0 ports, I advise you use them. This will help you move your files fast as speed is of the essence when migrating a lot of data. Here is how to transfer files from PC to PC in Windows 10 using an external drive:
Connect your external drive to the old Windows 10 PC.
Identify all the wanted data and copy it to the external drive. Even if you are moving your files, you may not want to cut them at this stage just in case something goes wrong with the external drive.
Connect the external drive to the new Windows 10 PC and paste the files to your preferred location.
Option 2: Data Transfer Application
Data transfer applications are an easy and fast way to transfer files if both of your PCs are connected to the same network. There are a bunch of data transfer programs that are cost-effective and easy to use. These programs can perform an automatic transfer of applications, data, profile settings, etc. to your new Windows 10 computer. Here are some of the advantages of using this option:
With these programs, you get to transfer everything at one go. By just performing a single click, you can migrate data, apps, and account settings to your new Windows 10 computer.
The option is compatible with all Windows versions, including XP, Vista, 7, 8, 8.1, and 10.
When things get tough, there is always technical support to fall back on. With a certified PC data transfer expert just around the corner, you can perform a quick setup of your new Windows 10 PC without any hassle.
Option 3: Cloud Drive
You can use this method to transfer data from an old PC to a new one with the likes of OneDrive and Google Drive at your disposal. What makes this option ideal is that you can migrate files from a Mac to a Windows 10 computer as well. Using a cloud drive will help you get your files to the new PC without losing their setup. This method lets you continue right from where you left off even after migrating your files to your new PC. Here are the advantages of using a cloud drive to migrate your files to your new PC:
There is no limit to the type of device or platform you use, so you can even use Android and iOS devices. With cloud drive migration tools, you can even perform a cross-platform migration without facing any issues.
After loading your files to a cloud drive, your data will be backed up and protected. That means even if you lose your device, you can always get your files from the cloud drive.
You can transfer your data, such as documents, images, videos, and other files, using a cloud drive. Here is how it works:
Select the cloud drive of your choice and open an account with it.
The steps to loading your data to your cloud drive vary depending on the brand you are using; however, they don't differ significantly. You can upload your data by accessing your cloud drive platform and then looking for the "Add" button or symbol.
Once done uploading your data, you can then head over to your new PC and access your cloud drive app. Enter your login credentials, and all uploaded files will be available for download.
Although cloud drives are ideal, note they have certain limitations to the size of data you can upload. Therefore, if you have got a large volume of data, the option can prove to be expensive with most of the apps. However, there is always a solution to everything. I advise you check out FileWhopper if you have got extremely large files or folders to transfer from an old PC to your new Windows 10 computer. FileWhopper is perfect as it allows you to transfer all of your data at one go regardless of its size. I am talking about a platform that lets you upload files or folders of any size at one go. The program also keeps your uploaded file or folder available for download up to 14 days. Moreover, the period can be extended to up to 90 days upon request. FileWhopper services do not cost a fortune, with the user only requested to pay for what they wish to send. There are no expensive monthly fees; with FileWhopper, it's a no-strings-attached type of relationship. There are plenty of reasons why I recommend this service, and I can take the whole day listing them. However, in the end, you just need to head over to FileWhopper's website and check it out yourself. Here is how it works:
1️⃣ Select the large file or folder you wish to share (in this scenario, with yourself) and receive a price quote based on its size.
2️⃣ Download and install the small FileWhopper App to your old PC to upload your large file or folder in a fast, secure, and convenient manner.
3️⃣ Copy the link to the uploaded data and use it on your new Windows 10 PC to download the file or folder you shared using the old PC.
4️⃣ Make sure to remember the password provided by the app to be able to decrypt the shared file or folder.
Option 4: Transfer Cable
Using a USB data transfer cable is one of the most reliable solutions when it comes to data migration. It is convenient, fast, and cost-effective. The cable has got a tiny electronic circuit that makes it possible for two computers to connect and understand each other. Here are the advantages of using this method to transfer data from your old Windows 10 PC to a new one:
The process is faster compared to the use of an external drive since there is no third-party device needed, which makes it possible to perform a direct transfer.
Disk space is not an issue as you will be transferring your data directly to your new PC. This is unlike with external drives that come with limited space, forcing you to perform multiple transfers at different intervals.
Here is how you can migrate your data using this method. The process is straightforward and time-saving.
You must switch on both of your computers and place them side-by-side at a distance that is suitable for the length of your data transfer cable. Attach the cable to your computers at both ends.
On your taskbar, head over to the search field and insert the phrase "Windows Easy Transfer" and press Enter.
Follow the instructions provided by the Easy Transfer wizard to migrate your data.
Note that transfer data cables differ, so the process may not always be the same. If you face any hiccups, refer to your cable manual or rather consult with the manufacturer of the transfer cable.
Option 5: Shared Folder
Windows 10 comes with built-in software that lets you share your computer files with another device over a network. You can transfer your data using this option via the File Sharing feature. Since this method uses a shared network to transfer files, you can share files with any device as long as it is connected to the same network, and this includes macOS, Android, and Linux devices. Here are the advantages of utilizing this option:
Under the same LAN, large files can be used locally.
Multiple people can access the files at the same time, which makes it ideal for organizational use.
To share your files with another PC, you can follow these simple steps:
Locate the file or folder you wish to share or migrate. Right-click on it and choose "Give access to" from the emerging menu before selecting "Specific people".
Choose the user or group you wish to share the file or folder with and add them by selecting the "Add" button. After adding the username, you can alter the privilege level. Since you are transferring data to your new computer, in this case, I suggest you provide clearance for all privilege levels.
Once done, click on the "Share" button, and network discovery and sharing will be enabled.
Press the Win Key + R combo and enter "\\Your IP address" (no quotes are needed). All the shares of the IP address will be visible.
To find out your IP address, press Win Key + R and type cmd. Insert "ipconfig" and press Enter. Your IP address will be visible.
This option allows you to select multiple files and share them at once. This feature is also applicable to folders.
Option 6: Nearby Sharing
The Windows 10 Nearby Sharing feature is another option to migrate your files from an old computer to a new one. The HomeGroup feature got removed from the platform after the roll-out of Windows 10 (V1803). Despite the removal of the HomeGroup feature, users can still share files and printers using the Nearby Sharing feature. The option utilizes Bluetooth to transfer files among PCs that are nearby. The advantages of using this option are as follows:
With the Nearby Sharing feature, the user can simply transfer files to any computer nearby without having to connect any cable or insert a password.
The method is compatible with most of the apps that allow sharing, such as Microsoft Edge, File Explorer, and Photos.
To get access to this feature, you need to make sure your system is running on Windows 10 version 1803 or later. To transfer your files, follow these simple steps:
1. Begin by enabling the Nearby Sharing feature. Access Settings and then click on System before selecting Shared Experiences. Click on Nearby Sharing to turn it on.
2. Choose Everyone nearby under Nearby sharing:
By selecting Everyone nearby, your PC will exchange data with all nearby devices.
By selecting My devices only, your PC will exchange data with devices that are connected to your Microsoft account.
3. Begin file sharing between your computers by accessing File Explorer. Right-click on the file or folder you want to share and select the "Share" option.