Are you a lucky owner of a new computer? Congratulations!
But all your excitement may be overshadowed by the need to transfer files and programs to the new computer. Today we are going to talk about how to transfer files from one computer to another easily and securely.
What Data Should Be Moved to New Computer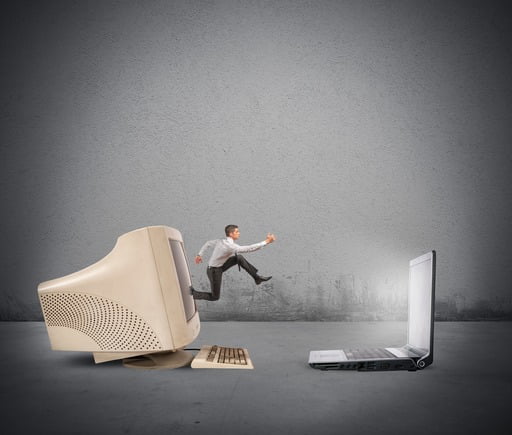 The first thing that you need to do is go over all of the files and apps that you have on your old computer and choose the data that needs to be transferred to your new computer. Don't skip this job, or you may lose important files, like a whole folder with family photos or scanned documents, in the process of switching over to your new computer.
A good idea is to make a list of all important files and folders. Also, be sure to go through your apps and programs, choose which ones are worth going with you to the new happy life with a shiny new computer 🙂
By the way, a great option is to keep using both computers, the old and new one together for a while. Why? Because when working on your new computer you see better which programs might be missing.
Your first idea may be to transfer all files between computers, but that may not be very smart. Moving to a new computer is a great chance to clean out unnecessary data that you would never look for again. Don't miss this chance.
How to Transfer Files Manually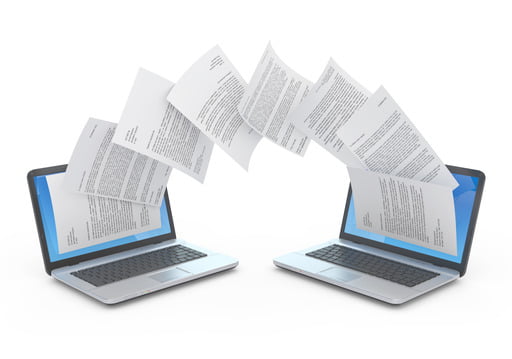 One of the ways to transfer large files between computers is to save all information on an external hard drive. Transferring files from PC to mac, or vice versa, is a little more complicated because the drive has to be in the exFAT format. Check out this guide for accomplishing this task. Need to transfer files between computers with the same operating system on both? Do not worry about formatting your external drive then.
Another good option for transferring files from one computer to another is to use cloud storage and file-sharing services. If you want to transfer all large files at once, just upload them to your cloud account from the old computer, then log into your cloud account from the new computer and download all the files you need. But make sure that you have enough storage space included with your monthly subscription plan. Don't have a cloud storage account and don't want to get one? Use FileWhopper, a service that will let you transfer files and folders of any size at once. Besides, FileWhopper ensures secure file transfer and gives you 14 days to download all your files.
Also, for transferring files from one computer to another, there is an option of using the built-in tools:
OneDrive for Windows;
iCloud for macOS.
But like with any cloud storage, you will need to buy enough space to store all of your files.
And one more idea for how to transfer files to a new computer is using file sharing over a network. Both of your computers should be connected to the same Wi-Fi network for transferring large files between them. When using this method, you can still encounter problems if you have different operating systems installed on your computers. The main advantage of this method is that it is completely free: read detailed instructions for sharing files over a network on Windows and macOS.
How to Transfer Files Automatically
Don't want to transfer data manually? Looking for ways to get the job done automatically? Sometimes you just need it all done as quickly as possible. We know some tools that can help.
For transferring files from PC to PC, you can use Microsoft's file transfer app - PCMover Professional. But this tool is not free, be ready to pay $59.95. This software will easily transfer all files, applications and settings to your new computer.
One more free tool for transferring files from PC to PC is EaseUS Todo PCTrans Free. Upgrading from an older OS version to Windows 10? EaseUS Todo PCTrans Free will help! If the free version is not enough for your needs, you can use the free Professional Plan trial or buy the full version for $49.95.
One more option for PC to PC file transfer is Zinstall WinWin. The software has no free version, you will need to pay $119. It will move anything that you like: files, apps and settings.
Moving from a macOS or Windows computer to a new macOS machine? Great news! You can use completely free tool Migration Assistant. It will transfer all your files to your new Mac without you having to do anything manually. All you need is to have your old Mac connected to one Wi-Fi network with the new Mac, or as an option you may use a recent Time Machine backup. Migration Assistant will help transfer files, folders, applications, and settings.
Transferring files from PC to mac? First of all, install Migration Assistant on your PC. During the setup process your computers will be connected, but make sure that they are on the same network. With Migration Assistant, you can transfer files, folders and some settings.
How to Transfer Different Apps
Now let's talk about transferring your applications. Some programs need to be deactivated first, otherwise you may exceed the number of installs your license allows. Paid apps often have a limited number of installations. If you are unsure, it is best to check with the app's developer by contacting their customer support.
Go over all your apps and decide which ones are important and which may not be worth keeping. After choosing only the important ones, let's figure out how to get them installed on your new computer. You can download and instal all your apps again. Just find them on Windows Store, macOS App Store or the developer's website.
Some apps allow exporting settings, while others don't. For the latter, you will need to start from scratch again and configure the app to serve your needs.
You can save all information from your favorite web browser (passwords to online accounts, browsing history, bookmarks and other stuff) and then import it to the browser on your new computer. This is a very handy option, as it will let you continue using the browser on your new machine as if nothing has changed.
Before leaving your old computer, make sure that the syncing is turned on. In Chrome, go to Settings in the top menu. In macOS the browser syncing option is part of the iCloud Keychain tool. To set it up, go to iCloud in System Preferences.
Attention! Even though it may seem like the easiest way, you can't just stick a hard drive from your old computer into the new one. This can cause more problems than you can imagine, so it's best to keep the old computer for backup reasons.
There is no wrong or right solution that would work for everyone. Everything depends on your personal needs and factors like the operating systems you work with. It may be a very good idea to run your new computer alongside the old one, which will help the file transfer go smoother and prevent some problems.