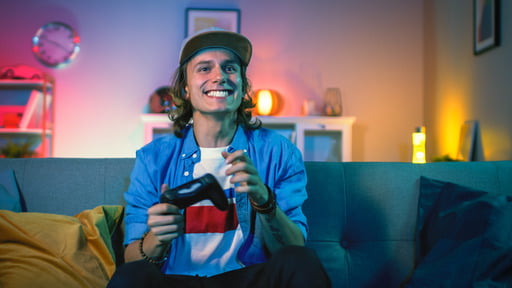 The evolution of gaming has given birth to the advanced gameplay recording software that we have today. These cutting-edge game recording applications are so much more than just programs that help users capture their gameplay.
Games have evolved tremendously, and so have the tools needed for screenplay recording. The popularity of online gaming communities and fandoms has given rise to the need for new versatile software to enhance the user experience. Gamers are no longer content with plain old recording and sharing. They also want to be able to live stream their gaming activity while recording video and interacting with other gamers. They want to enjoy all these options without experiencing lag during gameplay.
Considering that most of the modern games are 4K HD, you also need recorders that support such a high quality to capture them. Since most of these recordings are for sharing with other online users, gamers may like to add extras to their videos, like texts, captions, and stickers. Most importantly, they need apps that can record without affecting the performance of their devices. Therefore, many gamers are wondering how to find free game recording software.
As a gamer, you also want to know what recording apps are lag-free and what devices and platforms they cater to. Today we have a plethora of both free and paid recording apps on the market, and users can easily find what suits their needs.
Many of the available tools claim to record your games with ease, but only a few of them actually get the job done properly. If you're wondering how to record gameplay for free, what you need is the right information to point you towards the best apps.
We have written this article to answer the question "What are the best no-lag game recording apps?" After thorough research, we have come up with a compilation of the top free game recording software. You will find that these tools cater to the needs of different users across a wide range of devices.
What Software Do Gamers Use to Record Their Gameplay?
1. EaseUS RecExperts
What is the best game recording software for Windows? We cannot answer this question without mentioning EaseUS RecExperts. This is a free, easy-to-use video recording app that can be used by both beginners and professionals alike. With this tool, you can capture the video and audio of your gameplay simultaneously and in high quality.
You can also preset the start and stop recording time as you want and share your gameplay sessions to any social media platform of your choice.
Features
It can capture 2D and 3D games.
It allows the straightforward sharing of videos to YouTube.
You can easily edit your videos and remove unwanted video parts.
It can save media in different formats, like MP4, FLV, MOV, AVI, and more.
It allows full or partial screen capturing during gameplay.
It supports Windows.
2. Wondershare Filmora Scrn
Wondershare Filmora Scrn is software that allows the seamless and effortless recording of gameplay. You can adjust the shape, size, and color of your cursor. With this amazing tool, you can capture videos from your webcam and computer at the same time. The ability to add text to the videos also enhances the user experience.
Features
Partial or full screen recording is allowed.
The app has various recording modes, like MP4, GIF, and MOV.
This software has a fast recording speed of 60fps.
You can import other media files, like videos, music, and images.
It works on Macs and Windows PCs.
3. Bandicam
Bandicam is easily one of the best recording apps on the market. With this tool, you can record game and microphone sounds at the same time. It also helps to capture 4K Ultra HD videos. In addition, it allows you to post your clips directly to YouTube and compress your videos while recording. It is one of the best lag-free game recording tools in 2021.
Features
This application records both flash and online games.
Optimized performance is ensured while recording using an H.264 encoder.
It can only be used on Windows.
4. Xsplit
This is another top-ranking game recording app. With one click of your mouse, this application captures your screen.
Features
The Xsplit software allows you to cut, stitch, and export your recordings.
Gameplay can be recorded in high quality and shared seamlessly to any social media platform of your choice.
It allows automated streaming.
This tool can only be used on Windows.
5. Open Broadcaster Software
Open Broadcaster Software is free software that provides both live streaming and recording services. You can use sources like browser windows, images, text, capture cards, and webcams to create and enhance scenes.
Features
This application is user-friendly and features easy-to-use configuration options.
You can rearrange the layout to your preference and set up shortcut keys.
This tool allows you to make custom video transactions.
It works on Windows, Linux, and macOS.
6. FBX
FBX is a free game recorder that can be used on both the latest and old computers. Highlights are instantly saved as you play via shortcut keys. You will enjoy smooth, lag-free live streaming and recording sessions.
Features
This software has a simple user interface.
FBX has an inbuilt video editor that allows you to add effects, captions, GIFs, and stickers.
It comes with a remarkable video recording speed of 144fps/1440p QHD.
The recording software doesn't affect your system's performance.
It works only on Windows.
7. Gecata
This is a top-rated free streaming and recording tool that lets you capture the whole screen of your Windows desktop. Users are allowed to save audio streams, record gameplay in 4K resolution, and capture videos in one mouse click. You can also personalize overlays to monitor your frame rate, file size and more.
Features
Shortcut keys for easy usage are available.
Your videos can be streamed and recorded at the same time.
This app lets you overlay your webcam video onto your game footage.
It can capture and record gameplay in 4K resolution at 120FPS.
You can save audio streams separately and pan and zoom videos with this app.
8. ScreenFlow
This is software from Telestream that serves as a video editor, screen recorder, and clip sharing tool all in one. With it, you can publish your video content on various sites, like Imgur, YouTube, and Vimeo.
Features
You have access to over 450,000 unique media clips.
You can record your iPad and iPhone screen with this software.
This application allows you to add transitions, video and text animations, freehand annotations, and many more.
Titles and logos can be animated with inbuilt video animations.
You can organize projects with nested clips and multi-track editing.
It is designed for macOS.
9. Streamlabs
Streamlabs is a top-rated application that enables you to stream videos to Twitch, Facebook, YouTube, and many other platforms.
Features
This application provides fully customizable alerts.
A wide range of themes is made available for use.
It has a very user-friendly interface.
You can go live easily.
It supports Windows only.
10. Medal
This is a free tool for recording gameplay on your PC and mobile devices.
Features
It allows for syncing between your PC and mobile devices.
It lets you store videos in HD quality.
You can start recording with one mouse click.
Video clips can be shared on Twitter and Facebook.
You can also save videos directly to the cloud.
It supports Windows, iOS, and Android.
11. GoPlay
The GoPlay tool allows for full and partial screen recording. You can also record games at 60fps.
Features
You can record via the webcam when using this tool.
Captions can be added to the video.
You can remove unwanted sounds from your videos.
Videos can be shared using Facebook, Instagram, and YouTube.
The app supports Windows, iOS, and Android.
12. Radeon ReLive
Radeon ReLive is a recording tool that utilizes your GPU for encoding and creating videos. GIFs can also be captured, viewed, and shared using this software.
Features
It is user-friendly software that can be set up with ease.
It allows the recording of 4K Ultra HD videos.
This tool supports the use of shortcuts.
You can save your CPU cycle on Radeon ReLive.
It supports Windows only.
13. Icecream Screen Recorder
Icecream Screen Recorder is a game capture tool that records any area of your computer screen.
Features
You can choose your desired output quality.
Texts, shapes, and arrows can be added to your screen when recording.
The application allows you to record your screen and save your recording as a GIF.
It is designed for Windows.
With this app, you can record full-screen 3D games.
It allows you to add a watermark logo to your screen recording.
14. ZD Soft Screen
This software records online games, webinars, and much more. It also allows you to cut and join videos.
Features
There are many zooming options.
Videos can be customized by adding a logo.
You can schedule recording.
It works on Windows only.
The application has a fast recording speed of 120fps and supports 4K resolution.
15. Xbox Game Bar
This software enables the user to capture and record gameplay. You can record a video of up to 2 hours.
Features
You can start recording your screen with one click of a mouse.
It offers flexibility: you can set the maximum length of your videos, turn on background recording, etc.
It has a simple user-friendly interface.
It operates on Windows.
How to Transfer Large Game and Video Files
Gamers love one thing above all else, and this thing is being able to share their beloved games with other players. Besides, you want to be able to share your recorded gameplay with your buddies before uploading it on social media platforms, like Twitch and YouTube. This is why you need a file transfer tool that allows you to send, back up, and download huge amounts of data.
However, the problem is that a lot of file-sharing platforms have restrictions. Most of them have a limit on the size of data that you are allowed to send. Since game files and recorded gameplay may be gigabytes of data, it can be impossible to transfer them over these platforms. Some of these sharing services also require that you pay a subscription fee before you can use them. This can be a hassle in itself. No one wants to subscribe to a monthly service when they only share heavy files once a month and not on a weekly or regular basis.
Another limitation of most file-sharing platforms is their transfer speeds. You can spend a whole day waiting for a 100 GB media file to be transferred. This can be frustrating, not to mention unnecessarily time-consuming. The quality of your videos is also a concern when trying to send your HD recordings. This is because you are forced to compress your media files in order to send them easily.
All things considered, you need a file-sharing service that allows you to send large amounts of data at high speeds and without the inconvenience of compressing them. As a gamer, you need a secure platform that does not force you to subscribe before you can use it.
FileWhopper is such a platform. It is a cloud-based tool that allows you to transfer large files with absolutely no limits and at incredibly high speeds. That's right! With this amazing tool, you can send any data size you want with no restrictions. It allows simultaneous uploads and downloads, which means that the recipient can begin downloading your file while you're still uploading it. This is without a doubt a handy feature that saves you time and energy.
FileWhopper does not force you to subscribe before you can use the platform. All you have to do is choose the file you want to transfer, and it'll show you a one-time fee. You don't need to worry about extra charges when using this tool. In addition, it has military-grade encryption and security capabilities. It encrypts your files during the sending process, thereby making it impossible for hackers to intercept your cherished media without your consent.
[fwa-calculator]
It also adds an extra layer of security by setting up a password to protect your uploaded data. Access is denied to anyone without the password, ensuring that no one views or downloads your media without your permission.
One of the best features of this tool is that it preserves the quality of your media files. You can send your data in its original format without needing to compress it. For a gamer who records gameplay in 4K Ultra HD, this comes in very handy.
Conclusion
Gaming is a unique experience that gamers share as a community. As a gamer, you want to record your gameplay and share it with other players. It's a great way to bond and experience more joy doing what you love. This is why you need the best recording applications.
In this guide, we listed the best game recording software on the market, and we hope you found our list useful. Finally, remember to share and back up your games and video clips with FileWhopper.
If you know of any apps you feel we could have included in this article, feel free to leave us a comment in the comment section below.