Nowadays, gamers become content creators and get a lot of subscribers because of live streaming popularity. There are services allowing gamers to play live to massive audiences and interact with fans. For example, Twitch and Mixer.
Are you a gamer? Would you like to start making your own live streaming? This process starts with the choice of the right recording software. There are different game recording programs with a lot of features that make the process comfortable. You can stream and bring your fans through comprehensive walkthroughs of the game. We are going to share with you the best game recording software for different levels: newbies or masters.
OBS Studio
Open Broadcaster Software is free and open source software for video recording and live streaming. Trust us that this software is worth taking your time to learn and master. It has very powerful production features and tools.
Our advice is to set up two monitor screens for adjusting the recording while gaming. OBS studio will help you to create switchable transitions, mix audio levels and set hotkeys. A very useful feature lets you preview scenes and sources with NO limits on video length.
And of course there is integration with YouTube and Twitch that makes live streaming very easy.
Fraps
Fraps is a good choice if you are looking for a simple game recording software. It is light and has simple design without any frills.
Fraps frame rate display benchmarks and measures the length of your running game. Its custom frame rates are at 1 to 120 FPS. With Fraps you can record a video with a resolution of up to 7680 x 4800.  You can choose between free and paid versions of Fraps. The free version has limited features and a watermark, the full one is available for $37.
Tip: Need to transfer a 10gb video file? Use FileWhopper! With FileWhopper you can send large files by paying a one-time fee that depends on the file size and there's no need to buy a monthly plan.
Nvidia ShadowPlay
Do you have an Nvidia graphics card? This card comes with its own game recording software - Nvidia ShadowPlay.
It has two different game modes: shadow and manual. The difference between modes is in limits on recording storage. With the shadow mode you can capture the last 20 minutes of gameplay while manual mode has unlimited storage. Resolutions are up to 1440 HD, frame rates -  up to 60 FPS. With Nvidia ShadowPlay you can share your streams on Facebook, Twitch, or YouTube.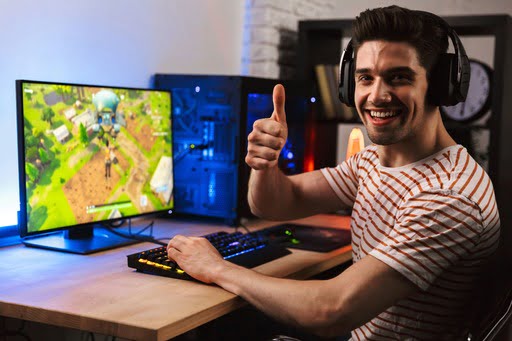 Action!
The Action! game recording software has the best high definition output and highest frames per second. This easy-to-use game recording software can capture up to 120 FPS with 4K HD resolutions.
Probably one of the best features in Action! is that it captures top quality videos without taking too much of memory on your computer. With Action! you can capture gameplay and control video recording on your Android smartphone. You can also share your live stream on Twitch, YouTube, and other social media.
While you are at it, see How to Create a Memorable Cinematic Montage
Windows 10 Game Bar
Do you have Windows 10? Lucky for you! In Windows 10 there is built-in game recording software called the Game Bar. By pressing the Windows key + G you can open the software interface in any game or application.
Windows 10 Game Bar is very simple to use. It has all options you need to start recording and make adjustments during your streaming. Unfortunately, the application may end up using a lot of system resources.
Plays.tv
Plays.tv is a website and software for game recording. It is like Instagram for gamers. It starts to record as soon as you start gaming without any setup.
Plays.tv is great for beginner users. With Plays.tv you can review and edit your gameplay session and drop bookmarks on a timeline for easy access to specific moments. The website has a social media format and it makes it easy to track likes and comments for each of your streams. You can also share your clips to sites like Reddit, Facebook and others.
Do you have your favourite game recording software tools? Share them in comments!