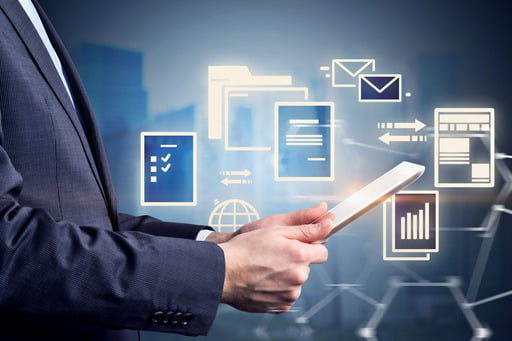 Did you know that the average office worker spends about 1.5 hours per day searching for and retrieving documents? That's a significant amount of time wasted that could be better spent on more productive tasks. With the right document management software, you can bid farewell to the endless search and retrieval process and reclaim valuable time.
Welcome to the era of seamless document management in 2023! In today's fast-paced digital world, efficiently organizing, accessing, and collaborating on documents is essential for businesses of all sizes. If you find yourself drowning in a sea of scattered files and folders, fear not! We're here to introduce you to the best document management software options available.
The Best Document Management Programs
The paperless office is not a myth but a reality, and it is here to stay. That is why we recommend that you explore our list of the best document management solutions.
Pros
Low and flexible prices
User-friendly interface
Mobile app
Automated compliance checks
Templafy is a document management solution that integrates vital office suites and solutions that businesses use daily. It helps create and manage multiple files within the system and from a single feed.
The program supports multiple devices and backs up users' files to cloud storage. This makes it possible to sync and access the files across all your devices (laptops, tablets, smartphones, etc.). The tool also performs some automatic compliance checks to keep your files safe.
Pricing depends on the number of users, add-ons, and features you want to use.
2. M-Files
Pros
Drag-and-drop features
Automatic categorization of scanned files
Print and download prevention features for protecting users' data and privacy
M-Files stands out among the other document management software solutions. It has a user-friendly interface and can serve various industries, such as engineering, energy, manufacturing, financial services, business consulting, construction, accounting, real estate, and professional services.
Also, M-Files has several office management tools to seamlessly organize documents, automate workflow processes, and digitize paper archives. Besides, it automatically categorizes scanned files for you using optical character recognition to automate your metatag process.
What's more, the company offers team training services and several online learning resources, such as case studies, industry reports, infographics, videos, e-books, podcasts, and on-demand webinars.
3. DocuWare
Pros
Cloud-based storage
Low and flexible prices
Mobile support
DocuWare uses a cloud-based approach for your file management. It integrates office automation tools with cloud storage to create a digital workspace.
Also, DocuWare supports mobile devices and integrates them into your workflow processes. This facilitates office processes such as receipt scanning, form signing, invoice approval for speedy payments, etc.
4. MasterControl
Pros
Mobile-optimized
Compliant with global standards
Supported by regulators
This is another software tool for document management that ensures your documents' compliance with the company's guidelines.
Big organizations tend to have processes and regulations in place to ensure their documents are compliant with corporate and industry standards. However, it may not be easy to follow such rules when you have numerous files to manage. That is where MasterControl comes into play. It also helps you to follow global standards and regulations.
Also, MasterControl helps increase internal efficiency while reducing compliance costs. The document management system automates delivery, routing, escalation, and document approval.
What's more, it has a centralized secure archive for searching for, storing, and organizing your business files. That explains why many regulatory bodies and organizations use the program.
5. XaitPorter
Pros
Smart collaboration features
Fully cloud-optimized
Salesforce integration
High flexibility
XaitPorter is a document management system with the best cloud-based collaboration tool. It can create and manage documents. The system is flexible and easy to use. It lets you collaborate with your colleagues and work on the same documents simultaneously. It also gives room for feedback among coworkers.
What's more, it can manage all workflow aspects. That means you need not worry about numbering, formatting, and layout.
Besides, it can integrate with other software, such as Oracle, Salesforce, SAS, Microsoft 365, Dropbox, and OpenText. Currently, over 45,000 firms across the globe use this document management and collaboration software.
It has a demo version but no free trial.
Other document management tools include LibreOffice, Adobe Document Cloud, Office 365, etc. However, these programs focus more on creating and managing documents rather than storing and managing documents from multiple sources and in multiple formats.
While document management programs provide some cloud storage, it may not always be enough if you have large files or folders. That is why if you need to send a big file or folder to your colleague, we recommend that you check out FileWhopper, an online file-sharing service with no size limits.
The following features explain why FileWhopper stands out as an excellent file-sharing service for transferring data of any size over the web.
Pricing
Unlike many other file-sharing services, FileWhopper does not have a monthly or annual subscription. Instead, it uses a pay-as-you-go model, meaning you only have to pay for the files or folders you want to transfer and nothing else. It does not enforce a long-term commitment. Pricing entirely depends on the size of the file or folder you want to share.
Data transfer size limits
FileWhopper outshines other transfer services with this feature. It allows you to send files and folders of any size and format. That is, you can send files of 500GB, 1TB, and even 10TB with ease.
Many cloud storage programs have restrictions on the size of data you can store and share. This means you have to purchase expensive long-term packages to send larger files – even when you only need to make one transfer. Fortunately, FileWhopper is a better alternative. You'll only pay for what you send and nothing more.
High security and privacy
FileWhopper secures its users' data with zero-knowledge encryption, meaning no one (including the FileWhopper team) can have access to your data. It also secures every transfer with a password without which no one can access your files. FileWhopper does not store the password on its server, leaving you and your recipient with exclusive access to your data.
No progress loss
FileWhopper has a foolproof transfer process. This means power outages and internet connection failures cannot corrupt your files or reset your transfer. And if anything happens, you can rest assured the transfer process will continue from where it left off once the connection is back.
Simultaneous uploads and downloads and no space wastage
FileWhopper has a small desktop app that secures and speeds up the file transfer process. The app self-destructs once the transfer process is complete, freeing up space on your computer. You'll also get a delivery report once your recipient receives your file or folder. To top it all, the app lets your recipient start the download process while you are still uploading your data. Pure magic, right?
So, if you have a large file or folder you want to share, try out FileWhopper now. Your first 5GB file transfer is free.