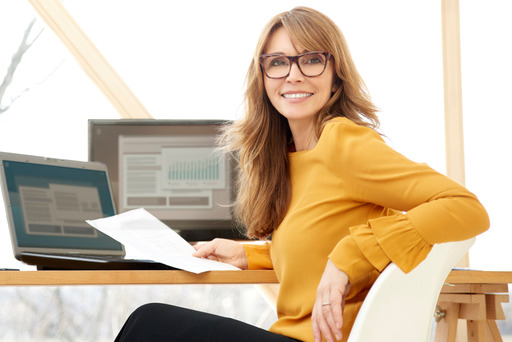 Hey there, small business warriors! We all know that running a small business comes with its own set of challenges. But fear not, because we've got your back! In this article, we're excited to unveil the best small business software of 2023, designed to make your life easier and your business more successful.
From keeping track of your finances to managing projects, nurturing customer relationships, and everything in between, we've handpicked a collection of top-notch software solutions that have proven their worth. These tools are here to help you streamline operations, boost productivity, and ultimately take your small business to the next level.
So, get ready to discover the game-changing software that will have you saying, "Why didn't I find this sooner?" Join us as we dive into the world of the best small business software in 2023. It's time to work smarter, not harder, and achieve big things with the help of these incredible tools. Let's get started on the path to small business success!
The Best Software for Small Business in 2023
There are lots of software solutions for small businesses on the market today. So many, in fact, that choosing what works for your company can be quite overwhelming. This is where we hope to help. Below, we'll look into the best choices for the following purposes:
Office management — Microsoft 365
Large file sharing — FileWhopper
Accounting — Sage Accounting
Project management — Asana
Security — Avast Business Antivirus Pro
Content and sales — Hubspot
Microsoft 365
Lots of functionality
Familiar interface
On-the-go use
Cloud storage
Multiple licenses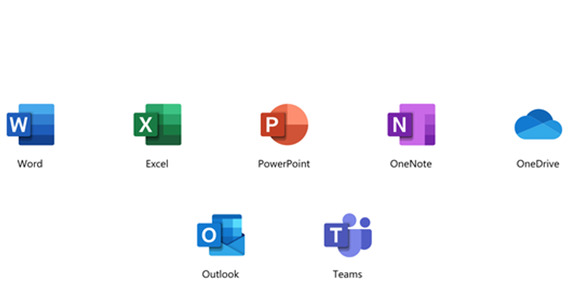 With lots of rivals out there, Microsoft Office is still one of the best office software suites to use — and Microsoft 365 adds cloud storage to the mix, which makes the software super convenient to use on the go.
One of the key advantages of using Microsoft 365 is that you are probably already very familiar with how things work. This brings the learning curve to an absolute minimum, and you can get started with the software right away even if you haven't used anything similar before.
The second important advantage is that Microsoft 365 works with the cloud. This means you can easily use the software across different devices: whether it's your PC, tablet or phone. Plus, you will be able to instantly access all your files in their latest versions in one place via OneDrive. There is also no need to worry about losing your work or forgetting to save important changes.
The one thing to look out for is the pricing. Microsoft Personal is relatively affordable and includes Word, Excel, PowerPoint, Publisher, and Access. You also get Outlook for emails and OneDrive for cloud storage.
Microsoft 365 Home comes with up to six licenses — and would be the most cost-effective option for a small business with under five employees.
Then, there is Microsoft 365 Business Premium targeted towards larger businesses. It includes SharePoint, Microsoft Exchange and Microsoft Teams.
FileWhopper
Transfers files and folders of any size
No subscription needed
Easy to use
Supports simultaneous uploads and downloads
Fast transfer speeds
Zero-knowledge encryption
Free first 5GB transfer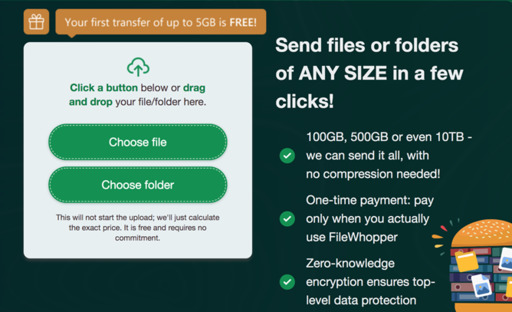 FileWhopper is file transfer software and one of the most effective file-sharing solutions on the market. In fact, it's probably the best way to send large files and folders over the web without making any long-term financial commitments. Here's what makes FileWhopper great:
First, you can use it to send over files and folders of any size. Even if you have a huge folder weighing 10 TB to send over, FileWhopper is up to the task. Transferring files is really easy — all you need to do is download a small app that will guide you through the transfer process and auto-delete once it's done. There is no need to split your big folder into smaller ones or compress your large files.
Second, FileWhopper doesn't require a subscription. Unlike when using most similar services (like cloud storage platforms), there is no long-term financial commitment to make. With FileWhopper, you only pay for the file or folder that you have to transfer based on its size. Moreover, you can even choose who makes the payment — it can be you or the party you are sending the file or folder to.
Third, FileWhopper uses zero-knowledge encryption to make sure your data never falls into the wrong hands. The encryption keys for your files aren't stored on FileWhopper's servers, and no third party will ever have access to your information.
Another great thing about FileWhopper is that you can test it out with a free 5GB file transfer.
Sage Accounting
Value for money
Easy to use
Great customer support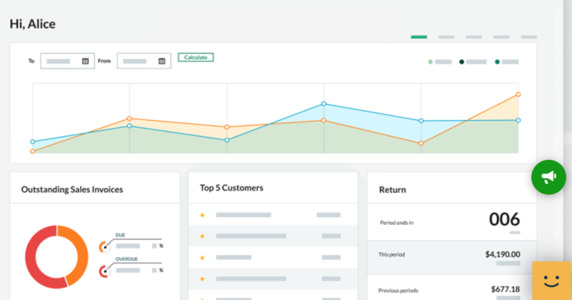 Sage Accounting is a great solution for managing quotes, invoices and taxes, forecasting cash flow, preparing reports, and more. All of this is available via a desktop or mobile app.
The app is well presented and easy to use. And even if you end up having any issues or questions, there is free unlimited 24/7 customer support on board to help you out.
The basic offer for the software is called Accounting Start. It is perfectly suited for start-ups and small businesses but doesn't include extra functionality like the support for quotes, cash flow forecast, vendor bills, etc.
The app's top plan comes with all the bells and whistles and offers a 30-day free trial.
Asana
Great interface
Lots of functionality
Over 100+ plug-in apps and services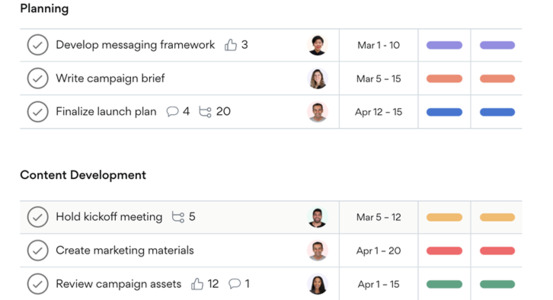 If you have a large team and a number of projects to manage, Asana can be of great help. The program helps you efficiently organize the working process and make sure everything comes together before the established deadline.
All of the platform's features are wrapped up in a friendly and accessible interface that's very easy to navigate. The app is accessible across web and mobile applications, which makes it perfectly convenient to use on the go.
What's more, Asana integrates well with a plethora of other tools like Dropbox, Slack, Gmail, Salesforce, and others.
Avast Business Antivirus Pro
Easy to use
Anti-ransomware protection
File shredder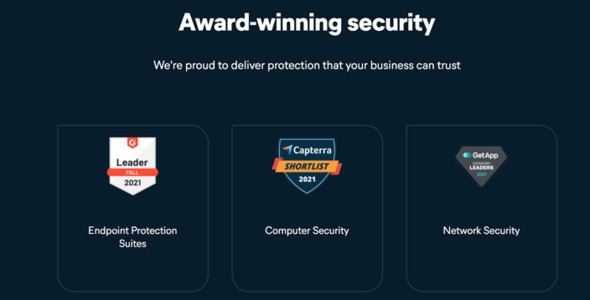 Avast Business Antivirus Pro is the best antivirus app for businesses. It comes packed with lots of extras like a firewall, email protection, anti-spam, and more. The Pro version of the app (as opposed to the standard Avast Business Antivirus) also features SharePoint and Exchange protection.
The app is well ranked by users and experts. According to AV-Comparative's Real-World Protection report, Avast Business Antivirus Pro is capable of blocking up to 99.7% of threats.
Avast Antivirus comes with a free security package ranked as one of the best on the market. For a business, however, Avast Business Antivirus Pro offers a remarkably cost-effective solution.
Hubspot Marketing Hub
Focused on sales and marketing
Extensive functionality
Lots of integrations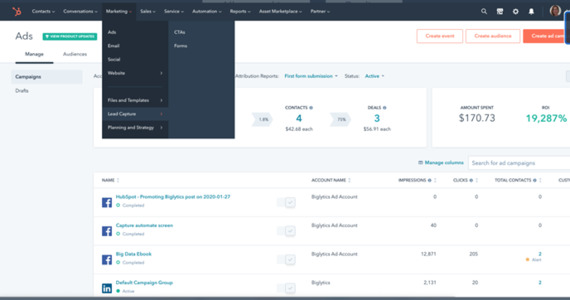 Hubspot is a platform that comes equipped with lots of tools for content management, sales, marketing, and social media management. It's one of the best content marketing tools available today and an effective solution for improving conversions. With Hubspot, you will also find functionality for content hosting, targeting, communicating with your sales team, and more.
Hubspot easily integrates with Salesforce, Google Workspace and Microsoft 365.
Overall, what makes Hubspot the best sales and marketing app is not one particular feature — but rather a selection of features brought together under one roof. Some of the platform's nice extras include the following:
Blog Management allows you to create and run your company blog, making your company more "discoverable" online and building connections with your clients.
Thanks to SEO, you will have tools for optimizing your online content strategy and improving your search ranking.
With Ad Tracking and Management, you will be able to efficiently estimate where your advertising budget is going and how to use it with the best possible ROI.
The Social Media Management feature lets you keep track of all your company's social media interactions and build a consistently positive and relatable brand image.
Live Chat helps build trust and rapport with your clients, turn them into loyal customers and create new leads.
We hope that our small business software picks above have been helpful and you've managed to compile a portfolio of tools to help you efficiently run your company. Which of the above solutions has proved the most helpful? Please share in the comments below.