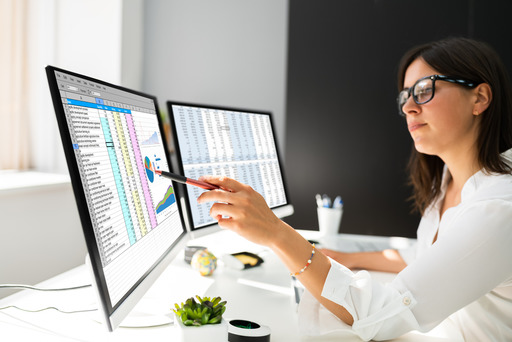 Move over, Excel! While Microsoft Excel has long been the go-to spreadsheet software for countless users, it's time to explore new horizons and discover the best alternatives that go beyond the traditional spreadsheets we're familiar with. In this article, we're thrilled to introduce you to a world of spreadsheet software that offers enhanced functionality, innovative features, and a fresh perspective.
Don't get us wrong, Excel is a powerful tool, but there's a whole universe of spreadsheet software out there that can take your data management and analysis to the next level. Whether you're a data enthusiast, a business professional, a student, or simply someone who wants to crunch numbers more efficiently, these alternatives have got you covered.
What Is Spreadsheet Software?
Spreadsheet programs serve several purposes for a business establishment. Whether you want to track sales trends, generate memos, perform financial accounting, or track return on investment (ROI), spreadsheets make your work easier.
They let you create a formula or function that automatically calculates data. Let's say you set up a spreadsheet to keep track of your budget allocation. You can create a formula that automatically subtracts the cost of an item every time you feed the data into the spreadsheet. This way, you don't have to keep subtracting the costs manually, making it easier to track your budget spending.
Spreadsheets present data in cells, organized in rows and columns to enable logical visualization. Most spreadsheet programs are versatile and flexible, allowing users to resize the cells and style borders for better visualization.
Each platform offers different types of visual elements, with graphs and charts being the most common.
So, who uses spreadsheet software platforms? As noted earlier, a spreadsheet has vast applications, and regardless of your career, you'll need its services one way or another. Here's a list of the top careers that use spreadsheets:
Accountants
Cost estimators
Retail managers
Financial analysts
Project managers
Data journalists
Business analysts
Sales personnel
Market researchers
Teachers
Scientists
What Is the Purpose of Using Spreadsheet Software?
The primary purpose of spreadsheets is to organize data and categorize it into a logical format that's easy to analyze. Once the data is processed, it can prove valuable in helping you grow your business.
Other common functions of a spreadsheet include the following:
Analytics. Once you input data in a spreadsheet, you can manipulate and analyze it in numerous ways. You can create custom formulas and use them to perform different functions, including percentage calculation, addition, and subtraction. Businesses can use financial data to calculate profits and losses.
Data storage. Spreadsheets store data in a structured way. You enter data sets into the cells of your worksheet and later format the data using the various categories included, like textual and numerical types. Typically, spreadsheets offer plenty of space to store huge amounts of data, making them ideal when creating a database.
Accounting. You can use spreadsheets to keep track of your budget, invoices, and wages, including overtime, sick days, and paid time off. Accountants find them highly helpful since they automate calculations and simplify the management of business accounts.
Presentations. Spreadsheets are liked for their visualization features. They allow managers to present data in graphs or charts so potential clients or investors can easily grasp the information being shared. You can also use them to generate reports that you want to share with team members. Spreadsheets also make it easier to compare data sets, plus you can condense complex amounts of data in an easy-to-digest visual format.
Project management. When working with teams, a spreadsheet offers a centralized platform that allows for flexible collaboration. Team leaders can use a spreadsheet app to track project progress by setting up conditional formatting and data validation lists. That way, they can see who's working on which tasks and check the status of each project.
The Best Spreadsheet Software to Try as Excel Alternatives
1. Jotform Tables: Best Templates and Look
(Windows, macOS, Linux, Android, IOS)
Jotform Tables includes all the features regular spreadsheet software would, only with a much more intuitive interface. Collect forms using Jotform and see your submission data instantly. Customize your forms using conditional logic and templates to make them stand out and share them using a QR code, link, or embed the forms on your website.
Create PDFs from your spreadsheet data, get instant reports and keep track of your data from anywhere you want. This allows you to manage your projects easily and keep your team running efficiently. All your teammates can simultaneously work on the spreadsheet together. You can see all the changes in real-time.
The best part is, that all of their features are completely free to use! Just create an account and get started on creating forms and building spreadsheets. Pick one of their many templates to help you get started on your project. Use their advanced filters to bring the most important data in front of you.
Price:
Free plan includes all features with a form limit of 5.
Bronze, Silver, Gold plans provide an increased form and monthly submission limit that start from $34/month.
Enterprise plan provides beneficial features for large-scale companies.
2. Google Sheets: Best for Team Collaboration
(Web, iOS, and Android)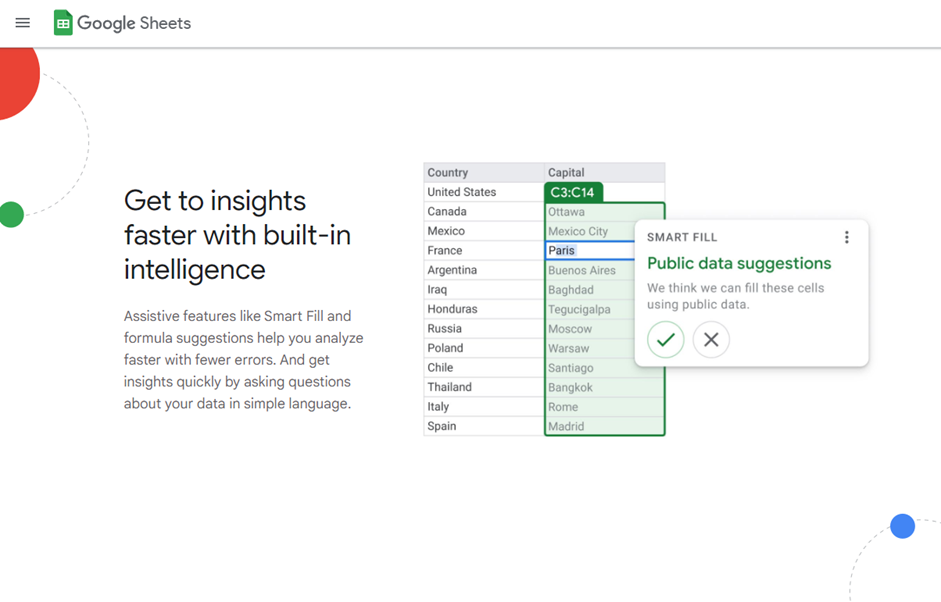 Google Sheets is one of the best alternatives to Excel as far as spreadsheets go. It is free for anyone with a Google account and is popular due to its integration with other Google apps, including Google Forms, Google Data Studio, and Google Analytics.
Google Sheets offers real-time collaboration For example, you can populate a worksheet with data pulled from Google Forms. Alternatively, you can switch to Google Data Studio and turn your data into advanced visualizations. Google Sheets offers real-time collaboration and allows users to comment and track progress between contributors. On top of that, you get access to Google-specific functions, such as GOOGLETRANSLATE and GOOGLEFINANCE for translating cell comments and retrieving real-time securities data respectively.
Price
Free if you have a Google account
Fees for business users from $6 per user, per month
3. LibreOffice (Calc): Best for Running Natively on Your Computer
(Windows, macOS, Linux, Android)
LibreOffice is another excellent free Excel alternative available for all operating systems except iOS. It is similar to MS Excel in many ways and is offered as an open-source productivity suite.
It's ideal for anyone looking for a native app that runs on a Windows, macOS, or Linux desktop. While it doesn't offer collaborative features or cloud options, it can manage massive amounts of data.
Its user interface looks outdated, which it makes up for by providing access to a variety of great features. DataPilot is one such tool that allows you to pull raw data from company databases and repurpose it into worksheets. The Function Wizard simplifies the creation of complicated functions, while the Chart Wizard makes it easy to create graphs and diagrams.
Price
Free
4. Zoho Sheet: Best for Features
(Web, Android, iOS)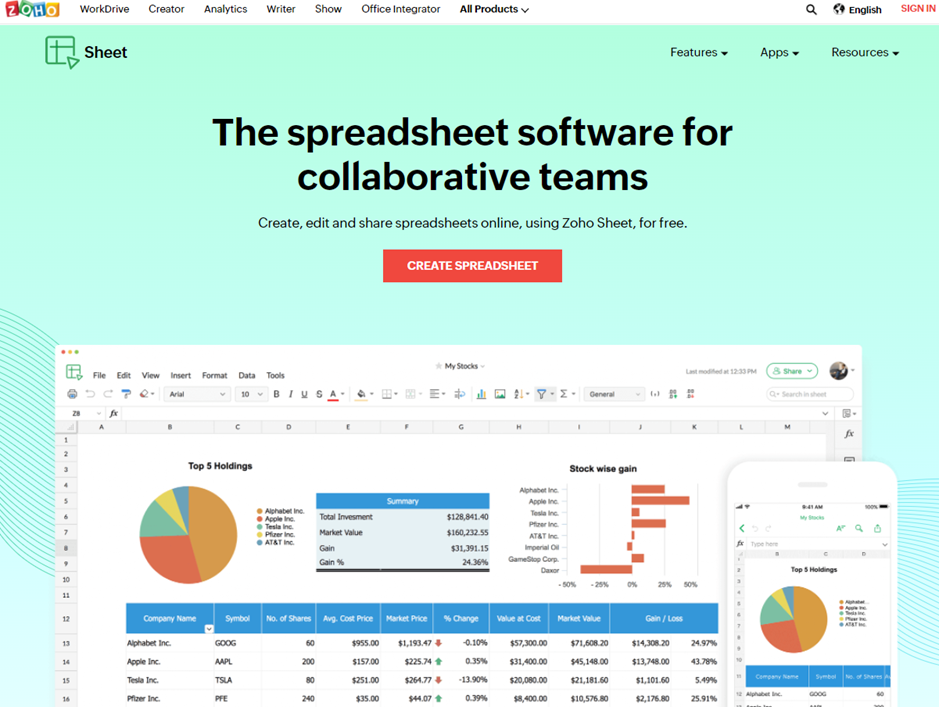 Zoho Sheets, like Google Sheets, is a cloud-based spreadsheet program that makes collaboration seamless. Users can chat, share permissions, and co-author in real time. Zoho Sheets excels in terms of features, packing over 350 functions, surpassing what Google Sheets offers.
Some of these features include data validation, conditional formatting, and pivot tables. On top of that, it supports 23 languages. While the layout is similar to that of Google Sheets, you'll have to dig deeper to find the advanced features.
Zoho Sheets also lets you incorporate data from external sources like RSS feeds, Atom feeds, CSV files, or web pages, which is a handy function for businesses. Creating custom functions is also made simple via a tool called Deluge.
Price
Free for up to 25 users, with 5GB of storage per user
Paid plans from $4 per user, per month, with 100GB of storage per user
5. OnlyOffice Spreadsheet Editor: Best for Online Editing
(Web, Windows, macOS, Linux, iOS, Android)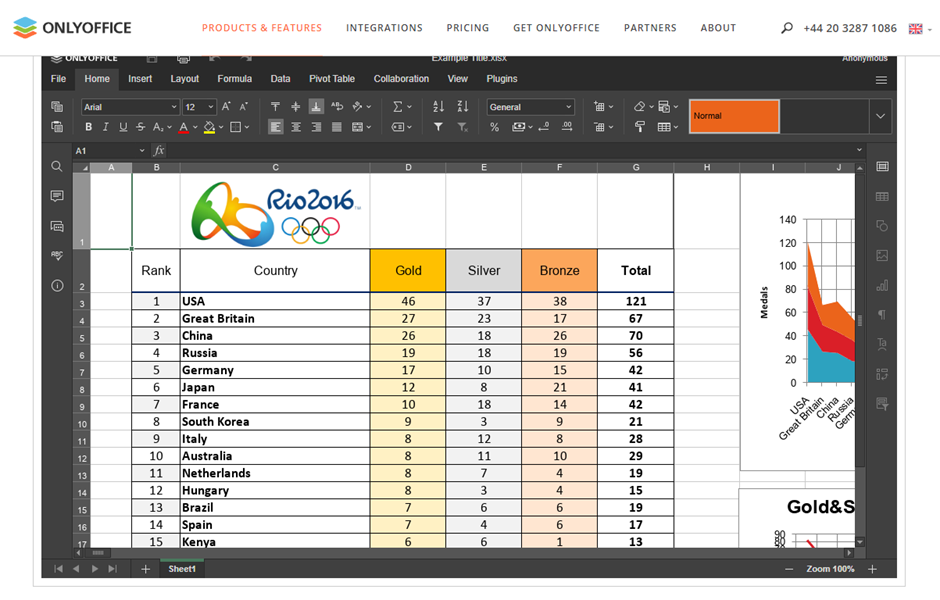 OnlyOffice is a powerful office suite that offers an intuitive spreadsheet editor. It has more than 400 functions and formulas to help you perform precise calculations. You can choose one of the many table templates to quickly create spreadsheets and filter data to meet your specific requirements.
OnlyOffice Spreadsheet Editor offers advanced features like conditional formatting and pivot tables to enable quick data analysis. What's more, you can use it to edit Excel sheets online and save spreadsheets as PDF files.
The platform has attractive visuals like charts, graphics, and sparklines that make your illustrations more presentable. It even lets you use YouTube videos or text art for enhanced data presentation and visualization. When it comes to collaboration, OnlyOffice Spreadsheet Editor allows teams to open, access, and share spreadsheets or even links to specific ranges. As such, users can edit, comment in cells, and chat in real time, all while within the editor. Moreover, you can create custom macros using JavaScript language syntax and use them to automate repetitive tasks.
Price
The Enterprise edition from $1,200 (a lifetime license) depending on the support level
A one-time payment of $149 for home use, for up to 10 users
6. Apple Numbers: Best for Apple Users
(iOS, macOS)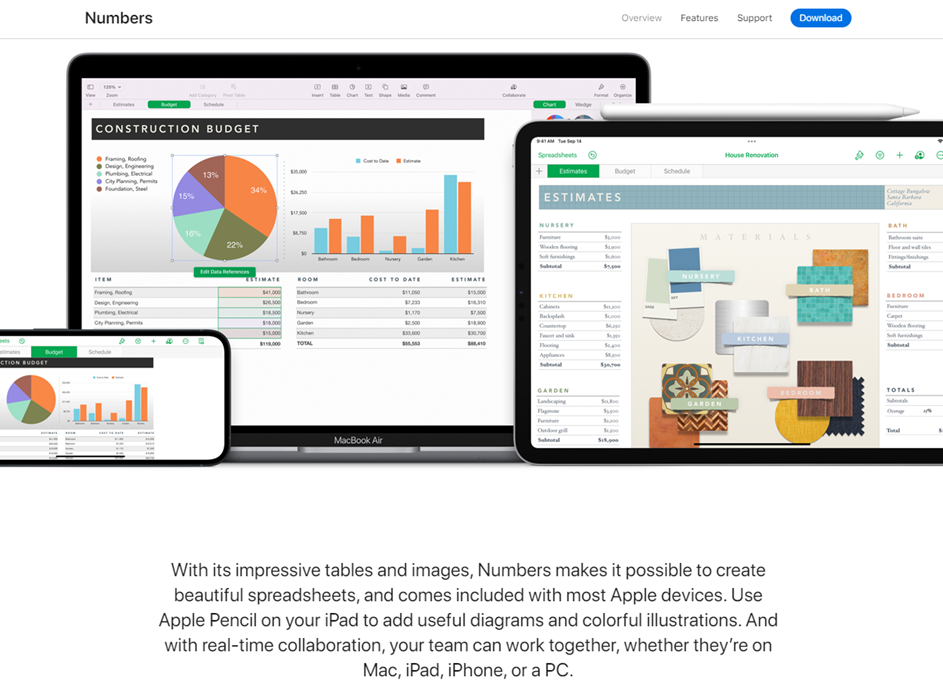 If you use an Apple computer, you may find Apple Numbers more convenient since it comes pre-installed for free on your Mac. So, what makes Numbers one of the best spreadsheet software of 2023.
For starters, it sports a clean, modern interface that's also unique. Unlike Excel, Numbers loads a blank canvas so you can create spreadsheets the way you want.
You can select one of the many templates available on the platform and customize your spreadsheets by changing fonts and styling cell borders.
The app features Smart Categories and pivot tables that let you quickly organize and summarize tables to get a deeper analysis of your data.
While it's not loaded with features, it lets you create beautiful data visualizations using donut charts, over 700 customizable shapes, and interactive graphs. You can even use Apple Pencil to enter handwritten data, and Scribble automatically turns it into text on the platform.
It also lets you collaborate with someone who's using Excel. All you have to do is import Excel spreadsheets right into Numbers and start editing or save Numbers spreadsheets as Excel files.
Price
Free for Mac users
7. Smartsheet: Best for Project Management
(Web, Android, iOS)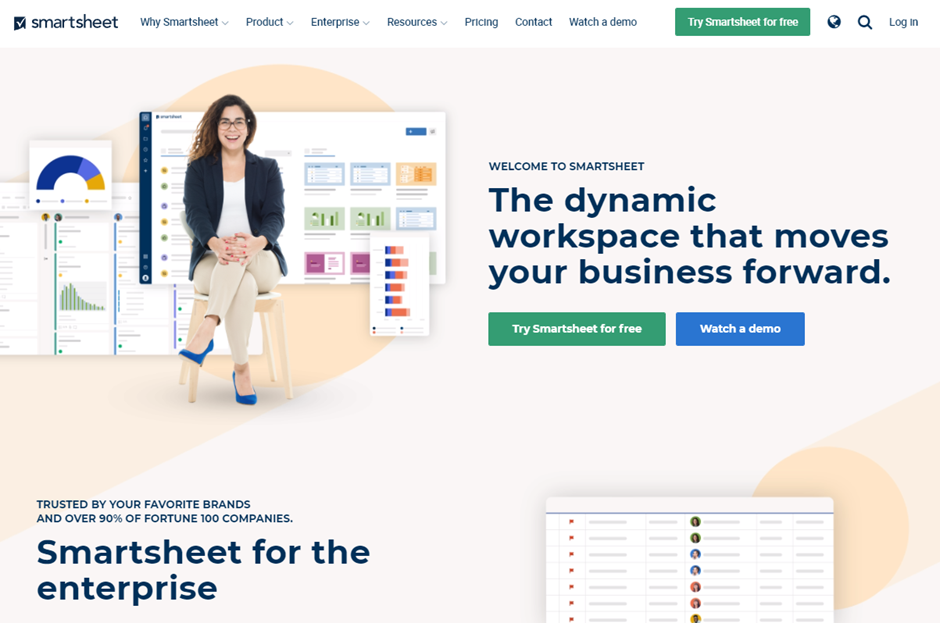 If your main goal is to manage projects and keep track of project reports and team collaboration, Smartsheet is the perfect choice. The platform lets you customize an existing project management template to your specific needs. You can even add tasks and due dates in the Gantt view and monitor which tasks are assigned to who in the Kanban view.
The Alerts & Action tools let you nudge team members to approve or edit a specific task or request approval where necessary. You can also choose the calendar view to see upcoming events, projects, or appointments with clients or investors.
Smartsheets boasts seamless integration with productivity apps like Slack, OneDrive, Google Suite, and Dropbox and supports effective collaboration with external users.
Price
Pro - $7 per user, per month, billed annually for a minimum of 3 users and a maximum of 25 users
Business - $25 per user, per month, billed annually for a minimum of 3 users
Enterprise – custom pricing as per your requirements
How to Transfer Large Spreadsheet Files Online
With remote work persisting and major companies considering making it permanent for their employees, online file sharing has become quite common. However, with file size restrictions and data security issues, it can be hard to find the right file-sharing service.
If you deal with massive amounts of data and are looking for a safer and faster way to send large spreadsheet files over the internet, we recommend trying FileWhopper.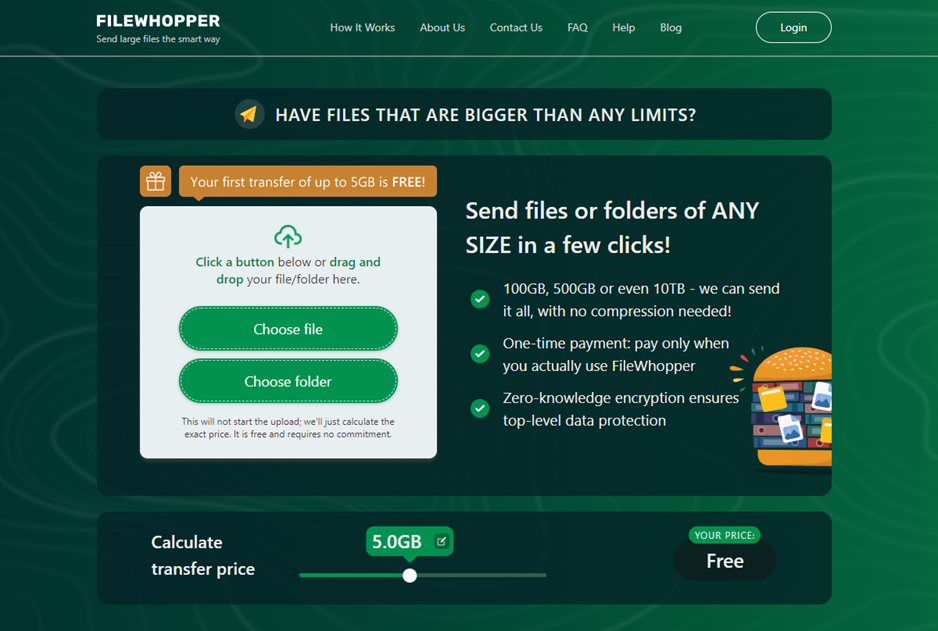 It's designed to specifically solve the "File too large" issue, allowing you to transfer files and folders of any size, from 10MB to 10TB. But what makes FileWhopper better than other file-sharing platforms?
Zero-knowledge encryption guarantees military-grade data security. It's one of the safest platforms you can use to transfer highly sensitive and confidential data.
It supports simultaneous uploads and downloads via a tiny app. The app ensures fast transfer speeds, resumes data transfer after a power or internet outage, and auto-deletes once the transfer process is over.
It's a pay-as-you-go service. There are no monthly subscriptions or commitments. The price is based on the size of the file or folder you want to transfer.
As you can see, there are many reasons to use FileWhopper. So, what are you waiting for? Visit FileWhopper.com today and send your first 5 GB for free!