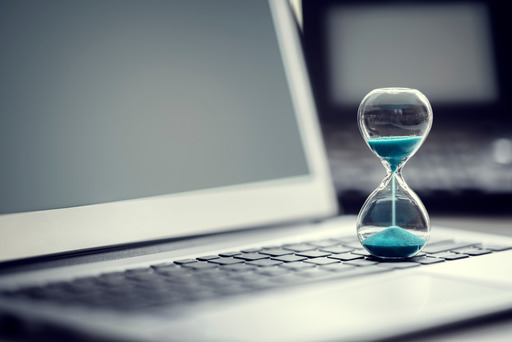 Are you tired of constantly chasing the clock and struggling to keep track of your precious time? In today's world, time is the ultimate currency, and efficient time management can make all the difference in achieving your goals. Luckily, the tech world is teeming with innovative time tracking apps designed to help you reclaim control over your schedule and boost your productivity.
From freelancers and remote workers to busy professionals and teams, these apps cater to a wide range of needs and offer unique features to help you make the most of every minute. Join us as we unveil the top 10 time tracking apps that will transform the way you manage your time in 2023. It's time to take charge of your schedule and unlock your true potential!
What is time tracking software?
The goal of time tracking programs is to allow employees to record how much time they spend on particular tasks. This information is also essential to employers as they will get to see how their team is doing and what they can do to improve performance.
Why is time tracking software essential?
There are lots of reasons why a company may need to use time trackers. What's more, these programs can also come in very handy on an individual level. With a good time tracker, you will be able to
keep your projects on track,
analyze and improve day-to-day productivity,
better prioritize tasks,
estimate time and budget for future projects,
simplify billing procedures,
analyze productivity levels of each employee and improve delegation,
etc.
Below, we will look into some of the best time tracking software for 2023.
Traqq
Key features:
Time tracking
Mouse & keyboard tracking
App and website monitoring
Secure and private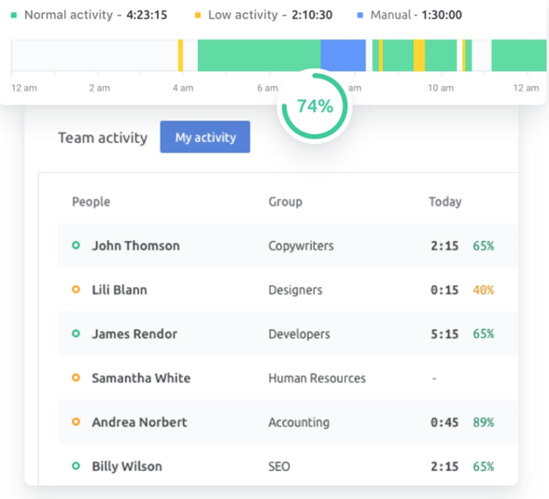 Traqq is a lightweight time tracking app and productivity tracker designed for both managers and employees. The app is based around using screenshots, activity tracking and productivity metrics to provide insights into how working hours are spent and what can be done to make them more productive.
The app takes screenshots in the background without becoming a distraction to work. It also offers an option to take videos of screen activity.
Activity levels are measured and analyzed via online timesheets that offer an easy way to pinpoint best-performing employees and offer assistance to those lagging behind.
While Traqq does monitor employee activity during working hours, its job is not to spy. The quality of screenshots and videos taken is purposefully reduced, which makes personal and sensitive information impossible to decipher. Plus, the user has full control of all the screenshots and videos taken on their PC and can delete them together with the recorded time.
Traqq is one of the most efficient productivity trackers on the market and would be a great fit for both team leaders and individuals aiming to be more productive.
DeskTime
Key features:
3-in-1: employee monitoring + project management + productivity analysis
Detailed visual and easily downloadable reports
Automated screenshots
Integrations with other project management apps
Pomodoro productivity timer
Customized app labeling as "productive" and "unproductive"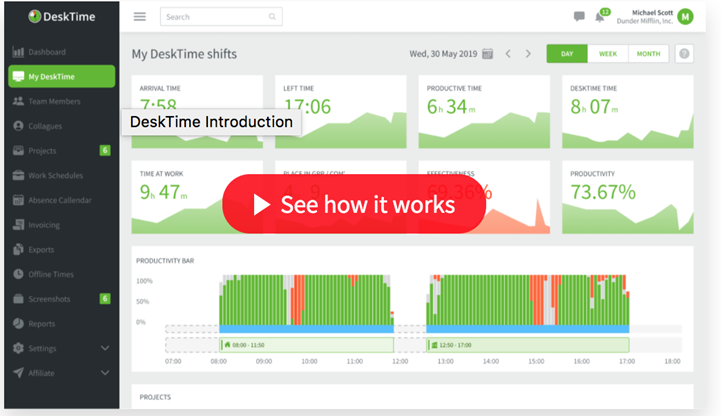 DeskTime is an easy-to-use time tracking solution that combines three essential tools: project management, productivity analysis and employee monitoring. In addition to just tracking time, DeskTime automatically calculates daily productivity by categorizing URLs, programs, and apps.
Basically, all applications and webpages are labeled as "productive" and "unproductive". The more time you spend on the applications labeled as "productive", the higher your daily productivity will be ranked.
Naturally, whether spending time on a certain app is productive or unproductive will be different for every employee. For instance, a social media manager spending time on Facebook is quite different from a production manager doing the same. This is why DeskTime allows you to manage and evaluate desktop productivity individually for different employee groups.
DeskTime would be the perfect choice for companies and teams focusing on the big picture. As a leader, you will get to set your desired productivity target and watch your employees work towards it.
ProofHub
Key features:
Advanced project management
Integration with other productivity tools
Custom reports
Automatic timer
Extra functionality, from file sharing to online proofing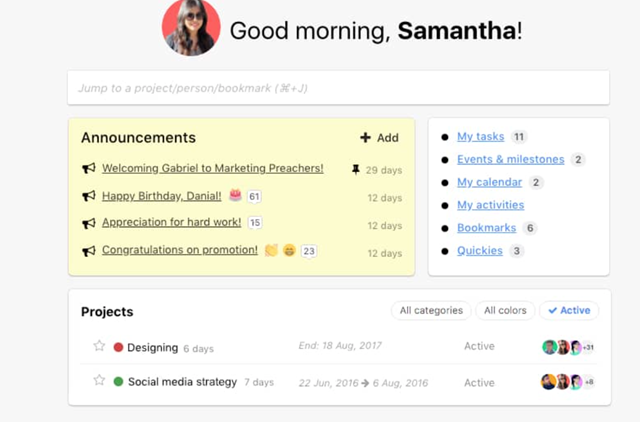 ProofHub is an online app dedicated to project management and time tracking, complete with
powerful collaboration features. The interface is very user-friendly, and the minimal learning curve will help your team quickly hop on board.
With ProofHub, you get to use an automatic timer and track every billable hour once you start working on a task. You also have the option of making manual time entries. All the data you input gets stored in beautiful timesheets that you can use as invoices.
ProofHub integrates with third-party apps (like FreshBooks), including billing and invoicing software. You also get access to advanced functionality like file sharing, online proofing, custom workflows, note taking, Kanban boards, online proofing, and more.
ProofHub is a great choice for team managers looking to improve productivity and track the efficiency of their efforts.
Hours
Key features:
Managing tasks and projects via color-coding
Time tracking reminder
Compatible with Apple Watch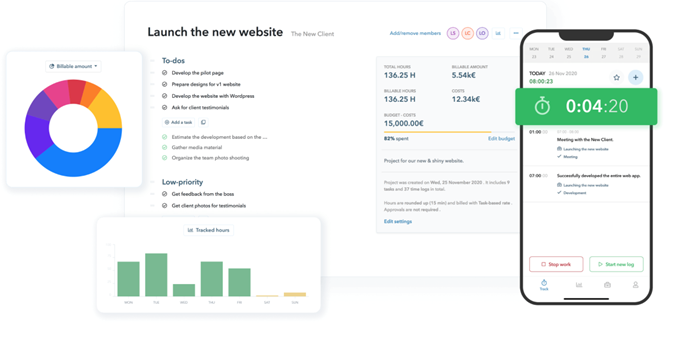 House is a clock app with basic time tracking functionality. It comes as a mobile app that lets you keep a list of timers and easily navigate from task to task.
With Hours, you can manage tasks and projects via color-coding. The idea is that by applying different colors to different tasks, you will be able to easily distinguish between them.
The app makes it easy to make changes to your recorded timestamps. For instance, if you start a task at 2 pm but forget to switch on the timer, you will be able to rectify that by dragging the start time slider to 2 pm.
Hours is a very basic time tracker and would work for those interested in trying time tracking out. There is also report sending functionality on board.
TimeCamp
Key features:
Daily productivity analysis
Creates and stores invoices
Attendance trackers
Integrates with over 50 other tools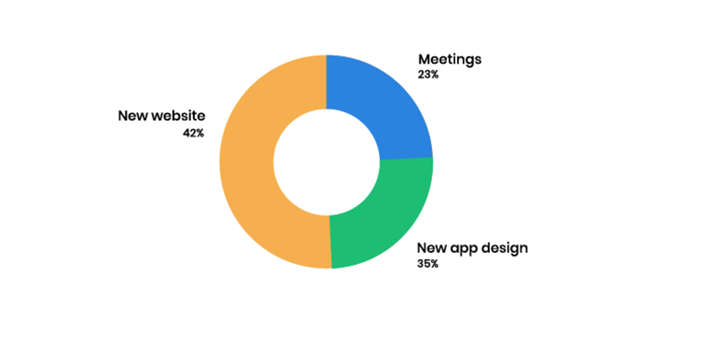 TimeCamp is cloud-based software where you can track work time manually or automatically via a desktop app.
With TimeCamp, project managers can track billable work hours and monitor project efficiency.
The app also makes it easy to create automatic employee payrolls and send out client invoices. What's more, TimeCamp also comes with productivity monitoring functionality, and managers get to see if their team is being as productive as they are expected to be throughout the working day.
The one thing that makes TimeCamp stand out among similar productivity solutions is that it can integrate with over 50 other apps — including Asana, Basecamp, Zendesk, and others.
TimeCamp is a great solution for team managers and large organizations in search of an all-in-one platform for tracking, billing and managing projects.
Time Doctor
Key features:
All-in-one tool
Creating employee payrolls
Managing payments
Automated screenshots
Employee activity monitoring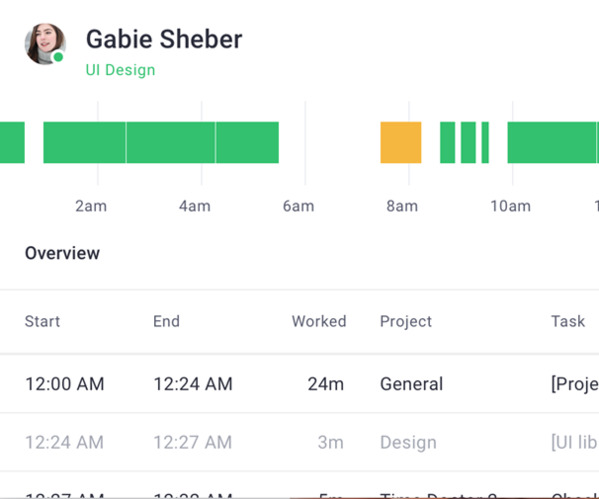 Time Doctor brings together time tracking, employee monitoring, project management, and more.
When it comes to time tracking, the app can keep records of what apps and web pages your employees use. Managers will also have the option of taking desktop screenshots to see what their employees are working on.
With Time Doctor, you can also manage employee payments using PayPal, Payoneer, TransferWise, or any other popular payment options. Payments are calculated automatically based on employees' timesheets.
Time Doctor is powerful time tracking software that would work for both small and big companies in need of a comprehensive solution for employee monitoring and managing payments.
Toggl
Key features:
Timeline and budget estimation
Project sharing via Excel, CSV or PDF
Dedicated Android app
Browser extensions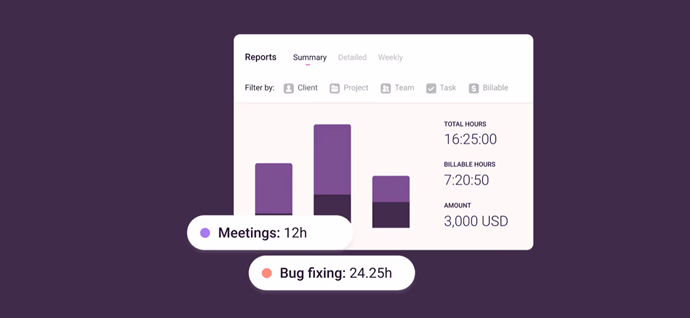 Toggl is a time recording solution that is based on a time tracker, which makes it really easy to use. All you need to do is create a project, then create a task within the project and start the timer. Once you are done working on the task, you can click Stop and move on to another task.
Once you've finished working on the whole project, you can instantly create an invoice for your client and send it right from the app. You can also share your project report with your clients via Excel, CSV or PDF.
Toggl also gives you the tools to organize projects, delegate responsibility, estimate timelines and budgets, and more. This offers a great way to track how each individual project is doing in terms of meeting deadlines and budget projections and make timely adjustments if needed.
The platform now also includes a handy Android app for convenient use on the go.
Timeline and budget estimation functionality makes Toggl a great solution for collaborative teams, startups and small companies working under budget restrictions.
Harvest
Key features:
Time tracking + expense tracking
Automatically creates invoices
Sends payment reminders to clients
Designs beautiful visual reports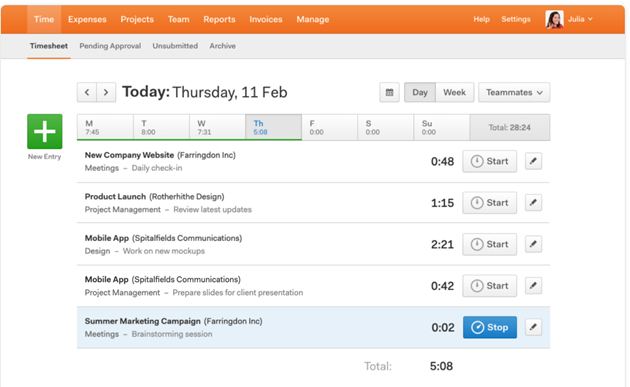 Harvest is a time tracking and expense monitoring tool. With it, you can track the time you spend on every project and task. This data is then collected and used to create intuitive visual reports where you can easily see what your team has been up to.
Once the project is complete, you can send invoices to your clients right from the app via Stripe or PayPal. Moreover, should your client forget to pay on time, Harvest will take on the task of sending a polite automatic reminder on your part.
Harvest doesn't just keep track of how time is spent but also organizes your revenue flow and invoices in one place. Thus, the app combines time tracking and expense tracking in one convenient package — and can be a true find for startups and freelancers.
Tick
Key features:
Time tracking against your estimated project timeline and budget
Sets recurring projects to auto-reset
Compatible with Apple Watch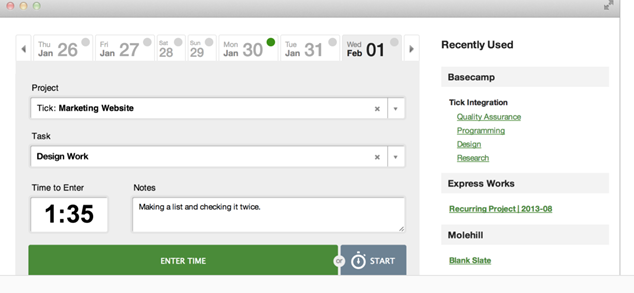 Tick is a life-saver when it comes to large projects. It's a project-based time tracking solution that tracks time against your estimated project timeline and budget.
Here's how it works. Every time you create a new time entry in Tick's timesheet, the app will automatically estimate how much time you will need to complete the corresponding task or project. You will also be notified if you are about to exceed your time or budget. This data will also be used in the future if your task is recurring.
When it comes to billing options, Tick easily integrates with accounting software like QuickBooks for quick creation of invoices, running payrolls and more.
Tick is probably the best pick for freelancers, small businesses and startups — especially when it comes to managing recurring projects. With the program, employees can also evaluate how much time they will need for certain projects and use this information to create offers for new customers.
RescueTime
Key features:
Daily task goals
Daily individual productivity analysis
App categorization into productive and unproductive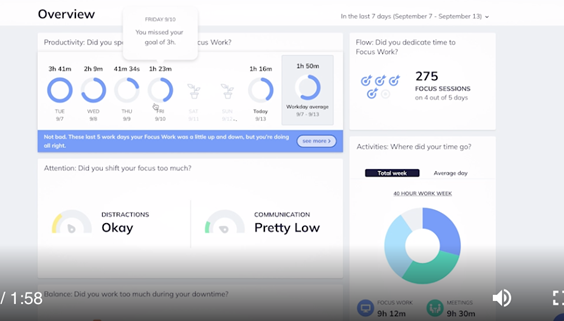 RescueTime is a comprehensive time tracking tool. It not only notes how much time employees spend on certain programs and websites but also evaluates their productivity throughout the day.
With RescueTime, productivity will be calculated automatically based on pre-assigned categories that have built-in productivity scores. For instance, by default, spending time on a social media app will be seen as unproductive while using a Word document will go towards your productivity score. RescueTime also gives you the option to customize productive and unproductive labels according to the specifics of your work.
What's more, with RescueTime, you can set task goals and evaluate your performance. For instance, you can set up a list of tasks with timelines for them so that you can stay more efficient.
RescueTime is a great solution for freelancers and employees who are looking for a personal time management tool and productivity tracker. However, RescueTime may not be the best option for team management as it doesn't automatically send productivity updates to managers.
We hope the list above has been helpful and you now have better tools at your disposal for keeping your team productive and improving personal efficiency as well.
And there is one more thing we'd like to bring up today.
With many companies switching to remote work, the issue of sending files is getting more acute. The easy solution is FileWhopper, an online service that allows transferring files and folders of any size quickly and securely.
With FileWhopper, you get to send over files and folders of any size — even a 10TB folder — quickly, easily and with no questions asked. You won't have to compress the file you want to send, upload it to the cloud or go through any complicated process. All it takes to send your data with FileWhopper is a tiny app that will auto-delete once the transfer is done.
Transferring files and folders with FileWhopper is 100% safe thanks to zero-knowledge encryption — the most secure protocol available today. The decryption keys for your data won't be stored on FileWhopper's servers, and your data will never fall into the wrong hands.
FileWhopper doesn't require a subscription — you will only be paying for the file or folder you need to transfer based on its size. What's more, your first 5GB transfer is absolutely free.