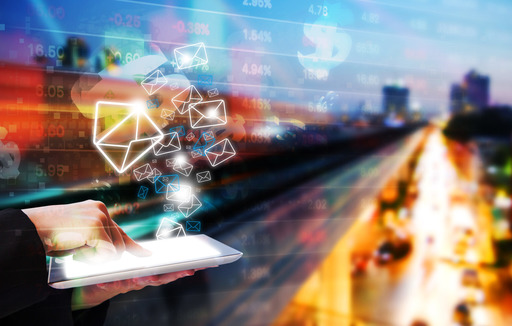 Did you know that the first-ever email marketing blast was sent back in 1978? It was sent by Gary Thuerk, a marketer at Digital Equipment Corporation, to around 400 recipients. This groundbreaking email resulted in $13 million in sales, proving the incredible potential of email marketing even in its early stages. Since then, email marketing has evolved and become one of the most effective and popular marketing channels utilized by businesses worldwide.
In this article, you'll find the best email marketing software and platforms of 2023. We've scoured the market to bring you a handpicked selection of the most powerful and user-friendly options available. Whether you're a small business owner, a marketing professional, or an aspiring entrepreneur, these tools are designed to help you create compelling email campaigns, manage your subscriber lists, and achieve outstanding results.
What Is Email Marketing Software?
Email marketing software lets users design, create, send, and track marketing emails. This way, you get to send out more emails, make them much better looking and see key metrics about how your email campaign is doing. Another thing good email marketing software should do is make sure that your emails go into the users' primary boxes — and not into their Spam and Promotion folders.
How Does Email Marketing Software Work?
When it comes to email marketing solutions, there are different options available, from text-based templates to more complex HTML or JavaScript setups. There are several ways in which you can leverage email for marketing. In some cases, companies may use a value-added newsletter targeting a gated subscriber community. Others may prefer to have their email campaigns tied to their sales engines so that they can inform potential customers about upcoming sales and new product releases. For each of these approaches, you will need to use different tools for drafting emails and for sending them to specific recipients. If you are running a small company, you will probably be able to manage your email marketing by just having a spreadsheet list of names and email addresses. If your business gets bigger, however, you will need a more comprehensive approach. This may involve having your email tool integrated with other back-end systems, like the accounting system and customer relationship management (CRM) system.
What Are the Benefits of Email Marketing Platforms?
There are several benefits that come with using an email marketing platform:
Email marketing tools offer an easy and effective way to send out informative and well-designed emails to your client list. Dealing with such amounts of data manually would be tremendously counter-productive and would make it virtually impossible to put out quality emails.
Email marketing tools come with lots of handy features that can help you take your email campaign to the next level. You can preview how your emails will look on different devices, personalize content and design based on the recipient's interests and location, analyze open rates, and more.
Email marketing platforms grant you access to lots of metrics that can make your next email marketing campaign even better. Some tools will even let you see how much time the recipient of your email spent reading it.
Email marketing platforms let you get a big return on a relatively small investment. Without spending substantial amounts on advertising, you get to communicate with your target audience on a regular basis, build your brand and get valuable feedback.
How to Choose Email Marketing Software
So, how do you choose the best email marketing software? Well, it all depends on what functionality you are looking for and the size of your client list. Below, we have collected our top picks for email marketing software.
ActiveCampaign
ActiveCampaign is one of the most popular email marketing solutions thanks to its advanced automation features and deliverability. Machine learning plays a great role here, and you get access to features like Predictive Actions, which lets the platform take action automatically to lead prospective clients down the sales funnel.
The program integrates with over 850 different apps, including Facebook, WordPress, Shopify, and others.
You get to easily manage email workflows, and all the data can be synced with your built-in CRM to offer sales teams advanced lead scoring options.
Another key selling point is deliverability. The emails you send via ActiveCampaign have a very high chance of going right into the recipient's primary box, which makes for very high open rates.
Pricing: There is a 14-day free trial available, and there are four paid packages to choose from: Lite: $9/month Plus: $49/month Professional: $129/month Enterprise: $229/month
Constant Contact
Constant Contact is an email marketing platform that aims to help small businesses reach their full marketing potential online.
The platform comes with a set of over 100 email templates, all of which have been optimized for mobile.
There is real-time reporting and analytics on board.
You get to enjoy handy extras like coupons, polls and events.
The platform's most interesting features include event management and the option to manage invitations, registrations, and tickets. Email recipients can RSVP to your event with just a click and instantly e-print their tickets. You, on the other hand, get to see exactly how many people will be attending your event in real time.
The email open rate for Constant Contact is also notably high, standing at close to 90%.
Pricing: Constant Contact is a paid platform and has two plans available: Email: starting at $20/month Email Plus: starting at $45/month
HubSpot
HubSpot is an integrated email marketing platform that lets you design, optimize and send out emails. There are also lots of custom features available.
To compose a new email, you can use one of the embedded templates or do it all yourself. The tool's templates let you add text, images, buttons, dividers, and other elements.
The platform comes with handy preview options that let you see how the email will look based on the end user's device and email client.
There are also great personalization options. You can customize design and content based on the recipient's device, location and more. You can also play around with subject lines and test them out to ensure the highest possible open rate.
The HubSpot analytics dashboard gives you valuable insights about email opens and clicks and even lets you know how much time the recipient spent reading your email.
HubSpot also boasts one of the industry's highest deliverability rates, which is estimated at 99%.
Pricing: Packages start at $45/month, and there is also a selection of free tools to get you started.
Sendinblue
If you are just dipping your toes into email marketing and want to try out functional yet free email marketing software, go with Sendinblue.
The platform comes with a free plan that lets you store unlimited contacts and send out 300 email newsletters per day.
The tool is really easy to use and would be perfect if you are trying email marketing out for the first time. It comes packed with clean, well-designed templates, automated welcome emails and website forms.
The free plan also offers a free live chat, customer relationship management and an automated workflow for up to 2,000 contacts.
Pricing: A very functional free plan is available. Paid packages start at $20/month.
Moosend
Moosend is basically an email automation tool with some marketing functionality.
You get to build your email list, personalize messages, automate tasks and more, leaving you with more time to focus on client relationships.
The interface is simple and intuitive with drag-and-drop email templates. The template selection is quite impressive, and you get options for both desktop and mobile. You can also add images, icons, text blocks, and more.
Where Moosend excels the most is automation. You can use pre-built automation templates to automate emails for upsells, customer engagement and loyalty.
The platform lets you analyze all key email metrics, and each paid plan comes with phone customer support.
Pricing: There is a free plan available with lots of essential functionality. Paid plans include Pro at $8/month and Enterprise (pricing depends on your particular requirements).
Mailerlite
Mailerlite has over 600,000 users and offers a nice selection of plans based on the size of your email list.
The platform is praised for its easy-to-use interface and responsive email designs.
You can use the tool's free plan if you have under 1,000 contacts. You can send up to 12,000 emails per month.
You can track your email campaign results with a handy click map.
There are e-commerce integration options and 24/7 phone and email support on paid plans.
Pricing: A free plan is available. Paid plans start at $10/month. And these are all the emailing service recommendations we have for you today. We hope that the list above has been helpful and you've been able to find a marketing email platform that works the best for your needs. Now, there is just one more thing we'd like to mention before you go. If you work remotely, especially in digital marketing, you definitely deal with transferring files over the internet. If you need to send a big file or folder to your colleague, check out FileWhopper, an online file-sharing service with no size limits.
There are two key things that make FileWhopper different from most other file sharing platforms. First, it lets you transfer files and folders of absolutely any size. While most transfer services will set a limit for how big of a file or folder you can transfer, FileWhopper will allow you to send over 10 TB of data in just a few clicks. Second, when you send files and folders over with FileWhopper, there are no strings attached. The service won't ask you to pay for a subscription or any other type of long-term commitment (like most cloud storage platforms). Instead, you will only pay for the data you are transferring — the fee is calculated based on its size. FileWhopper uses zero-knowledge encryption to keep your transfers safe, protects your transfer progress and uses a tiny, easy-to-use app to make it all happen. The best thing about FileWhopper is that you can try all of the platform's features first-hand without spending a penny. All first-time FileWhopper users get a free 5GB file transfer.