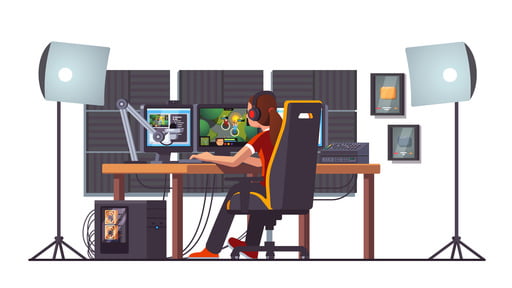 The best live streaming services for personal and professional use tend to differ. There is usually a lot of confusion over what one needs to look for when choosing the best live streaming platform. And this is only made worse by the fact that there are hundreds of redundant articles with outdated information. One ends up getting more confused and not knowing how to go about creating their live stream.
What Is Live Streaming?
Media streamed live is made up of multimedia constantly received by and presented to an end-user. There must always be a provider on one end, creating and churning out this multimedia for it to work. Most people prefer to live-stream from their PCs because they are more professional and come with more options compared to smartphones.
Live streams are fast becoming popular and taking over from pre-recorded media. This is because audiences prefer to be current and feel like they are part of the process as it happens. Additionally, the feature of live chats and interaction during live streaming makes this sort of broadcasting more popular. Video game streams have risen to the occasion because gaming alone can be boring. Now, instead of playing alone behind closed doors, gamers can share their gaming activities with a community of like-minded individuals.
Others are making a living and earning a good income from live-streaming their games. However, before getting into the mix of things, it's necessary to find the best possible live streaming platform.
Top Ten Live Streaming Platforms in 2021
To help you with the decision-making process, we have taken the liberty of looking into 2021's top live video streaming services that can work for gamers.
1. Twitch
You cannot start discussing the top live game streaming platforms without mentioning Twitch. Undoubtedly, Twitch is the best in the business. This live streaming platform leads on all ends, and gamers across the globe use the platform, knowing that they get the best in terms of features and functionality. Created by Twitch Interactive, an active subsidiary of Amazon, the platform was initially introduced as a spin-off of Justin.tv.
At the moment, a plethora of categories defines Twitch. Anyone can use it to just chat, engage in live channels, watch various channels, play Minecraft and Fortnite, and more. Above all, the site is user-friendly, efficient and super-interactive. After conquering a majority of the gaming markets, the platform is now the leading broadcaster for games and gaming services. The most important rule when using Twitch is to only stream your content and not break any copyrights.
2. YouTube
YouTube is not just for watching videos and listening to music. If you're to discuss the best gaming streaming services in the world, then YouTube must be on the list. On YouTube, content creators can rake in a lot of money and make a career and name for themselves. Through the introduction of Google AdSense, original content can get the creator a lot of money.
The platform has created celebrities, such as the channel The True Bits, which streams FIFA and PES games. The channel has over 80,000 subscribers and gains thousands of views on each video soon after posting. This is just an example, and there are a whole lot of other channels doing even way better than The True Bits.
To make the most out of YouTube, gamers can also introduce other content, reviewing new games or additional features. Content that engages the viewer should always be the target for anyone looking to make a successful live game stream.
3. InstaGib TV
Are you interested in a gaming platform that also presents you as the gamer with the option of making the most out of your career independently? Then consider creating a profile on InstaGib TV. This platform doesn't require any software or additional installations. Record videos anytime, anywhere in premium quality, then perform a live stream. There is room to use advanced tools and increase the quality of streamed content. Take the challenge of being a live game streamer to a new level using the built-in Caster feature.
The Caster feature enables young startups and even successful gamers to continue making a serious income. If you're looking for an excellent Twitch replacement or alternative to create another account on, then go with Instabig.tv. Your audience will be able to view, comment, share, save, and engage in a whole lot of activities.
4. Smashcast
It's impossible to discuss the top game-streaming services for 2021 without mentioning Smashcast. This platform is the new child created after Azubu and Hitbox were merged back in May 2017. First, Azubu acquired Hitbox, then both the websites closed to make room for Smashcast. This new platform is directed mostly towards eSports fans. There is the Hype-o-Meter, the feature that makes it possible for viewers to cheer and show support for their team.
Smashcast's new features are superb, to say the least, and if a dedicated gamer creates an account to live stream, they can expect to receive a feed on their page and enjoy other features. While on this platform, it's possible to get everything that you've ever desired as a gamer. The best part about the site is that it presents the gamer with all sorts of combinations and colour schemes. Simply, it is a unique live streaming platform that we can all appreciate. All sorts of games can be streamed for the targeted audience.
The streamer only needs to make sure that they sign up for the correct category. Live streaming channels on Smashcast are categorized into Private, Public or Adult. Of course, age restrictions apply for anyone who wants to view the channels classified as Adult. And there are also security measures for the Private channels. Although there is no sign-up fee to use Smashcast, one must always work with a high performing PC to qualify as a live streamer. There are also built-in tools to help the recorder make their content all the more appealing.
5. Mixer
Mixer is an excellent live game streaming platform. On this platform, gamers and content creators get a co-streaming option that enables up to four participants to stream content at the same time. This platform is unique and offers a niche that's quite not like the others. In essence, live gaming streamers can mix and match with co-creators or any other like-minded creator on the platform.
This efficient platform presents gamers with a long list of streaming options. During the streaming session, it's possible to view and use real-time analysis, have a live chat and respond to messages – pretty much a full conversation in the middle of the stream. At the end of each streaming session, one can pull out and analyze statistics to determine what can be improved for future streams. Making one's channel faster and better is possible using the tools provided by Mixer.
6. Bigo Live
Bigo Live is one of the best live streaming communities where creators come together to show their content. Sub-divided into Showbiz, Gaming, Connector, and Download, this platform creates an environment that promotes true feeling and sincere sharing. It is the child company of the Singaporean company BIGO.
Bigo Live works as both a gaming streaming channel and a connector. The greatest feature that this platform offers, which is not found in most other products, is enabling video streamers to get a direct connection to their audience and the Bigo community at large. While using the platform, live streamers can see the time spent streaming and view the number of subscribers and viewers and the number of likes they have surmounted for their live stream.
Bigo Live is a widely receptive platform, and live streamers can access it from Android and iOS. Offering distinct options for live streaming and broadcasting games, this tool assists with gaining popularity and reaching the targeted audiences.
7. AfreecaTV
The list of the best game-streaming services for 2021 includes streaming channels from different countries and locations. AfreecaTV is a P2P technology-based video streaming service that is owned by a company based in South Korea. On this platform, you get to chat with your favourite streamers and interact with others during a live stream.
So, who needs to download the AfreecaTv app from Google Play or the App Store? Anyone interested in watching a varied range of live content, which includes eSports, K-pop and Mukbang, from their mobile device. Setting up a new account is easy - no proficiency is needed to get started. If the general, free features are not doing you any good, you have the option of paying to enter full rooms. Full rooms are streamed in high resolution. Also, get to catch up as the app goes on Standby mode in case connectivity is lost.
8. DLive
One of the top live streaming platforms that are used by almost all pros from businesses to personal streamers is DLive. The platform used to be 'okay' and used by gamers periodically. However, the Pewdiepie YouTube channel used it and mentioned how efficient the platform was, thus helping to increase its popularity. Since the site's popularity has risen, now gamers are eager to stream on this site.
Streaming on DLive helps save time and churn out excellent game content. For anyone after value for money and creating excellent live content, this is the channel.
9. Disco Melee
We are almost at the end of our list of the top ten live game streaming platforms and just have to mention Disco Melee. Popularly known, loved and used for streaming, socializing and gaming, this platform is dedicated to making gaming social once again.
While on Disco Melee, gamers have access to endless interaction with the community members. Created by a team of professionals who are passionate about gaming, this live streaming platform will surely change the way we all feel about eSports. Get social as you game by actively choosing to project your work on Disco Melee.
10. Gosu Gamers
Gosu Gamers is a wonderful platform that's related to eSport. It's a multifaceted platform that is user-friendly and suitable for all ages. Supporting popular file formats and delivering excellent video content quality, Gosu Gamers provides high-quality content. If that is what you are after, then this is the number one platform to stream on. Currently, the site presents categories such as All eSports, Dota 2, CS: GO, Hearthstone, Heroes, Overwatch, LoL, StarCraft 2, and PUBG. You can create an on-site schedule to help with streaming and organizing how to watch matches.
What are the best gaming streaming sites in the world? The answer depends on you. It's always the classical case of everything depending on personal choices. You can start by first examining the performance and features offered by each platform and checking them against your streaming needs and uses.
Site performance is also heavily affected by the PC used, the internet connection and the accessories in use, such as the headset and microphone. Get the right equipment before engaging in live streaming and the rest will easily fall into place.
Save Your Important Files and Folders and Share Them via FileWhopper
FileWhopper is a file-sharing platform that allows you to transfer huge files and folders. Instead of using the monthly subscriptions offered by the likes of Google Drive and Dropbox, you can get straight to the point and only use the services of FileWhopper once in a while and only pay then.
Sounds good? Well, it sure is an excellent platform for anyone who has large media that they want to send in one go. At the moment, there is a special promotion running: transferring the first 5 GB is free. Only pay for anything beyond that. The fee is actually negligible as they charge $0.99 for up to 10 GB. In short, these are the benefits of using FileWhopper:
✔️ Data can be uploaded and downloaded simultaneously, which saves a lot of time.
✔️ Get a unique password that protects your transfer.
✔️ Get rid of monthly fees and subscriptions and pay only when you actually transfer data. The price depends exactly on how large your file or folder is.