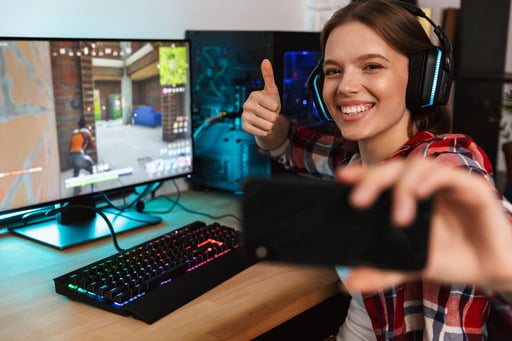 Before I say something that will make you roll your eyes, let me first make this clear: I know the prospects of cloud gaming can be exaggerated at times. To tell the truth, advertisers seem to be a bit on the hyperbolic side of things. Now that I have cleared the air, we can both agree that cloud computing is among the best innovations in recent years. It has brought a lot of excitement to the gaming industry. The whole concept of playing games that usually demand a high-end machine on any device is attractive yet seems to be far-fetched. However, that bit of a pipe dream is quite achievable with cloud gaming, which took the internet by storm and changed the nature of the gaming industry.
In this article, I will take you through the best cloud gaming services that deliver what they promise. With the help of my expert colleagues, I scanned through the web in search of the best cloud gaming services. We also scrutinized each based on various criteria. We used various categories to rank each of the services selected accordingly. Moreover, I will explain how we came up with a particular rank.
So, what is the best cloud gaming service in 2021? To answer this question, let's first look into the concept of cloud gaming.
What Is Cloud Gaming?
Cloud gaming isn't as complicated as it sounds. In most cases, when people hear the word "cloud," they think it's a technical term that makes the whole thing seem rocket science. In reality, though, cloud gaming refers to remotely playing games from a cloud server. Whatever the case, the word "cloud" in IT refers to a host of data servers storing content that can be accessed by anyone from anywhere. A good example that explains the whole concept is Netflix, which delivers video files to its viewers from the cloud.
Cloud gaming operates similarly, the remote servers being equipped with hard drives designed to run games. When you sign up, you are given the right to access these remote servers and play the games. Note that the servers are what is taking the strain of processing game inputs and graphics. Therefore, what is sent to your computer is a video stream of the game. This nature of cloud gaming allows users with average computer power to play these games, which is the reason why we have experienced a spike in the number of users playing cloud games.
When you are watching Netflix on your computer, if you press the spacebar, the movie will pause. This means you send a command to the server and receive a response. The same concept applies to cloud computing: let's say your mouse's left-click button is set to shoot when you click it, so when you send the command to the cloud servers, the game and the video stream you see get updated accordingly. A good cloud gaming service will try to keep the latency low so that the input lag is indiscernible. Note that the internet connection plays a major role here, especially on the gamer's end. You need to first understand the recommended internet connection speed of the game you wish to play. At times, people tend to bash cloud gaming services for lags caused by the poor internet connection on their end.
Are There Any Free Cloud Gaming Services?
It is no secret that the technology implemented into the cloud gaming services is quite expensive and not cheap to maintain. Although that is a fact, there is still a high demand for free cloud gaming services across the internet. That said, we failed to come across a trusted free cloud gaming service. However, we are positive that they will soon start to pop up. However, for now, if you come across a "free" cloud gaming service, be as vigilant as you can and verify it before entering its premises.
Top Cloud Gaming Services in 2021
Now that we all know the basics of cloud gaming,  it's time we got to the topic of interest, the reason why we are all here. The following are the top cloud gaming services in 2021.
GeForce Now
This platform is still in its early stage, but using it is quite an enjoyable experience. Released by Nvidia, this platform is anything but a disappointment. On top of the possibility of using their keyboards and mice as input devices, users have the liberty to connect a range of controllers, including Xbox One and 360 controllers, Logitech Gamepad F series, and DualShock 4. Additional features include a voice chat that is supported on both Windows and macOS systems.
Performance-wise, GeForce is a gem. The platform has an Ultra-Streaming mode allowing users to enjoy their gaming experience in 4k resolution at 60 frames per second. While we don't know for sure, it seems that when playing, we get a GPU capacity of up to 24 GB, which is astonishing. There is a possibility that Nvidia is using one of its latest graphics units here. This means the remote machine is geared with either Titan RTX or Quadro RTX 6000.
The GeForce Now game library isn't as impressive as those of its competitors, but it does serve the purpose. With over 400 games available to play, the platform isn't that bad, especially if you find what you are looking for. What impresses the most about their game library is that you can easily tell that quality precedes quantity on this platform. PC gamers are in for a treat as the latest games are added instantly after the release.
On this platform, you are bound to find a mixture of the latest, the most popular, and less popular titles. Variety is not an issue here as you will find the Japanese favorites like Nier: Automata and strategy games like Endless Space 2 complemented by the fan favorites Rocket League and Doom 2016. Indies are not forgotten with Darkest Dungeon and Hollow Knight and Celeste gracing the shelves. Topping it all off, the likes of Fortnite 2 and World of Tanks are among the free-to-play game titles.
When it comes to usability, GeForce Now is quite friendly. Although the system is fresh from the oven, its performance exceeds many expectations. The platform presents a fluid experience that is complemented by a smooth setup process. If you already have a GeForce Experience account, then there isn't a need to open a new one when you install GeForce Now. Just use your existing login details, and your account will be linked.
GeForce Now provides an experience close to the local game session. Image quality and input response are on point. Quality is incomparable as it dwarfs any other cloud gaming service in the industry. The ability to play at 4k resolution, nearly hitting the 90FPS mark, is outstanding, and that's exactly what GeForce Now brings to the table.
Shadow
When it comes to features, Shadow is the 'king.' This is a platform that dishes out all sorts of goodies in a well-structured way. For starters, Shadow gives each subscriber a dedicated cloud server, which kills the idea of scrambling for resources from a shared cloud gaming machine and putting up with poor game responsiveness. This means even during peak hours, you are likely to enjoy a more stable gaming experience.
Shadow is unique in many ways, and upon buying your subscription, you are booted into a new Windows 10 desktop. The download speed is also impressive, with the platform letting users enjoy up to 1 Gbps. With such a download speed, a lot can be done quickly on the Shadow cloud gaming platform. However, what didn't impress us at all is the available space, which is 256GB on the HDD.
When it comes to games, Shadow impressively dominates as it does not limit the user to specific games. What happens is that when you purchase a subscription, you are buying a full desktop. This means any game you wish to play from any DRM platform can be installed.
The sign-up process is pretty straightforward as all the information is in black and white. All you need to do is insert a few details before choosing your Windows 10 installation package. The installation process takes less than an hour, which is understandable considering that we are talking of Windows 10. After the setup, local apps get installed automatically. Once done, your remote desktop can be booted fast within seconds.
PlayStation Now
PlayStation is a dominating brand in the industry. With its cloud gaming service, you can easily enjoy things in terms of both quantity and quality. The gaming library has got over 800 game titles to select from. The entire library is free, which means there is no need to purchase a license to play a particular game. There you will find the latest games from PS4 and classic games from PS3 and PS2.
You will find games such as Red Dead Redemption, Rocket League, and Fallout 4 gracing the platform. As you would expect, titles such as Tekken, Bloodborne, and Jak and Daxter are also available. There are a huge number of games that you can enjoy by just subscribing to the platform.
The only catch with PlayStation Now is the price. The subscription fee is a bit high compared to those of its competitors. Moreover, the system is not as stable as you would expect it to be. During peak hours, the platform delivers neither the expected performance nor flexibility. Despite this, Sony has got a great way of making you pay less. If you opt for a yearly deal, it means you will be liable to pay $5.00 per month, billed yearly. However, if you select the month-to-month billing process, you will have to cough out $9.99. However, looking at it from another angle, the figures are a bargain regardless of the plan that you select if you are to consider that all games in the library are free to access.
Another issue is that you can only access PlayStation Now on PC and PS4. However, there is no keyboard and mouse support, which means the ownership of a DualShock 4 controller is a must. That means on top of the annual/monthly/quarterly subscription, you need to budget some money for a DualShock 4 controller.
Final Verdict
Cloud gaming is still a new concept, but it has been developing at a steady pace, such that it's beginning to make waves across the online gaming industry. Upon our encounter with most of the cloud gaming services, GeForce Now stood out from all the rest thanks to its amazing visuals accompanied by a steady platform that is very responsive. Shadow came close to it due to its massive gaming library and fast download speeds. However, it fell short of the mark due to its having not enough hard drive space. PlayStation Now is quite popular but comes with many downsides, from failing to handle peak hours to pricey subscription fees. It also needs a few tweaks to enhance usability. The fact that there is no support for keyboard and mouse input makes it pointless to be on a PC platform when using it. However, the titles are quite impressive, with over 800 games available to play for free without having to buy any license.
Fast & Secure Method of Transferring Extremely Large Files & Folders Online
Are you looking for the best and most convenient method to transfer large files and folders online? FileWhopper is here to assist. This program is designed with the end-user experience in mind. It is a user-friendly platform designed by a trusted Microsoft partner. FileWhopper is a stable platform that lets users transfer extremely large files and folders fast and securely. Users can upload files and folders of any size. There is no need to pay any monthly subscriptions. FileWhopper lets you pay a one-off fee based on the size of the file or folder you wish to share. Uploaded large files and folders are protected using top-end encryption technology to ensure the safety of your data and are kept for 14 days before being deleted permanently. However, the period can be extended to up to 90 days upon request. Here is how the system works:
1. Choose the large file or folder you wish to share and receive a quote based on its size.
2. Download the FileWhopper App to upload your content in a fast and secure manner.
3. Copy the link to the uploaded content and the password that protects it and safely share them with your intended recipient(s). Your order includes one download by default, yet you can increase the number of recipients by adding extra services.