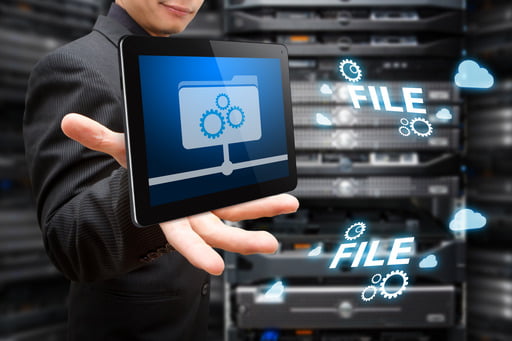 Let's have a moment of silence and say our final words to bloated email inboxes. Gone are the days when we had to worry about how to share large audio, video, or document files online. Emails could only handle large files to a certain extent, with most of them only managing to send up to 25 MB. However, the digital world has evolved such that files are now much larger than they used to be. A minute-long 4k video can be over a gigabyte in size. This shows us how much files have evolved in terms of size.
Moreover, devices have also improved quite significantly, with smartphones managing to capture high-quality images and videos with ease. Human nature is all about sharing bad and good moments. In other words, 'sharing is caring.' Therefore, over the course of the last decade, we have experienced a spike in the demand for services for sharing large files. Emails are no longer ideal as they have upload and transfer limits.
2020 has come with major breakthroughs in most technological sectors, including developments in sharing large files. There are a bunch of services that offer the best file sharing experience. In this article, we will list some of the best services for sharing large files and folders.
File Compression
Sending large files using this method is one of the easiest solutions. Cross-platform software such as 7-Zip will do the trick. The program is quite handy if you have many files that you need to share. The program lets you place multiple files into one folder and zip and compress them into a single small-sized file. The point is, sending multiple files takes longer than sending the same amount of data in one file. With 7-Zip, you get to bring all those multiple files into one folder and transfer them quite fast at one go.
The program is available for Windows, macOS, and Linux systems. The great thing about this program is that most of the operating systems can easily extract files compressed by 7-Zip without having to install any software. The software also lets users protect their zipped folders using a password to enhance security.

FileWhopper
One of the best services out there today is FileWhopper. This cloud-based service is amazing as it allows users to upload and transfer files and folders of any size. The program is user-friendly and quite simple to master. FileWhopper presents a smooth and responsive site developed by an experienced Microsoft partner. FileWhopper makes sharing large files and folders easy and convenient. It is a paid service. However, before you rule this suggestion out, read the following: the program, unlike most of the "top-notch" cloud-based file-sharing services, only requires a one-off payment compared to the excruciating monthly or yearly subscriptions offered by other services. You only pay for what you wish to send, no strings attached. What's more, your uploaded files and folders are kept on the servers for up to 14 days before being permanently deleted without leaving any traces. However, if there is a need, this period can be extended to up to 90 days upon your request. As a security measure, FileWhopper implements high-end encryption technology to ensure that your uploaded files or folders are kept secure at all times. You can also send your huge file or folder to multiple recipients at one go so that you don't have to repeat the same process over and over. However, keep in mind that one order includes one download by default. To add extra recipients, make sure to order additional services.
Compared to the likes of OneDrive and Google Drive, FileWhopper is a top pick as it does not have file size limits for uploads and delivers excellent performance. You can follow these simple steps to get started:
Select the large file or folder you want to share and receive a quote based on its size.
Download the FileWhopper App to upload your data fast and securely.
Copy the link to the content and the password provided by the app to protect your file or folder and share them securely with your intended recipient(s).
Courier
Ok, I know you might be wondering what I mean by courier. Well, this is the fastest and, to a certain level, a cheap and secure way of transferring a large amount of data at one go. Get a 20 TB disk drive and load your data. Find a trusted courier and send the data through to the person you wish to share it with. Large cloud providers can transfer big data using hard disks. Microsoft Azure charges a fee of $75 to handle your disk transfer. However, the downside is that you need to provide your storage device. You can get a 20TB WD External Hard Drive for less than $700 at Amazon. Transferring 20 TB of data using a 100MB dedicated line can take more than 500 hours, which is about 20 or more days.
MediaFire
This software allows users to register for a free account and obtain 10 GB of storage. You can earn more storage space by connecting your account to your social media account, referring friends and installing the service's mobile version. To share files using this platform, you need to upload your desired files and generate a download link that you will share with your preferred recipient(s).
Paid accounts vary and begin from just under $4, coming with a terabyte of storage space and a file size upload limit of 20GB. Unlike the free version, your paid account won't have annoying adverts or Captchas. Paid accounts come with a number of great features, such as a one-time link that makes your file inaccessible once the recipient has downloaded it.
FTP
This method may be fairly old, but it still manages to serve the purpose. File Transfer Protocol is still among the most trusted and reliable forms of transferring files and folders. There isn't an operating system that doesn't support FTP. There are also plenty of browsers that support the uploading and downloading of files through FTP. Both macOS and Windows users can take advantage of the free FTP desktop client Cyberduck.
The only catch with this method is that you need to have access to a web hosting service. The free storage space that you can get from the majority of trusted services adds up to 5GB.
Google Drive
Google Drive is another method that you can rely on. Google Drive is dedicated to handling information and presents flexible methods of sharing your large files and folders with the option of generating a link that you can share with anyone by just attaching the link to an email. When using Google Drive, be prepared to pay a ridiculous amount for storage. On a monthly subscription of $2, you get a mere 100 GB of storage. To make matters worse, your upload file size is limited to 100MB. That is one thing that most people fail to understand. Having 100 GB of storage does not mean you can upload a file of that size. However, if you are looking to share small-sized files, then Google Drive is a worthy consideration.
Hightail
Hightail is a business-oriented program that focuses on delivering personalized services to small and big companies. Once you have completed registration, you can create various 'spaces' to store various files. There are various features that your company can find useful on this platform. Take, for instance, the PipPoints feature, which lets users take notes on documents while working on them as a team.
The program can be obtained for free. However, the free version only comes with the maximum file size limit of 100MB, meaning you can't share a file larger than that. The Pro version, which comes for $12 per month, features unlimited storage space and supports the sharing of files of up to 25GB in size.
Resilio Sync
Previously known as BitTorrent Sync, this useful tool utilizes the BitTorrent protocol. The program is specifically designed for sharing large files and syncing them between devices. To share files with other people, you can generate secure links that you can share with your intended recipient(s). Such a link will allow your contact to easily download the files shared. However, the downside is that for your contacts to download the files you share, your device needs to be online.
For individuals, the software is free to use. However, if you want to use it as a family, you will have to add more features at an extra cost. Sync Home, which comes with more features, costs $60, whereas Sync for Family retails at $100 and allows usage by up to 5 family members.