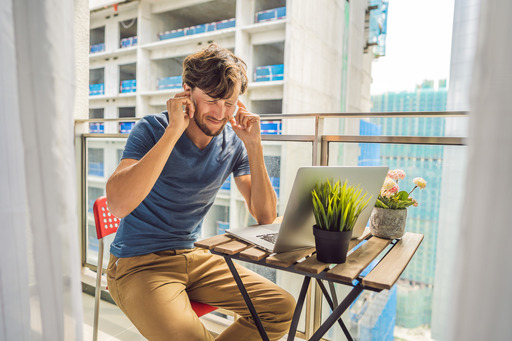 Ambient noise can be great for productivity. This is why a lot of us like to work in coffee shops or have the TV playing in the background as we work on an assignment. However, it can also prove to be very counterproductive — especially since not all background noise is good noise.
Noisy conversations, clatters, crowds, loud equipment, and a hectic office environment can all be hurdles to productivity and focus. And here is where noise cancelation software comes in handy. If you are looking for ways to escape unwanted sounds, remove background noise from video or find soothing white noise you can relax to, you've come to the right place.
Today, we are looking into some of the most highly rated noise-canceling apps.
How to Reduce Background Noise
Noise-canceling apps are tools that can efficiently remove background audio noise when you are making a conference call, listening to music, or relaxing or simply need a quiet moment to unwind.
Here are some of our top picks for noise suppression software that can help you get to a noise-free space anytime and anywhere.
Krisp
Krisp is a comprehensive app for filtering background noises and delivering high-quality sound.
The app comes with a button for canceling all types of background noises, from keyboard clicks to room echoes and street noises. It features AI-powered noise suppression that analyzes your audio feed and filters out all unnecessary noise, leaving only the speech signal.
The app is available on both Windows and macOS and has been named as one of TIME's best inventions of the year 2020.
Key features:
AI-powered noise cancelation
Compatible with over 800 streaming and communication apps
Microphone and speaker noise removal
Echo cancellation
Pricing:
There are several pricing plans available:
Free plan: 120 minutes per week of mic and speaker noise removal and acoustic echo cancellation.
Paid plans:
Personal Pro ($12 per month)
Teams ($12 per user per month)
Enterprise (custom)
Neutralizer
‍Neutralizer is one of the most popular noise-canceling apps for Android. It is also the best choice for people with specific hearing needs. The app does a great job of taking into account the fact that people hear differently and lets users make adjustments to customize the experience.
You will also get to regulate the noise level around your phone to improve your hearing ability.
Please note that the app is only available for Android.
Key features:
Hearing test
Custom profiles
Sound adaptation
Active noise cancelation
Adaptive equalizer
Key frequency ranges
Pricing:
The app is free to use.
Noise Killer
Noise Killer is another Android-only app. It is the best option for managing noise in public spaces. It's the perfect fit when you need some quiet when working in a noisy office, classroom, coffee shop, etc.
The app comes with a very straightforward interface. You get to monitor sound levels and will receive alerts if any sound exceeds the noise level you have set. There are a number of alert options: text alert, vibration, beep, "Quiet Please," and "Shhh".
You can also use the app to increase or decrease the volume of the device based on the level of background noise. There is also an onboard "shake" feature that can change the volume based on how your phone is moving.
The app is only available for Android.
Key features:
Noise level alerts
Auto volume adjustment
Movement monitoring
Shake feature
Pricing:
Noise Killer is free to use.
Safe Headphones
Safe Headphones is actually more of a noise awareness tool than a noise-canceling one.
The goal of the app (just as its name suggests) is to keep you safe while you are wearing your headphones in a public space. Once enabled, it will make sure you can hear important background noises like car horns and other traffic signals without having to take your headphones off.
In addition to safety features, the app also comes with a noise filtering feature that lets users monitor background noise and adjust its volume or suppress it. The app can also be used as a hearing aid for people with hearing difficulties.
Safe Headphones is an Android-only app.
Key features:
Background noise amplifier
Background noise monitoring
Hearing aid
Friendly UI
Pricing:
Safe Headphones is free to use.
myNoise
myNoise is a great app for getting rid of unwanted sounds and masking them with pleasant white noise that can help you focus, relax or sleep.
The app basically works by covering background noises that you don't want to hear with ambient sounds that you may like. It can be adjusted to the frequency characteristics of the noise that bothers you to achieve a better masking effect.
The app is available for iOS, Android, Web, and Alexa-compatible smart home devices.
Key features:
Frequency-based noises
White noise masking
Auto-play
Background noise adjustment
Alarm and timer
Animation modes
Wireless streaming
Pricing:
The app is free to use and is ad-free. You can purchase additional white noise sounds that are not included in the free catalogue.
UrbanDenoiser
UrbanDenoiser is primarily marketed as an app for music lovers — but it also does a great job of noise-canceling in other situations, including video calls.
UrbanDenoiser comes with some functionality specifically meant for music lovers. However, there is also an onboard noise compensation feature that allows for automatic volume adjustment and frequency masking.
UrbanDenoiser was awarded the Microsoft AppCup in 2015.
The app is available on iOS, Android and Windows.
Key features:
Noise reduction
Natural sound restoring
Sound amplification equalizer
Volume booster
Pricing:
UrbanDenoiser is free to use, but you will see occasional ads.
Noise Wall
Noise Wall is a great app to help you focus on work and studies and ensure a good sleep.
Just like the app's name suggests, the app acts as a "wall" between your ears and distracting background noises. Whether you are working, relaxing, listening to music, or making a video call, Noise Wall can efficiently block out external distractions.
It also comes with a selection of white noises to help mask background sounds and help you relax: White Noise: 20Hz to 20.000Hz, Pink Noise: 20Hz to 20.000Hz, Brown Noise, and Custom Noise.
The app is available for both iOS and Android.
Key features:
Low noise frequencies
Audio fade-out
Sleep timer
Offline use
Can be used with a locked screen and together with other apps
Pricing:
Noise Wall is free to use.
Noise Gator
If you are looking for an app that will specifically help you remove background audio noise in your recordings and audio and video calls, Noise Gator is the tool to turn to.
Noise Gator is a simple and practical noise-canceling solution. It is Java-based software that removes background noise during video calls, teleconferences and more. The program works with a variety of VOIP solutions, like Skype, and is compatible with both Windows and macOS.
Audio levels are analyzed in real time, and the software goes on to filter out any unneeded sound while you are on a video call, at a work conference or making a voice recording. This results in a clean and crisp sound with no audio interruptions.
Key features:
Background noise cancelation for video calls and recordings
Compatible with VOIPs, including Skype
Pricing:
Noise Gator is free to use.
We hope that our list of noise suppression software has been useful and you now have a good selection of tools at your disposal to improve focus and get rid of unwanted background noise.
Which of the tools above has worked the best for you? Please share in the comments below.
Now that you've found your perfect noise-canceling app, there is just one more tool we feel confident recommending. If you are in the market for noise cancelation software, the chances are you appreciate quality sound, love music and podcasts and, in general, often deal with sound files. And if you do, you are probably well aware of how hard it often is to send a large high-quality audio file over the web.
So, what is the best way to send over an audio file online?
Email is rarely an option as even Gmail has an attachment size limit of just 25 MB. Sharing audio files over the cloud is a better method. But if you have an extensive audio library, you will need to commit to a pricey subscription to keep your files stored and to share them. For a lot of people, this is not at all the best-case scenario.
This is why we suggest you try out FileWhopper.
FileWhopper is a new file transferring service focused specifically on sending large files and folders over the web. Even if you have a 10TB folder of audio recordings to transfer, FileWhopper is up for the task. It won't ask you to store your files in the cloud, and you won't need to compress them either. Sending a heavy audio folder only takes one click.
Another great thing about the service is that it uses a pay-as-you-go approach. There are no expensive long-term price plans to commit to — you only pay for the file or folder you are transferring at the moment, and the fee is calculated based on your item's size. You get a price quote before you send your file or folder over, and you can even choose who pays for the transfer: you or the recipient.
FileWhopper takes data privacy exceptionally seriously. The service uses zero-knowledge encryption, which prevents anyone but you from accessing the files you upload for transfer.
If there is a technical issue during the transfer (such as a connection failure, power outage, etc.), your files stay safe and no data will be lost. The transfer will simply be paused until the connection is restored and pick up from where it left off when everything is back to normal.
Another great feature has to do with time saving. The recipient of your file or folder can start the download on their end as soon as you begin to upload it — there is no need for them to wait for the upload to be complete.
So, as you can see, FileWhopper may just be the best way of getting your audio files to their destination. But you don't have to rely on what we've listed here — simply head over to FileWhopper.com and test out the app by yourself with a free 5GB transfer for all new users.