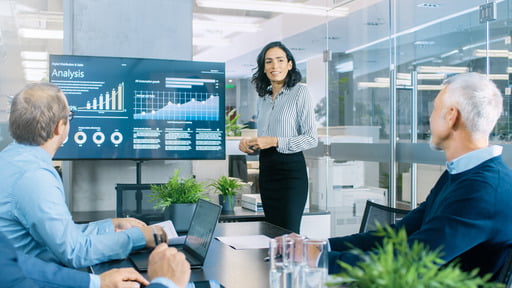 The digital world has changed the way we communicate and share ideas. Now that most companies have transitioned to remote work, there's a need to be more creative in how we convey messages and illustrate concepts.
That's where presentation software comes in. This is a type of software that allows you to create slideshows to present information in a sequence. It combines several multimedia formats, such as video, images, audio, and text, to design interesting and engaging content.
Whether you're preparing a sales pitch, a product launch, or a learning course, you need to present your concepts and ideas logically. With so many types of presentation tools in the market, you want to go for a simple, functional, and reliable application.
Most importantly, choose a program that supports all types of media so you can make your presentations lively and more engaging. Other factors to consider when selecting a presentation tool are as follows:
Features
Cost
Compatibility
Design library
Ease of use
Shareability
What Are the Benefits of Presentation Software?
Increased Engagement
Striking images can grab your audience's attention, while clear summary text or bullet points help them understand the logic behind the presentation. This creates a greater impact on the viewer's mind compared to making the same points just by talking.
Content Customization
A good presentation tool has highly customizable slides. You can edit content quickly and easily add new details. It also lets you modify presentations for different audiences.
Doing so is more convenient and practical than using a printed medium, like a corporate brochure.
Consistency
An excellent presentation solution allows you to create custom templates. When it is combined with a master slide deck, you can ensure consistency across your presentations.
Additionally, a presentation tool enables you to present your ideas and concepts in a structured way. This is an important factor to consider when communicating information about your products.
Versatility
You can use presentations in one-on-one meetings, on a laptop/computer, or even on a tablet. You can also show the same presentation in a large meeting using a projector and screen.
Furthermore, you can upload your presentation file to your website or YouTube so viewers can stream or download it.
Interactivity
Online presentations allow viewers to not only view the slides but also control playback, sound volume, speed, and other settings for better understanding.
Saving Time
A presentation file contains all the necessary information in just a few pages. A single presentation can include technical details, statistics, pricing information, and much more.
How Does Presentation Software Work?
Most presentation platforms work the same way, although they all come with different features. Here's how a typical presentation program works:
Template selection. You'll have a wide selection of templates to choose from depending on the idea or objective you want to present.
Adding content. After picking the ideal template, the next step is to insert content. From text, animation and video to images, audio, and graphics, your choice will depend on the type of presentation you plan to design. This step also includes adding slide templates and infographics to create engaging presentations.
Text editing. You can customize the template by editing text to match your presentation.
Saving the presentation file. Once you've created your slides and modified the presentation to your liking, you can save it on the cloud or locally on the computer. Most tools support several formats, including MP4, PDF, PPT, and HTML5.
If you do a lot of presentations, you've probably used the tried and tested PowerPoint. But, have you ever considered trying other types of presentation software out there? Like we said, each tool is unique, and by sticking to PowerPoint, you don't know what features or tricks you're missing out on.
In our post, we highlight the six best presentation programs of 2021 beyond PowerPoint.
Best for Collaboration: Google Slides
Google Slides is a free presentation tool that's part of the Google Workspace (formerly G Suite). It offers a variety of portfolios, pitches, and pre-made presentations to give you a head start when creating your presentations.
How to Use Google Slides
You can create a presentation via your browser or download the Google Slides mobile app. You then have the option to choose a blank document or one of the dozens of templates available. Google Slides is highly flexible and versatile, plus all your work is automatically saved.
You can edit templates and add text, shapes, images, audio, video, charts, graphs, and more. You can also change the background, layout, theme, and transitions to make your slides more powerful.
If you're wondering how to add audio to Google Slides, simply click on the "Insert" tab and select "Audio". In the pop-up window, choose the audio you want to add to your slides and click on "Select". You can also search for the audio via the search box.
Key Features
Excellent collaboration
Cloud-based, making presentations accessible from anywhere and on any device
Pre-built templates
Highly versatile and customizable
Integrates with PowerPoint
Easily convert PowerPoint presentations to Google Slides presentations and vice versa
Pros:
Fully free software
Offline editing capabilities
Works across devices
Minimalist interface and ease of use
Supports screen sharing via Chromecast and AirPlay
Allows broadcasting presentations live to a remote audience
Allows live editing, with the changes visible in real-time
Supports all video formats and converts them into MP4 files
Cons:
Formatting issues when opening slides in other formats
Offline editing available only when using the Chrome browser
Pricing
A free version is available. Users can upgrade to the Premium version at $6 per month.
Best for Unique Presentations: Prezi
If you want a highly visual and interactive presentation, check out Prezi. It lets you tailor presentations to your specific audience and is ideal for presenting live in a video meeting. You can also record videos along with presentation files and share them later.
Key Features:
Integrates with your favorite apps like Google Meet, Microsoft Teams, Zoom Meetings, and Cisco Webex
Advanced customization features
Hundreds of templates
Uncluttered interface and engaging design
Drag and drop editor
More control options
Pros:
Access to millions of reusable presentations from other users
Allows up to 10 people to work on a presentation simultaneously
Lets users analyze the analytics of published presentations
Allows users to import PowerPoint presentations and convert them into Prezi presentations
Cons:
Advanced features are only available on the highest premium package.
The mobile app only allows viewing and presenting, not editing.
Pricing
Individual:
Basic – Free
Plus - $14 per month
Premium - $18 per month
Students & Educators:
Basic – Free
EDU Plus - $3 per month
EDU Pro - $4 per month
Business:
Plus - $14 per month
Premium - $18 per month
Teams – Custom pricing
Best AI: Slidebean
Slidebean is one of the best presentation tools. It works through AI to create professional-looking presentations quickly. New users can view a brief tutorial on how the software works.
Slidebean works quite differently from the other apps. You focus on your texts and ideas, while the AI software handles the formatting and color coordination. It will keep mixing and matching the options until you find a template that works for you.
Key Features:
Slide automation
Sample decks
Rich gallery of presentation templates
Integration with websites
Compatible with all operating systems
Pros:
The option to track viewers' behavior while they look at your presentation (for premium users only)
Collaboration features
Accessible from any location and device via the cloud
Supports exporting presentations into PPT or PDF for offline use
Cons:
Design element changes when downloading a presentation in PPT or HTML
Stability issues with some web browsers
Pricing
Essential - $29 per month
Premium - $45 per month
Best for Broadcasting Published Presentations: Zoho Show
Zoho Show is an online presentation program that lets users create, collaborate on and publish presentations within minutes. It also allows broadcasting presentations from anywhere and on any device.
Like Google Slides, Zoho Show supports real-time collaboration, letting teams work together on slides. It offers highly flexible and customizable features and is suitable for beginners with minimal design skills.
Key Features
Drag and drop editor
Allows collaboration
Supports PowerPoint file importation, letting users convert PowerPoint presentations into Zoho presentations or export them to PDF
Pros:
Clean, easy-to-use interface
Offers dedicated iOS and Android applications to present directly on the TV
Allows sharing presentations with non-Zoho users via expirable URLs
Lets users publish presentations internally for the organization or for the general public
Supports remote broadcasting
Integrates with Slack, Jira, and Confluence
Cons
Requires fast Internet to function properly
Offers limited pre-built templates
Pricing
Free plan
Standard Tier - $5 per user per month
Premium Tier - $8 per user per month
Best for Apple iOS Devices: Haiku Deck
Haiku Deck is an Apple-exclusive presentation app that helps users create modern and engaging presentations. Users can take advantage of stunning visuals in the background and a wide selection of images to create beautiful slides.
Key Features
Extensive free template library
Focuses on image-based slides as opposed to text-based slides of PowerPoint
User-friendly layout for ease of use
Beginner-friendly design
Pros:
Access to more than 40 million royalty-free images
Excellent choice for people with zero design skills
Access to dozens of simple slide layouts
Cons:
Supports Apple iOS devices only
Too limiting for users who want to include more information
Pricing
Pro - $9.99 per month (billed annually) or $19.99 per month (billed monthly)
Premium - $29.99 per month, billed annually
Best for Sales and Marketing Presentations: CustomShow
CustomShow is a presentation platform specifically designed to help sales and marketing teams create lively and engaging presentations. Teams can create, edit, and approve presentations concurrently, saving time and resources.
Key Features
Extensive editing tools
Highly customizable, allowing teams to add videos, music, and brand assets to their slides
Sales analytics tracking
Team collaboration
Supports presenting with Simulcast
Automates version control
Ensures brand compliance
Pros:
Can be used online and offline via native mobile and desktop apps
Allows users to easily convert from PowerPoint to CustomShow
Lets users build a version-controlled slide library so the sales team can quickly personalize their presentations
Lets users track audience engagement and insights for sales analytics
Allows users to manage presentations from anywhere
Cons
Slows down dramatically after you insert large, high-quality images
No free trial
Pricing
Essential - $29 per user per month
Professional - $49 per user per month
Enterprise - $69 per user per month
Share Your Presentation Files Online
So, you've created a professional-looking presentation using one of the presentation platforms we've mentioned above and need to share it with your co-workers or clients. What file sharing tool should you use? We recommend FileWhopper.
It's a non-subscription online service that lets you transfer files and folders with no size limits. Whether it's a 5GB or 2TB presentation, FileWhopper will handle it for you. So, why FileWhopper?
You only pay for the file or folder you want to transfer depending on its size, making it way more convenient than other subscription services.
Your data is protected using zero-knowledge encryption. This means no one except the person you share the password with can access the data. The password is auto-generated, or you can create it yourself. Since it's not stored on FileWhopper's servers, even the FileWhopper staff can't access your files or folders.
Transfers are handled by a tiny FileWhopper app that offers several advantages. For starters, you don't have to worry about interruptions when sharing data. If a connection issue or blackout occurs, the transfer will resume from where it left off once the connection is re-established.
Additionally, the app supports simultaneous uploads and downloads, and the recipient can start downloading your data as soon as the upload starts.
Your data is automatically deleted from the server after it is downloaded, so you don't have to delete it manually.
Try FileWhopper out today. Send your first 5GB absolutely for free!