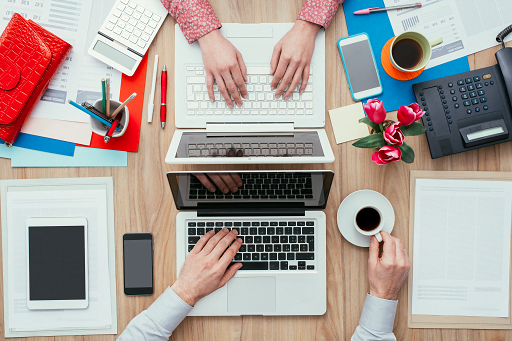 Not everyone is comfortable using one operating system. While you may be an expert in using Windows, there are times you might need to make use of macOS. For this reason, it becomes necessary to find an effective means of transferring files between a Mac and a Windows PC.
There are several methods that can be used when solving the query of how to connect a Mac and a Windows 10 PC. You can carry out a macOS-to-Windows file transfer using the built-in tools of each OS. On the other hand, you can always take charge of the situation by using third-party solutions that will do all the work.
Read on to discover how you can transfer files from a PC to a Mac and vice versa.
How to Transfer Files from MacOS to Windows Naturally
Using the built-in tools, you can seamlessly transfer files between these two systems, provided that they're both in good working condition. Another major factor to be considered is that this method will work only if both the Windows PC and Mac you want to migrate files between operate on the same local network.
If your devices are not on the same local network, then you might as well skip this part and check out how to move files from a Mac to a Windows computer using third-party tools.
Get Started – Set Up File Sharing on a Mac
When sharing files between Windows and Mac PCs, you should start by tweaking certain settings on your systems. Start by adjusting the Mac so it can share its files. Follow the steps below:
Locate the Apple icon in the upper-left corner of your screen.
Open System Preferences > Sharing.
Check the box next to File Sharing in the left panel.
Select Options to open up a new window.
Tick the box next to the Share files and folders using SMB option.
Also, check the box next to the Share files and folders using AFP option.
Locate the Windows File Sharing section underneath and follow the rest of the commands to finish.
Check the box next to each of the user files that you would like to share.
Enter your user passwords.
Click on Done, and the entire process will be complete.
You'll be taken to the Sharing window. Under this window, you have to select those folders that you're interested in sharing with your Windows PC. To adjust your preferences, click on the Plus and Minus buttons under the Shared Folders and Shared Users sections. The final step will be noting down the IP address of your Mac.
How to Access Mac Files on Windows
Now that your Mac files are safely on your Windows PC, you can open and access them at any time. Here's how:
Launch File Explorer.
At the top of the window, in the address bar, type \\ and then enter your Mac's IP address. It should appear something like the following: \\192.168.0.0.
A new window should open up asking for your username and password.
Enter the details in the exact manner they are on your Mac.
From File Explorer, you should be able to view any folders and users that have been added to the Shared Users and Shared Folders lists on your Mac. You can take advantage of this feature when sharing files. Simply drag and drop a file into any of the local folders, and it will be shared in that folder.
Get Started – Set Up File Sharing on a Windows PC
You have just learned how to wirelessly share files between a Mac and a Windows PC. Now you are ready to learn how to move files from your Windows PC to a Mac.
Since Windows creates a separate network profile for each network used, members can select specific options for individual profiles. To get started, double-check that you have turned on your Network Discovery option. Start your Windows PC, then follow these steps:
Open the Settings app, then launch Network & Internet.
Click Status on the left panel.
Check the box next to Sharing Options under the Change your network settings tab.
Depending on your current connection type, you should either open Public Network or Private Network.
Turn on discoverability by checking the box Turn on network discovery.
Tick the File and Printer sharing box and click Save changes to make sure that your changes have been saved and applied.
For your safety, avoid checking the box next to Turn on network discovery if you're on a public network. There are a lot of security issues and threats lurking in public networks.
You can decide to share folders by selecting one at a time. It's not a taxing process. To get started, right-click on a folder's name. Then follow this path:
Properties > Sharing > Network File and Folder Sharing > Share
Also, note your Windows PC's IP address or the computer name.
IP Address: Settings > Network & internet > Wi-Fi > Hardware Properties.
Computer Name: Settings > System > About.
How to Access Windows Files on a Mac
After successfully adjusting your sharing options and preferences, you can get started transferring files from your Windows PC to your Mac. Follow the steps below to get started:
Launch Finder.
At the top of the screen, find the menu bar and select Go > Connect to Server.
Then type either smb://[IP address] or smb://[computer name] and press Enter.
A prompt appears asking for your Windows username and password. Type these details exactly as they are on your Windows PC.
Then click Connect to get started.
Easily find your Windows shared folders and files under the Shared section in Finder. When transferring files from your Windows PC to the Mac, drag and drop as suitable.
These are the simple native tools and tricks to use when sharing files between the two systems. If you have been wondering how to transfer files between a Mac and a Windows PC, now you know how and can safely do it with your colleagues, friends and family without posing security threats to your local network. But if you prefer, you can transfer files with the help of third-party tools.
Third-Party Means of Sharing Files Between a Mac and a PC
Transfer Using a USB Stick
Although now somewhat outdated and tiresome to carry around, a USB stick is the best way of sharing files between machines. As long as your machine has a USB port that works and is perfectly responsive, it will work. You can upload files from one machine to the USB stick, then insert it into the other machine to assess and collect your folders.
Use Online File Sharing and Cloud Storage Services
Use the likes of FileWhopper, OneDrive, Dropbox, and Google Drive to easily share and transfer files and folders between your machines. While other services declare limited file sizes, FileWhopper has literally no file size limits, so one can upload and download data of any size. You can send your large-sized file or folder to one user per transfer by default and have it stored securely on FileWhopper's servers for 14 days. That said, the platform is extremely flexible: extra downloads and days of storage can be added upon request. And the best thing is, you don't need to pay hefty subscription fees since on FileWhopper, you pay only for the exact amount of data you transfer. The platform supports Windows PCs, so you can access it from any of your Windows machines to easily upload your huge files or folders. You can also use your iCloud storage to store and share data from your Mac without feeling too left out by FileWhopper as at the moment, FileWhopper doesn't support file uploads/downloads on macOS/Linux computers, but these operating systems are on the roadmap already. Please make sure your recipients use a Windows computer to download the file or folder.
Transfer from Your Own Server
Those already with a paid web hosting service can use it for file transfer. It requires that one upload a file from one machine through FTP and then simply download it on the other machine. This is basic and requires no skill set. If you didn't know, you can use the likes of InMotion, Bluehost and WP Engine, among other great servers.