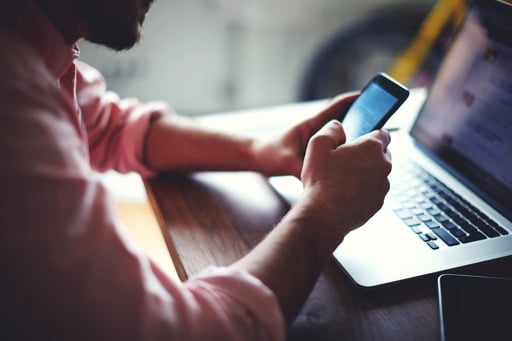 Are you looking for details on how to sync an Android phone to a computer? We've got you covered. Cell phones have come a long way. Just a few years back, one could only make calls and send texts via their mobile phone. But now you can use your phone to do anything from recording videos, capturing beautiful moments, checking and replying to emails to watching movies or YouTube videos, playing music, and controlling your smart home devices. We owe this to the swift advancement in technology. However, it doesn't end there. To edit the videos or photos and watch them on a bigger screen, you have to download them to your PC. Luckily, you can do so through the methods discussed below.
How to Sync an Android Phone and a Windows 10 PC
Transfer Files via USB
Perhaps the easiest way to connect your Android phone to your Windows computer is via a USB cable. For this procedure, all you need is a USB cable and you're good to go. Depending on your phone brand, you might require a micro-USB cable or a USB Type C Cable.
Here's the complete process:
Plug the USB cable into your PC and connect it to your Android device.
Be sure to unlock your Android phone and change the USB connection to allow your PC to recognize the phone. On most Android devices, you'll see the following notification: "Use USB to: Charge this device or Transfer files". Note that the description may vary depending on the type of phone that you are using.
Select "Transfer files", and your device should appear on your computer in File Explorer. In most cases, this operation should automatically bring up File Explorer. However, if it doesn't, simply press the Win + E shortcut on your keyboard, click on "This PC" and double-click your Android device.
From there, you can open the storage that you want to access on your phone and select the files that you want to transfer.
To download the files to your computer, simply copy them (either in bulk or one by one) and paste them to an existing folder or one that you've created to store the files. Alternatively, use the Ctrl + A shortcut to select everything in that particular folder or hold down the Ctrl key while you click on multiple files that you wish to transfer to your computer.
Once you're done, drag the files and drop them inside the folder on your Windows PC. This can be easier if you have two open File Explorer windows side by side - one for the designated folder on your computer and the other for the folder containing the files to be transferred.
Transfer Files via Bluetooth
You can also transfer files from your Android phone to a Windows 10 PC via Bluetooth. However, Bluetooth has to be available on your computer. If not, you'll need a Bluetooth USB dongle. To begin the file transfer, you must enable Bluetooth both on your Android phone and Windows PC. Here's the procedure:
On your Windows 10 computer, click the "Action Center" icon in the bottom right corner of your screen and select "Bluetooth". Alternatively, press the Windows Key, type in Bluetooth and select "Bluetooth and other devices settings". Click the toggle button to turn on Bluetooth.
On your Android phone, open "Settings", select "Connected devices" and turn on "Bluetooth" (the settings might vary from one Android device to another).
Now, press the Win + I shortcut on your PC to open the "Settings" app.
Select "Devices" and click on "Add Bluetooth or other device".
Select the first option, which should be "Bluetooth", to initiate the scanning process. Make sure your Android device is discoverable.
Once your computer finds your device, you'll be asked to confirm the Bluetooth pairing code on both devices. Click "Connect" on your PC and tap on "Pair" on your phone.
That's it! The two devices should now be connected. To transfer files, follow these steps:
Go to your phone and open the location containing the files that you want to transfer, such as pictures, videos, or music.
Click the "Share" icon and select "Bluetooth" from the menu that comes up.
Tap on the name of your PC to initiate the process.
You'll receive a notification that your phone is attempting to send a file. Tap "Accept".
The file will be sent to your computer, and you may be asked to choose where to store it. Select your preferred location and click "Finish".
Repeat the process for all the files that you want to transfer.
Once you're done, remember to turn off Bluetooth on both devices for the safety of your data.
Want to Upload Large Files and Folders Fast? Use FileWhopper
How many times have you tried to upload a large file online, only to get an error message that the file is too big? Sounds familiar? Here's the deal. FileWhopper allows you to send large files and folders of any size online in a secure and fast manner. Where FileWhopper beats the competition is in its payment strategy allowing you to pay a one-time fee depending on the size of the file or folder being transferred rather than splashing out on monthly subscriptions or storage plans.
What's more, you don't have to be worried if your PC suddenly shuts down due to a power outage or for any other reason - the upload will continue as soon as you're back online. The FileWhopper App is easy to use, and it deletes itself as soon as the job is done. Did we mention that you don't need to compress large files or folders to be able to send them online? It's because FileWhopper sends files and folders of any size.
A common question that we come across on many forums is, "Can I sync a Samsung phone to a PC running Windows 10?" The answer is yes. The methods described above can be used to sync any type of phone to a PC and transfer data with ease.
Still have some questions on synchronization? There are more articles on this topic on the FileWhopper blog.