Some wedding videographers prefer to work with junior assistants, while others are proud to do their job solo. Some of them invest in extremely expensive equipment while others choose simple stuff and rely mostly on their skills. Let's talk about how to leverage skills and expenses in order to get the best wedding video and happy clients.
1. Use multiple cameras
If you shoot solo, you need to have at least 2 cameras so you can shoot from different angles. Things are much easier when you use professional equipment, as many aspects of the shooting process is pretty hard to control simultaneously. Picking good shots for a video clip may be a real headache, but when they're done professionally and with a wide angle camera, the choice gets a bit wider.
2. Get a good tripod
While you are shooting with the main camera, the second one has to be securely fixed on a good tripod. You might think that a tripod does nothing except for being a stand for the camera, so spending a lot on it is a waste. But you're unlikely to want to get your expensive equipment damaged because of a cheap tripod, aren't you?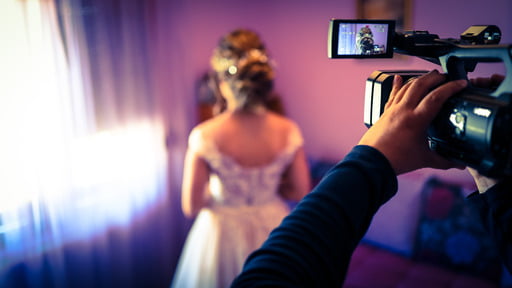 3. Make sure everything works properly
The speed of all the operations taking place during shooting is especially important if you work alone. Check all your equipment and settings before the X day. If you have new equipment you'll be using for the first time, practice with it beforehand so you can handle it like a pro. This will help you not miss an important moment while you are getting something prepared and properly set.
Make sure that the microphone is working as it should and its volume level is set right. Check the flash, double check the batteries level and ensure there is plenty of room on your memory cards.
4. Meet the photo team
In order to effectively coordinate your work with the team of photographers, it will be a good gesture on your part to meet them several days before the wedding. Explain what you're going to do and where you are going to be to take great shots. Your mutual clients don't want to see you in their photos and probably don't want to see the photographers in the finished wedding video, so working as a team with them will help you not spoil each other's work.
5. Arrive early
When it comes to important events like weddings, earlier is always better than later. Arrive an hour before the wedding starts, check your equipment once again. Take some test shots, adjust the camera settings, install your tripod. In one word, take all the steps that will make the shooting go smoothly.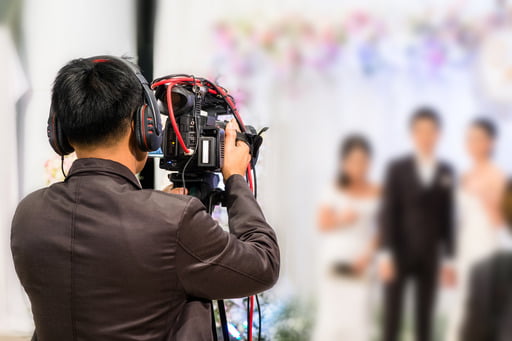 6. Make the most of your down time
When you have a few minutes free during the wedding, make the most of it. Eat well, get quality rest, do some exercises for your eyes, neck and back. All in all, you have to survive somehow till the evening is over, so let yourself chill out whenever it's possible.
7. Think about transferring your video
If you're going to work on the wedding video clip alone, it's time to think of how it is going to be delivered to the newlyweds. It can be a DVD or a flash drive, but if your clients happen to be far away when their video is ready, you should consider sending the file online. It could be a problem because of its size, but there are solutions. A service like FileWhopper can help you do it in no time. If you need to send raw material to a clip maker, the size will probably be even bigger. However, the service lets you send as much as 1TB in one go, which is quite enough for most situations. See our article to get information on other ways to send large video files.