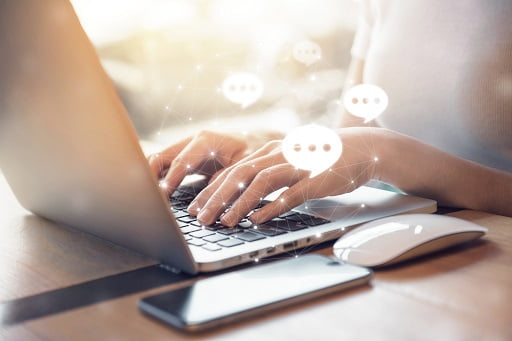 Gone are the days when people used to rely on default text messaging platforms that would charge per message sent. This ancient method, although still in use, limits the user and quickly becomes very expensive to use. However, thanks to ever-evolving technology, we are now at an age whereby we can chat with our loved ones, friends, and colleagues with no restrictions. There are lots of messenger apps in the world, and choosing one can be a pain, especially if we are to consider how similar these services are. With everything put into consideration, you do not want to select an app with no huge clientele base as it will make it difficult for you to get connected with most of the people you know. Also, to enjoy a seamless method of staying in touch with your family and friends, you need an app that is available across various platforms, such as mobile and desktop.
Here are some of the best messaging apps to consider:
1. Facebook Messenger
One of the most straightforward advantages of the Facebook Messenger app is its large user base. A messaging app is only useful if the people you frequently chat with use it too. Facebook Messenger is incorporated into the Facebook app, which means anyone with a Facebook profile can be easily reached via Facebook Messenger. Despite Facebook Messenger not having a standalone desktop app, you can still seamlessly communicate with anyone on Facebook Messenger via the web app. From voice or video calls to voice messages, there is a lot that can be done on Facebook Messenger. The app is rich in features, giving users the liberty to share their location, photos and videos and even use GIFs. Facebook Messenger continues to grow its list of available features, and it has recently added the ability to delete messages posted within the last 10 minutes. If you opt for Facebook Messenger, just make sure your settings are properly managed to stop Facebook from sharing your information.
2. WhatsApp Messenger
Also owned by Facebook, WhatsApp Messenger is among the best messaging apps. The app is very easy to set up and automatically syncs with your phonebook contacts. It is feature-rich, and one of the coolest things about it is that it is ad-free. The app is widely popular, such that it has literally become the main method of communication in some regions around the globe. It offers a great list of features that include video and voice calling, photo/video/voice note sharing, and location sharing. In WhatsApp Messenger, users can enjoy group chats and timed status updates that vanish after 24 hours. With Facebook having added a business version of the app, which links perfectly with the normal WhatsApp Messenger, small and medium-sized business are slowly moving into the platform.
Here are some of the highlighted features that come with WhatsApp Messenger:
QR Scan for WhatsApp Web version
WhatsApp Business app dedicated to small and medium-sized businesses
Video and voice calls to other WhatsApp Messenger users
Timed status posts that disappear after 24 hours
Video message recording
3. Telegram
Telegram has the best Windows client, and with its growing user base, it is ideal for those who are cautious about their privacy. The app is fast and lightweight and also comes with a lot of features to make the whole experience more convenient. It has a simple and straightforward login pattern that only requires your phone number. It is also supported on various platforms, including Windows, Linux, and macOS. Other cool features presented by the app include self-destructing messages, scheduling messages to be sent later, and creation of groups that support up to 200 000 members. Users can easily share images, documents, and videos on Telegram.
4. Viber
Regarded as a direct competitor of WhatsApp Messenger, Viber is also a feature-rich app that offers several services to the user. Although Viber boasts features similar to those offered by WhatsApp, there is a significant difference between the apps. Viber stands out by presenting a feature called Viber Out. This feature gives users the ability to call other people who are not on the app using their phone numbers. It acts as a VOIP feature, and users can use it to call phone numbers across the world. Moreover, Viber lets you create hidden chats and play games using the app. It is supported across platforms such as Windows, Mac, iOS, and Android. The latest feature of Viber gives users the ability to make group video calls with up to 5 users.
5. WeChat
WeChat is a chatting service that is dominant among the Chinese community. The app boasts over 1 billion users and comes with a free mobile instant chat service. You can also enjoy flawless video and voice calls over the app. Other features include group chats and multimedia messaging. WeChat has the ability to connect its users with new people by providing quirky features. One of them is "Shake" – a feature that lets you find new people nearby and communicate with them. As great as Shake sounds, this feature has also been identified as a possible security threat since other people on the platform might end up using it for perverted reasons.
6. Skype
Another app that provides great cross-platform services is Skype. This app is one of the oldest messaging apps and has a large set of free-of-charge features. Skype has a reliable system, and most of the Windows users have this app. The app is well integrated with most of the Windows apps such as Mail and Calendar. Skype comes with instant video and messaging features. The app also has a VOIP service, and depending on the plan you select, you can also receive voicemails and cell phone calls directly and even send SMS.
7. Slack
Slack is a business-oriented app that focuses on improving productivity. This team-oriented app has become a hit within the corporate industry due to its management tools that come with it. There is a great list of features included in this app. Slack comes with a real-time messaging tool that is synced across devices. The app lets users share documents and create groups with subgroups based on topic-oriented conversations. The app archives your conversations and lets you search through them to find old conversations. Although most popular among corporations, the app is also ideal for casual users.
FileWhopper — Best Option to Send Large Files and Folders
Are you looking to ways of sending large files and folders fast and securely? FileWhopper is your option, and to top that, it allows you to pay precisely for what you send. The service is designed to provide users with the most convenient method of sending files and folders of ANY SIZE. Indeed, FileWhopper does not impose any size limits on your uploads. Your data is encrypted and stored in a cloud server for 14 days (or 3 months if you request so) before being permanently deleted. Here is how the service works:
- Select the large file or folder you wish to send.
- Get the small FileWhopper app and use it to upload your data.
- Copy the link to the uploaded file or folder and share it with the intended recipient(s). Your transfer includes one download by default, but you can easily add extra downloads if the need arises.
- Give the recipient(s) the password generated in the upload app and used to secure your file or folder for safety reasons.