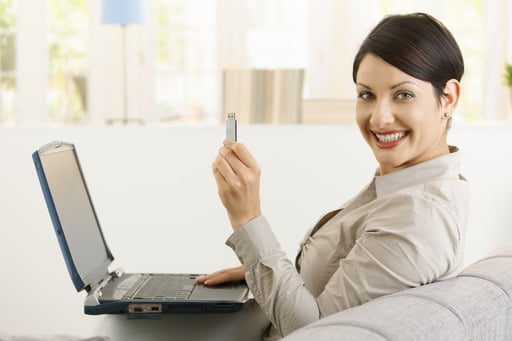 Whether you need to transfer files between PCs, carry work files on an important trip, or move your personal files around with you, a reliable USB drive is equal to the task.
Chances are you have had negative experiences with poor and unsuitable USB drives. So, you may be wondering, "Are some flash drives better than others?"
The best flash drives are quick to connect to your PC, have high data transfer speeds, can withstand extreme conditions, have large storage capacity, and can securely store your most valuable data.
Even when it comes to file transfers over long distances, many people still courier USB drives to the physical location of their recipient. The thing is, it's hard to sync large files over the web when the internet connection is poor, and many of the cloud sharing platforms on the market offer high monthly subscription plans.
However, there is a new service that allows you to quickly transfer files or folders of any size online. FileWhopper comes in handy when you want to quickly send a large file or folder without having to pay for a monthly storage plan. With FileWhopper's multi-threaded transfer technology, data transfers are fast and secure, and you can save time as the tool supports simultaneous uploads and downloads.
How to Choose a USB Flash Drive That Is Worth Using
Many people are quick to ask this question: "What is the best brand of USB flash drives?" Nevertheless, in choosing a USB flash drive, the purpose for which you want to use the USB stick is more important than the brand.
Here are some factors to consider when choosing a USB drive:
#1 Storage Capacity
If you're looking for the largest flash drive available in 2021, then it's possible that you handle large files and folders. Although most USB drives typically fall into the 8GB - 256GB size range, you can always get those that offer up to 512 GB - 1 TB.
#2 Transfer Speeds
File transfer speeds depend on the specifications of the USB drive and those of the computer. However, fast USB flash drives offer up to 400MB/s read speeds and 300MB/s write speeds. When on a small budget, many people opt for USB drives that offer 150MB/s - 300MB/s read speeds and are still suitable for their use case. Although read and write speeds are an important factor to consider, faster USB drives are more expensive than slower sticks.
#3 Connector
Most of the large USB drives only come with the standard USB 3.0 connector. USB 2.0 connectors are now older, slower, and only suitable for smaller capacities. Although more devices are gradually moving over to USB-C ports, there are only a few flash drives that use USB-C connectors. Nevertheless, it's advisable to give attention to this fact when purchasing your USB drive.
What Are the Best USB Flash Drives for 2021?
As you have seen above, the best USB flash drive is one that is suitable for your specific use case and purposes. Nonetheless, we've come up with a list of the best USB drives in 2021 based on speed, pricing, durability, and other factors that matter to industry experts.
The Best Flash Drive Overall
Business Insider positions the Samsung FIT Plus USB 3.1 Flash Drive as the overall best. It comes with the latest USB 3.1 connector and offers up to 300 MB/s data transfer speeds. With the Samsung FIT Plus, it would only take 10 seconds to send a 3GB 4K UHD video to a PC. It also offers backward compatibility with USB 3.0 and USB 2.0 connectors. It has an operating temperature of -32 degrees - 140 degrees Fahrenheit and is waterproof, magnet-proof, shock-proof, and X-ray-proof.
On the other hand, Lifewire.com values the 480MB/s read speeds and 380MB/s write speeds of the SanDisk Extreme PRO Drive and places it as the best. Although it comes with a USB 3.0 connector, it also has backward compatibility with USB 2.0. The SanDisk Extreme Pro is sleek, eye-catching, and suitable for any business or career professional. With the AES 128-bit file encryption technology, you can rest assured that your files are highly safe and secure. The SanDisk Extreme Pro is so fast that it would take less than 15 seconds to transfer a full-length 4GB 4K movie.
The Best High-Speed Flash Drive
According to PC Mag independent research and product testing, the Corsair Flash Voyager GTX 256GB USB 3.1 Flash Drive takes its place as the best high-speed flash drive. It offers up to 440 MB/s read speeds and 380 MB/s write speeds and features the new USB 3.1 connection. The fast data transfer performance of the Corsair Flash Voyager GTX flash drive can outdo that of a computer-based solid-state drive (SSD).
The Best Affordable USB Drive
The PNY Turbo 128GB USB 3.0 Flash Drive offers a more affordable price per GB and is the best affordable USB drive according to Business Insider. The PNY Turbo also offers astounding performance. It's no wonder that this drive has over 12,000 ratings on Amazon, with 4.5 stars out of 5 overall.
The PNY Turbo is perfect for those who don't care about read/write speeds and only need to store and transfer files occasionally. Nevertheless, its read speeds of up to 180 MB/s and write speeds of 80 MB/s are completely suitable for some use cases. If you only need to use a USB drive for casual transfers, there's no need to break the bank for one that won't be fully utilized.
The Best USB Drive for Extreme Conditions
PC Mag, Lifewire.com, and Business Insider all agree that the Corsair Flash Survivor Stealth is the most rugged USB drive. It's made of a hard-anodized aluminum shell and is suitable for wildlife geographers, landscape photographers, and other kinds of field workers. The Corsair Flash Survivor Stealth is able to withstand impact drops and 40G shocks, and the EPDM waterproof seal protects it for up to 200 meters. However, it's only suitable for people who value ruggedness and durability. It's quite costly for a drive that isn't as fast as the others you can find.
The Best USB Type-C Drive
If you're looking for a USB Type-C drive to transfer files between your other devices and PC, the SanDisk Ultra Dual Drive USB Type-C will be perfect for you. According to Business Insider, it gives you the best of both port worlds with a dual connector for USB 3.1 and USB-C. Although it has slow read speeds of up to 150 MB/s and write speeds of 50 MB/s, it's easy to neglect this fact because the number of USB Type-C drives on the market is limited. The SanDisk Ultra Dual Drive USB Type-C is portable and easy to carry around as it is less than 2 inches long when the connectors are retracted.
For Lifewire.com, the Silicon Power C80 64GB Flash Drive stands as the best USB Type-C drive. It comes in a zinc alloy casing that boasts a sleek appearance with resistance to scratches and fingerprints at the same time. The Silicon Power C80 64GB features a dual interface with USB Type-A 3.0 and USB Type-C connectors that are protected by its 360-degree swivel cap when not in use. It has an optional file manager that is free and offers relevant file managing features such as file encryption, file synchronization, data transfer, and cloud backup.
Conclusion
Even though cloud storage and transfer platforms are becoming more popular, USB flash drives still come in handy as the best way to physically transfer files without an internet connection.
With the numerous options to choose from, picking a suitable USB flash drive can be a hard task. However, the products in this article have been independently reviewed and tested by industry experts such as Lifewire.com, PC Mag, and Business Insider.
Nevertheless, when you're looking to get a USB drive, ensure to pay attention to the purpose you will be using it for and factors that may affect your experience.