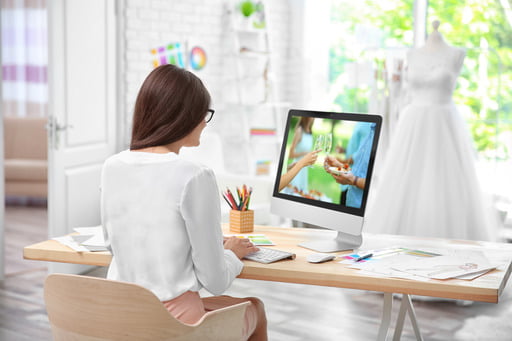 They say that each person gets an average of three important days in their entire life, the first being the day they are born, followed by the day they decide to commit to their life partner, and the last one being the day they die. Now, since the first and last of the best days render the person unable to make their own choices, they need to make the most of their wedding day.
From finding the right partner to selecting the best service providers and vendors, a wedding can be time- and energy-consuming. This often leaves most brides neglecting another important aspect: finding the best way of sharing media from the best day of their life. In essence, saving and sharing photos and videos from one's wedding day should be the next important thing after finding the right partner and deciding on the wedding date.
Have you found yourself searching for the coolest ways to share wedding photos? Well, we have taken the liberty of searching far and wide to compile a list of the top photo sharing methods, including apps, social media, offline tools, and even cloud platforms. This way, you won't be worrying about how to share your precious moments with the rest of the world.
Top Twenty Ways of Sharing Wedding Pictures
To make your search easier, we have compiled the top twenty means of sharing your wedding photos and divided them into several sections so you can just focus on those sections that are of interest to you.
Photo sharing apps
Social media
Online sharing galleries
File sharing platforms
Offline sharing methods
Other means of sharing
Photo sharing apps
What are the best photo sharing apps? To answer this question, you need to mention Wedpics right from the beginning. This is one of the best wedding media sharing apps on the market. All you need to do is take pictures from your Android phone or iPhone, and they will automatically load on the app. Afterwards, you can use this freemium app to enhance the pictures – this is a paid-for feature, while uploading is free. Additional features include unlimited downloads, a personalized URL and unlimited guests who can view your wedding pictures. You can also use the app to send emails, order prints and even send information to family and friends.
As the name suggests, the Wedding Photo Swap app enables the bride, the groom and their family and friends to swap their wedding photos. With the option of downloading media in HD, there's no reason why families scattered across the globe cannot experience the big day in full resolution even if they cannot travel to the actual venue. Under photos, there is a comments section that enables users to leave their comments and views on what they are sharing. The newly-weds just need to set up their photo albums and share them with whoever they like.
The Huffington Post crowned Eversnap as the number one wedding or event photo app, and for good reason. When one signs up for the app, they receive 200 instruction cards to share with family and friends who will view their wedding pictures using the app. Reading and following the instructions is so easy that even the grandmothers of the family can easily follow through. All wedding pictures and videos will be placed under one album online. Each bride gets customized space to host her guests. All uploaded images and videos are in high resolution.
Impress your wedding guests and family for years to come by selecting Veri as your wedding image and video sharing app. When using this app, there is no need to manually create albums. The app automatically groups and then shares all the media so that the bride doesn't have to lift even a single finger. Just take out your iPhone or Android smartphone to take pictures. You can even give Veri permission to access the phone's camera so that all images taken on the wedding day are uploaded straight away. An excellent app for capturing the most celebrated day of your life.
If you are searching for the most creative way to display wedding photos, then consider using either Google Photos if you're on Android or Apple Photos if you use the iPhone. The only downside to using either of these apps is that images and videos on iPhones are best sent to other iPhone users and images from Android are best transferred to Android phones. Overall, these apps are an excellent, free way to take pictures on the big day and easily share them. They can be stored in the cloud and retrieved later to share even with those without the app via email.
Moments by Facebook is another wonderful app that all brides can easily use to share pictures with their guests. All that the bride needs is access to her photo albums, and then she can share her photos and videos via Moments. Shared images and videos can be accessed via Facebook Messenger, so it doesn't matter that the recipients don't have the app installed on their phones.
Social media
For the modern bride, Instagram is her backyard. This is one of the most popular apps for sharing and documenting everyday lives in a series of photos. You might be asking, "Can I share my wedding photos on social media?" The answer is a resounding "yes, please!" As of August 2019, there were about 95 million pictures and videos shared on Instagram daily. This means a lot of traffic, making the app one of the easiest tools brides can use to share pictures of their big day. For the guests who failed to make it to the wedding, one of the attendees can 'Go Live' at the wedding to broadcast and share real-time live footage. The bride, groom and present guests can also share as many images and videos as they want in their feeds and Insta Stories. Also, one can control their privacy settings to decide who can view their Instagram posts or account.
Facebook is the best social media platform that includes almost all members of the clan from several generations. It's not just for one particular age group. Did you know that when uploading pictures to a Facebook album, one can add up to 1000 pictures at once? This makes Facebook an excellent platform for backing up all raw footage before selecting and publishing the edited or best footage of the day. Facebook also has a facial recognition feature that you can take advantage of by tagging those in the wedding pictures.
Pinterest is also another interesting platform you can use to collect and share wedding photos for free. Using the social media platform, the bride can bring together her wedding photos to share with other brides who have a similar style and taste. Brides can find and keep pins that serve as inspiration and guidelines for most of the wedding planning. Thus, after the wedding, it makes sense to also share pictures of one's customized service with friends that have an interest in the same or similar pins. The app can also be used to directly upload media to the bride's blog or similar sites.
This is a great platform that brides can take advantage of and share their wedding pictures on. The only limitation that comes with Flickr is that the app is not as hugely popular as the other three. Nonetheless, this is a free means of sharing wedding pictures. Brides only have to create their unique group that can be used to share their photos. As the creator of the group, the bride can edit the settings to enable others to freely share their media with her and chosen guests.
Online sharing galleries
You wanted to know if you can share your wedding photos on social media, and we've answered this question and given the best social media platforms to use. In case you're still searching for the best means of sharing your wedding pictures, there is also an online sharing gallery. Some brides prefer creating their own wedding photo websites. Using either Wedding Wire or The Knot, brides have the opportunity of designing their websites that are meant for displaying pictures of the big day and showing the unique and best aspects of their weddings. All guests with the URL can visit the gallery at any time to view the photos managed and uploaded by the bride and groom.
If the thought of making your website creates a headache, then best leave it and consider sharing on Shutterfly. One of the most creative ways to display wedding photos is via the services of a photo publisher such as Shutterfly. Also available as a service, it provides you with the option of creating and hosting your website. In case you have more than just your wedding photos to share, there are no limits to what you can upload, and you can also let others add pictures and videos using this service.
This picture sharing service comes as a free package under ShootDotEdit. Using Extra, the newly-wed brides can easily order and view the pictures online. To be shared, pictures need to be uploaded via Extra. A unique URL will be generated. The bride can share the link with all those she wishes to share her pictures with.
File sharing platforms
These are the longest standing file sharing platforms. Having been around for ages makes them trusted and easy to use. Most brides probably hold an account with either or both. The best news is that Dropbox gives members up to 2 GB of free space and Google Drive gives up to 15 GB of free space upon sign-up. This means that the bride gets up to 17 GB combined to add her wedding day images and videos and then share them with her loved ones. Should you require additional space, you can always pay for subscription services that come with more space.
OneDrive is similar to Dropbox and Google Drive. On this platform, you have the option of adding up to 5 GB of your wedding images and videos for free. This file sharing service is powered by Microsoft, so one gets it when they have a Microsoft Outlook email address. This is how to add a limited collection of wedding photos for free. Anything above 5GB and you will have to pay for it. And in most cases, if a service starts as free, most of its consumers would like to continue using it for free.
This is another excellent file sharing platform. Unlike the other platforms, FileWhopper is not a freemium platform. Rather, anyone using FileWhopper is made aware from the beginning that they have to pay for the amount of data they send. Before the service calculates the amount to be paid, the bride has to upload her photos and videos as a file or folder. Then, there is a one-off fee paid to upload the media. No subscription is required! Note that FileWhopper stores your upload for 14 days. However, you can easily add additional time at an extra cost. Each user gets a unique link that they can use to share their file or folder with their family, friends and acquaintances. And the best thing is, using FileWhopper, you can send files and folders of literally any size.
Offline sharing methods
To date, these remain synonymous with weddings. Even if you have created your virtual wedding album, nothing beats the nostalgia that comes with running one's hands over the edges of a photo album. And an album means that there can be several hard copies of the wedding day. With a hard-copy photo album, even days like the anniversary are easy to celebrate with a simple lake-side picnic. Photos from the album can be enlarged or given to artists who then can create paintings and real-life art that makes for amazingly beautiful wall-hanging portraits.
In most cases, the most creative ways to display wedding photos are not necessarily expensive. They are what is affordable, most practical and meaningful for the bride and her groom. By creating photo books, brides simply declare that they are coming up with memories from their big day that will last for a while. There are a lot of different book styles, formats and prints that one can select from when creating their wedding photo book. These books can be given to family members, especially the new parents-in-law. When making a photo book, arrangements can be made to create photo cards. Imagine your first year as a married couple sending loved ones an amazingly beautiful Christmas card that is a customized wedding photo.
Other means of sharing
While USB drives are considered out of fashion by many, how about you forget that statement for now and look at the benefits of using them to share your wedding moments? You know what the best photo sharing apps are, but in case you didn't know, a USB drive is a handy tool that can be used both online and offline. Wedding photographers still use USB drives and CDs for backup purposes. Well, the seasoned ones who appreciate a lot of backups for what they do. And even though USB drives now seem outdated, they still serve their purpose and help wedding photos and other files to be shared, creating backup copies at the same time.
While you can easily share your wedding photos on social media, if you choose not to do so, that is also totally fine. After your big day, you can easily collect all the best images and create an online gallery via text message. There is no need to download an app or waste time following someone who would become the coordinator. The bride and her guests can share pictures via text. All pictures will go to the bride's gallery under one phone number, and this gallery is updated each time a new photo comes through. Picshare Party is a great option to make sure that even the grandparents are involved and actively shooting pictures of the big day. The only downside to this method is that it might not be an open option for brides everywhere given that some countries have carriers that charge a lot for text messages.
You have gone over the list, and now you can select the method that works best for sharing your pictures. Once you are done with the selection process, give your method a go before storing pictures of your big day. Learning by trial and error while using the actual wedding pictures can lead to you losing some of the most important pictures you will ever take, so make sure to practice on less valuable photos.