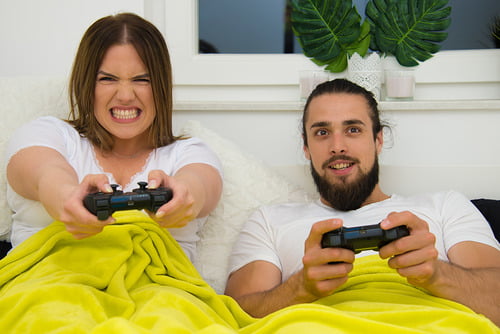 The break we all needed, although we could not bring ourselves to admit this as a fact. That's exactly how most of the optimists have decided to address this period of forced self-isolation, quarantine, and lockdown. Almost overnight, national borders have been closed, isolating people in a bid to stop the spread of the coronavirus.
Everything has closed down, leaving behind only the healthcare system, big supermarkets and part of public transport operating. After watching movies such as Pandemic and Contagion, who would have thought that what was just a source of entertainment would at some point hit this close to home? The present period of self-isolation is a reality. Big companies are either fully closed or have downscaled and moved their offices online.
For those who were used to going to the office for a full day of work, there now must be a balance between working and managing the home. If you're a gamer or an aspiring gamer who has never found the time to play around, then this is the perfect period.
We have come up with a carefully selected list of the best games to play if you are self-isolating during the quarantine.
Exciting Games to Play While in Self-Isolation Mode
To cater to more players, we have made the list long enough to include games compatible with PC, PlayStation, Consoles, and Nintendo. Find what works on the gadgets you have and try those games first. Remember, self-isolation conditions entail no buying and delivery of products that don't qualify as essential, so there's no time to buy new gadgets.
1. Call of Duty: Warzone
Compatibility – PC, Xbox, PlayStation 4, and Switch
Call of Duty: Warzone is the latest installment in the super-famous Call of Duty series. Released in March, Warzone comes as part of the 2019 Call of Duty: Modern Warfare game. The good news is, you don't need the 2019 game to play the current one. It's already doing so well and has just under 900 reviewers who gave it an average rating of 4.1 stars. This popular military FPS game can be commended for running smoothly at 60 FPS. The game introduced a more user-friendly and understandable money system that can be coupled with map layering and sizing to make gaming all the more fun. An excellent, fast-paced game to keep one entertained while in self-isolation during the quarantine.
2. League of Legends
Compatibility – macOS and Microsoft Windows
League of Legends has lasted well over a decade because of its ability to adapt, change and introduce new characters. It was developed and is maintained by Riot Games. The game can be played by anyone with a PC and internet connection, making it all the more accessible and thus favorable and enjoyed by a lot more players. The multiplayer online battle arena makes it possible for friends to game together by inviting each other into the battle zone. League of Legends is backed up by microtransactions and draws most of its models from Warcraft III: The Frozen Throne. Its client is enormous but you can transfer it if required as described here.
3. Dota 2
Compatibility – Microsoft Windows and macOS
Another long-standing game that has been in the industry since 2013. Dota 2 was developed and published by Valve as a multiplayer online battle arena. If you ever played or loved Defense of the Ancients, then you will, without a shadow of a doubt, love Dota 2. With each new annual installment, there are changes made to the game. And of course, the March 2020 release comes with new features. The Core/Support separation has been replaced by a single rank using handicaps for each of the five ranked roles, amounting to the relative strength in each position.
4. Warframe
Compatibility – PC, Xbox, PlayStation 4, and Switch
Another excellent game that can be played by a large number of people because of its compatibility with the most popular platforms. This is a third-person co-op action game that's guaranteed to get the gamers' adrenaline levels shooting through the roof. The game is controlled by microtransactions that are in no way disturbing to the gamer. Additionally, there is a fast-paced combat structure, and the game is customizable with characters that can be altered to follow the format. Warframe is a gift from Digital Extremes and Panic Button Games for the quintessential sci-fi loving gamer.
5. Smite
Compatibility – PC, Xbox One, PlayStation 4, and Switch
This is one of the most played games today as it caters not only to those on PC. The game presents an enjoyable storyline that involves mythical figures and gods. If you like movies that center on Greek mythology, chances that you'll enjoy Smite are high. The game is beginner-friendly and offers simple, exciting controls. Smite is controlled by microtransactions, but they don't take over the game, making it all the more enjoyable. Gamers can move about within their territories in the game, experimenting in a bid to settle on happier new grounds.
6. World of Tanks
Compatibility – PC, Xbox One, and PlayStation 4
It is time to play, and yet you don't know what exactly to play, right? Then how about you give World of Tanks a try? This game is similar to Warzone, so you can play them one after the other or try each out to find the best for you. There are over 400 different war tanks to choose from and find your style. Playing this game, you need to find and blow the tanks that belong to your opponents while your tank remains intact. If you're bored with the basics, the good news is, on this freemium game, you can choose to pay for the premium services and enjoy more features.
7. Apex Legends
Compatibility – PC, Xbox One, and PlayStation 4
This game comes as the fourth installment of Apex Legends. It's one of the finest and most sought-after battle royale games. Apex Legends is actually at the top alongside Fortnite. In the game, you need to join a team of three to fight against other three-player squads until one team eventually emerges as the victorious group at the end of the battle. This free-to-play battle royale game is a development of Respawn Entertainment and has been published by Electronic Arts.
8. Destiny 2: New Light
Compatibility – Microsoft Windows, Xbox, and PlayStation 4
This is the free version of Destiny 2. So, if you're looking for things to do at home while stuck in self-isolation, consider downloading it and trying it out. Released in 2019, this version of the game is developed and published by Bungie. The popular sci-fi shooter can be played freely after downloading and installing it. This enjoyable fast-paced game has a super responsive FPS combat system played in the solar system. Gamers get to customize their guardian and give them unique gear to fight against ruthless enemies.
9. War Thunder
Compatibility – PC, Xbox One, PlayStation 4
This is a top-of-the-range next-gen MMO combat game developed by Gaijin Entertainment. The free-to-play video game involves the use of vehicles during play. For drivers and gaming geniuses, this is the 2020 game of choice. One of the most flexible games to try out during the lockdown season. Play in either single-player or multiplayer mode. Select your favorite terrain and fight on the sea or land or even take it up to the skies. The game provides realistic simulated situations to give the gamer exactly what they need.
10. Counter-Strike: Global Offensive
Compatibility – PC, Xbox 360, and PlayStation 4
This game has been developed by Hidden Path Entertainment and Valve Corporation. The multiplayer first-person shooter game comes with some of the best effects a game has on the market. Counter-Strike: Global Offensive runs on the Source engine and is loved by many as it doesn't require players to know the map before playing. You decide what to play depending on your mood.
11. Path of Exile
Compatibility - PC, Xbox One, and PlayStation 4
Path of Exile is a free action role-playing game. You just need to have an internet connection to play online as there is no app or software to download. This action fantasy RPG is set in a fantasy land where gamers get to decide who they are and create their players' avatars. The game was developed by New Zealand's Grinding Gear Games company. For those that have been fans of Diablo but need something else or just want to play outside of that game but without too much difference, then this is where you can get started. Although you need to subscribe to the game, the fee is not that heavy and is worth the nostalgic euphoria that gamers are likely to feel.
12. Brawlhalla
Compatibility – PC, Xbox One, PlayStation 4, and Nintendo Switch
This free-to-play fighting game is one of the most colorful in the industry. Developed by the Blue Mammoth Games studio, this game runs on the Steam engine. This game is very similar to Super Smash Bros. Gamers get to jump around the stage doing simple tricks while only using the simplest of buttons to control the gameplay and enjoy the results. Brawlhalla is a freemium game, but if you need additional features or more than eight characters, then you will have to pay.
13. Tetris 99
Compatibility – Nintendo Switch
This free multiplayer version of Tetris is the February 2019 release. Developed by Arika, the puzzle video game allows gamers to enjoy their free hours. Available for free, this game is a gift for the Nintendo owners. Missing the good old Tetris from back in the day? Then this is what will take you back in style while keeping you up to date with the modern gaming environment.
14. Dauntless
Compatibility – PC, Xbox One, PlayStation 4, and Switch
This free-to-play co-op action RPG was developed by Phoenix Labs and Iron Galaxy. It's an interesting action role-playing game that's easily accessible given that it's compatible with many gadgets. Download it from the Epic Games Store and team up with your friends to fight against the giant behemoths. Dauntless is the right kind of game for anyone who would like to be with their friend on the same team for a change instead of playing against each other.
15. eFootball PES Lite
Compatibility – PC, Xbox, PlayStation 4
It's free to download, so you can build your dream team and start gaming. As a manager, select any of your teams and become the coach. Even top football analysts won't find any faults in this Konami-developed game. If you've ever been a fan of Iniesta, then this game celebrates the former Barcelona midfielder to give new fast-paced and first-touch mid defending. Play as any top league team and gain points while at it. And this game just about does it for our list of things to do at home while stuck in self-isolation.

Share Large Game Files While at Home
Even when doing something that we all enjoy, getting bored is always possible. And while it's true that playing video games can ease loneliness during the coronavirus pandemic, playing with friends will leave you feeling even happier. Should you wish to share gaming files during this lockdown period without leaving the house, use FileWhopper. This file-sharing system is designed by a Microsoft partner and offers high-security measures to keep even executives safe while sharing files. Why should you share via FileWhopper?
✔️ There are no subscription fees required. Once you select your huge file or folder on FileWhopper's home page, you get an affordable price quote calculated according to the size of the file or folder you wish to transfer. The best thing is, you can send a file or folder of any size.
✔️ Get the link to the uploaded file or folder and share the link with those that you would like to have access to the thing you uploaded. Remember to share the password with which your file or folder has been encrypted. Otherwise, your recipient(s) won't be able to decrypt it.
✔️ The link will stay active for 14 days, keeping your data available for download. If you require more time than this, you can pay for it and add up to 76 days during the upload.

Use FileWhopper to avoid nuisances like having to hand over flash sticks or paying subscription fees. After the quarantine, you can continue using the service to share work files like a pro!