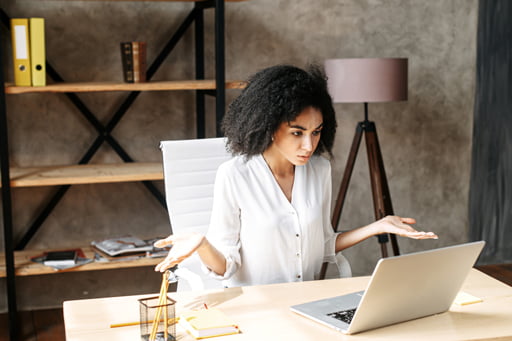 Cloud storage is one of the safest and most convenient ways to back up and share data. Cloud storage operations are usually quick, hassle-free, and easy to perform. However, dealing with the cloud is not always a bed of roses, especially when it comes to using Google Drive. To be fair, most of the time, Google Drive works as advertised. However, it being one of the most established and advanced cloud storage services, you'd expect the process of storing and managing files, which is its primary function, to be effortless, right?
Well, this is not always the case. There are times when it simply won't download your files, leaving you wondering, "Why can't I download any Google Drive files on Chrome?" It's a frustrating experience – and the last thing you want to deal with when all you want is to save some files and go on about your day.
If you get an error message from Google Drive, basically, you have two options: switch to another file sharing service or figure out the cause of the error and fix it. In this article, we'll give you a guide for both.
Try an Alternative Cloud Storage Service
If you are not satisfied with the performance of Google Drive, we suggest trying an alternative cloud storage service like FileWhopper. This platform offers a simple, safe, and hassle-free way of sharing large files and folders online. The best thing about FileWhopper is that you no longer have to deal with file size restrictions. The service lets you send files or folders of any size without the need to compress them.
There's no learning curve required either:
[fwa-calculator]
Simply select your file or folder to get a quote in record time.
Upload the file or folder using a tiny desktop app that ensures seamless transfers and maximum security. The app can resume your transfer process if it gets interrupted due to a network failure or sudden shutdown.
The tool supports simultaneous uploads and downloads: just share the link and password assigned to your transfer with your recipient(s) and they will be able to commence the download process while you are still uploading your data.
FileWhopper uses zero-knowledge encryption to ensure that no one can access your data – except for those you've shared the corresponding link and password with. What's more, your files and folders get deleted from FileWhopper's servers the moment they are downloaded, leaving no traces behind.
With no monthly subscriptions or file size limits, this is a service you can rely on. Plus, your first file or folder transfer of up to 5GB is absolutely free.
What If I Want to Fix the Error and Continue with Google Drive?
Before we get to share the solutions on how to fix files not downloading from Google Drive, it's good to understand the origin of this annoying issue. The fact that you're getting a Google Drive error when trying to download a file means there's something that triggered it. Actually, several scenarios can cause this problem on Google Drive:
You are experiencing network issues. The most common culprit behind the problem in question is an unreliable network connection. As you may be aware, you need a stable internet connection to upload and download Google Drive files. Otherwise, the process might take an eternity to complete or fail entirely.
You've reached Google Drive's file download limit. Did you know that Google Drive limits the number of downloads of your files? As it turns out, if the file you're trying to access has been shared by many people or is particularly large, you'll need to wait at least 24 hours before you can view or download it.
You are using an outdated browser version. If the browser you're using is not updated to its latest version, you might run into some problems trying to access files on Google Drive.
Your antivirus software could be blocking Google Workspace, thereby interfering with Drive files.
How to Fix Google Drive Download Errors
Method 1: Check Your Internet Connection
You'll know you have internet issues if downloads are painfully slow or you see the "Trying to connect" error notification. As we stated, Google Drive is an online storage service, meaning you need a stable connection to download files from it.
On a Windows 10 machine, the network status is usually displayed in the System Tray area on your taskbar. Whether you're using an Ethernet connection or Wi-Fi, the status should say "Internet access". If it doesn't, then you might want to check your modem or router. Consider restarting the devices as doing so is likely to eliminate any connection issues on your PC.
You should also restart your PC to resolve any network glitches that may have occurred. If it's anything temporary, a simple system reboot should fix it.
If this doesn't work, run the "Internet Connections" troubleshooter to find and fix problems with your internet connection. Here's how:
Press the Windows logo key + I to open the "Settings" app.
Type Troubleshoot into the "Find a setting" input field and select "Troubleshoot settings" from the results.
On the Troubleshoot page, click on "Additional troubleshooters".
Now, left-click the first option, which is "Internet Connections", and click the "Run the troubleshooter" button.
Wait patiently as Windows attempts to find network-related issues. If there's a problem with your network, the troubleshooter will try to fix it. Be sure to apply any suggested solutions.
With network issues resolved, check if you can now download the Drive files that you were trying to access before.
Method 2: Check Your Account
To access shared files on Google Drive, you have to be signed in with an account allowed to access those files. Otherwise, you'll encounter an error or won't be able to view the files.
For your account to be given access to a file, you should share the corresponding email address with the file owner. Basically, the file owner (who generates the shared link you will use to access the data) can let anyone with the link access the file. If that's the case, in theory, any Google account can be used to view or download the file. The file owner can also restrict access to the file to certain people based on their email addresses.
In case you're wondering how to give download access on Google Drive, here's the guide you need:
First, you'll need to generate a shareable link. To do that, right-click on the file you want to share and select "Get link".
On the next screen, copy the link and add the people or groups you want to share the link with.
You'll see the options to change the permissions. You can also click on the cogwheel to change some settings. Be sure to leave the "Viewers and commenters can see the option to download, print, and copy" option checked if you want other people to download your file.
Copy the link and share it with the people you've selected.
Using the correct account to sign in to Google Drive should enable you to access the files you need without running into error messages like "Not available" or "Forbidden".
Method 3: Clear the Browser Cache and Cookies
Generally, your data is being cached in the browser to enable quick responsiveness whenever you're trying to view a previously accessed webpage. However, if left to accumulate, the data could become corrupted and cause webpage loading problems. To resolve this, you'll need to update the data by clearing the existing browser cache.
Here is how to do that on the Chrome browser:
Click on the three dots in the upper right corner to bring up the menu. From the list of settings, select More Tools > Clear browsing data. To make things easier, you can simply launch the Chrome browser and press the Ctrl + Shift + Del key combination. Alternatively, launch Google Chrome, type or paste chrome://settings/clearBrowserData into the address bar, and hit "Enter".
In the "Clear browsing data" pop-up window, choose the appropriate time range depending on when the 'Files not downloading from Google Drive' issue started. For instance, if you've been experiencing the error for the past three days, you can select "Last 7 days" to clear only the relevant cache files. If you prefer to clear everything, choose "All time".
Next, make sure the "Browsing history", "Cookies and other site data", and "Cached images and files" options are checked before clicking on the blue "Clear data" button.
To finish, exit Google Chrome and then launch it.
Now, visit the Google Drive webpage and sign in using the account associated with the file(s) you want to download.
The process should proceed without problems, and you should be able to download the file(s) to your device.
If you're using Microsoft Edge, follow these steps:
Launch Edge and click on the three dots in the top right corner of the browser to open the menu.
Select Settings > Privacy, search, and services, and scroll to the "Clear browsing data" section.
Click on "Choose what to clear" and select the relevant time range on the pop-up screen that opens. Check all the checkboxes as well to clear all the cache within the time frame you selected.
Now, click on the blue "Clear now" button.
If you're on Mozilla Firefox, you should do the following:
Launch Firefox and click on the three lines in the top right corner to bring up the menu.
Click on Options > Privacy & Search, and scroll down to the "Cookies and Site Data" section.
Click on the "Clear Data" setting and select "Clear".
Method 4: Update Your Browser
An outdated browser not only poses serious privacy concerns but can also lead to Google Drive download errors. Therefore, make sure your browser has the latest updates installed and check if this resolves the Google Drive issue.
To update Google Chrome, follow the instructions below:
Launch the Chrome browser and click on the menu icon.
Hover your cursor over Help > About Google Chrome. The browser should initiate an automatic check for updates, and if an update is available, it will automatically be installed.
Relaunch Chrome to finish updating.
Here is how to update Microsoft Edge:
Launch the Edge browser and open its menu by clicking on the three dots in the top right corner.
Hover your mouse cursor over "Help and feedback" and select "About Microsoft Edge".
Edge will automatically check for updates and install them (if available).
Relaunch Edge to complete the installation of updates.
Here is a guide on how to update Mozilla Firefox:
Launch the Firefox browser and click on the menu icon to open its settings.
Click on "Help" and choose "About Firefox".
Firefox will check for updates and automatically install them.
Relaunch Firefox to complete the updating process.
Method 5: Contact the Google Support Team
If none of the above solutions fix the Google Drive download error, your next best bet is to get in touch with the Google support team to share your concerns. There's a chance that your Google Account has developed some issues, and a Google Drive specialist will offer assistance to help you resolve the issue in the quickest possible time.
Start by checking the Google Drive Help page for frequently asked questions to see if your issue has been addressed. If not, scroll down and click on the "Contact us" link at the bottom of the page. Fill out the necessary details as accurately as possible to help the support team understand your problems better and select your contact options.
You can also opt to raise your issues on the Google Community page, where you can interact with other Google Drive users, who may be able to help with your Google Drive problem. Someone might have encountered the same error and been able to fix it.