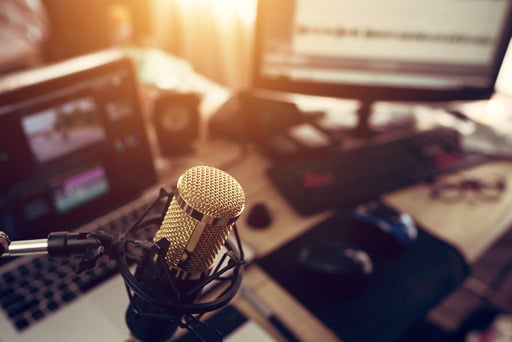 Audio editing programs let you modify audio files. With their help, you will be able to cut, copy, swap, and replace different parts of your recordings — and more. Most audio editing tools let you work with a variety of different formats (MP3, WAV, OGG, FLAC, and others) and are available for different operating systems. Whether you work with sound professionally or are engaged in amateur projects, there are many reasons why you might need to use audio editing software.
Today, we are looking at some of the best audio and music editing tools that you can use for free.
The Best Free Audio Software for 2021
If you run a quick Google search, you will see lots and lots of different programs that can help you edit an audio file. In fact, the sheer number of options you have may feel quite overwhelming — and this is where we hope this article can help. Here are our top picks for the best free audio editing software.
Audacity
Audacity may well be the best audio editing software out there. However, to use Audacity (if you are a beginner), you will need to spend a bit of time getting the hang of the program's interface.
Audacity is an open-source tool and works on macOS, Linux, and Windows devices.
Key features:
Easy editing: cut, copy, paste, delete, etc.
Real-time preview with sound effects
Supports 24-bit, 16-bit and 32-bit sound quality
Lets you visualize the selected frequency
Pros:
Lots of supported file formats
Direct streaming for podcasters
Lots of supported plugins
All key editing functionality on board
Cons:
A bit overwhelming for beginners
Outdated interface
Oceanaudio
If Audacity seems too complicated but you do want to use all the features it has, try
Ocenaudio. Oceanaudio is a free sound editing platform that works on Windows, Apple, and Linux devices. It is not open-source, so you won't be able to modify the original code — however, it comes with all the functionality you might need for basic audio edits.
Key features:
Lets you easily edit large sound files
You can select multiple tracks
Lets you analyze audio signals
Advanced memory management
Pros:
Friendly interface (easier to navigate than Audacity)
Plugins are supported
You can isolate and delete background noises
Lets you compress parts of your track
Cons:
No multiple track editing
Only supports .mpeg and .mp4
Only suitable for editing mono sounds or simple stereo tracks
Ashampoo Music Studio
Ashampoo Music Studio is a media player and audio editor in one. It's a Windows-only audio editor and is best suited for beginners who are learning to make their first sound file transformations.
Key features:
Friendly interface for beginners
You can record audio and split and mix sounds
Lets you extract audio from video
You can edit metadata and add titles and additional information
You can convert files into FLAC, OGG and WAV
Pros:
Perfectly suited for beginners
Additional file management tools
Lets your burn files to CDs
Cons:
Windows-only
No multi-track support
Audiotool
Audiotool is a free sound editor with beat-mixing facilities on board. With it, you will be able to create and publish music tracks and make all the basic sound edits. What makes it different from other similar sound editors is that Audiotool is an in-browser program and you won't need to download it. It's also conveniently available as a Chrome plugin.
Key features:
You can invite others to cooperate on your audio project
There are convenient application shortcuts
You can load MIDI files and add notes
Pros:
Available online and as a plug-in
Lots of virtual tools
Lets you export files in MP3 format
Cons:
Acoustica 7
Acoustica 7 is an advanced free sound editor for more complicated projects. Acoustica 7 is subscription-based software. There is a free trial available, but after the trial is over, you will need to pay $199.90 to continue using the software. However, earlier versions of the program — like Acoustica 6 — are available for free.
Key features:
Lots of editing tools on board: parametric equalizer, dynamic processor, harmonizer, drag and drop edits, mouse scroll zoom, channel mixer, and more
Music notation, piano roll, step editor, and more
Unlimited track editing
MIDI recording
Layer effects with Effect Chain
Pros:
Intuitive interface
CD ripping support
Effect Chain feature
Cons:
Latest version is not free
Now that you've picked the sound editing software you want to work with, you may also want to find an efficient way to send your audio files online.
The thing is, when you need to transfer an audio file to a client or a friend, you might face a challenge because audio files tend to be quite large. This is why we recommend using FileWhopper.
FileWhopper is a program designed specifically for transferring large files and folders online. With it, you will be able to quickly send over an audio file of any size — there are absolutely no limits. And that's not all.
When you store your files in the cloud, you will often have limits on how much you can upload. And, in most cases, you will also need to sign up and pay for a long-term subscription to start to use the cloud storage. FileWhopper works completely differently. Here, you will only need to make a one-time payment when you transfer your file or folder. Your fee is calculated based on the size of the data that you are sending — and you will see your estimated fee as soon as you upload your file or folder. Another convenient feature is that you can choose who pays for the transfer: you can do it yourself or ask the file recipient to bear the cost of the file transfer. This can be especially handy if you are sending a file to a client, employer, etc.
What makes FileWhopper stand out from other similar programs is that it lets you send over files and folders of absolutely ANY size. There are no limits or restrictions — and even if you have a 10TB audio file folder to transfer, FileWhopper is up for the task. You won't have to bother with compressing your files and then extracting them, and you won't have to sync your data with the cloud.
FileWhopper takes your data safety exceptionally seriously. The service uses zero-knowledge encryption — and no one (even the FileWhopper team) will be able to access your data under any circumstances. Your transfer will be protected with a password — you can create it yourself or have it automatically generated.
In case there is a connection failure (or another technical issue) during your file transfer, you won't have to start from scratch — which is especially important if you are sending over a large file. If your transfer gets interrupted, it will simply pause until the connection is restored and then resume from where it left off.
Another great time saver is that the recipient of your file or folder can start the download as soon as you start the upload on your side. There is no need for the recipient to wait until the file or folder is fully uploaded.
As you can see, FileWhopper looks like a really good way to transfer large audio files over the web. But you can check if this is true for yourself — simply head to FileWhopper.com and try sending a file or folder. Your first 5GB transfer is free and lets you experience all of FileWhopper's features first-hand.