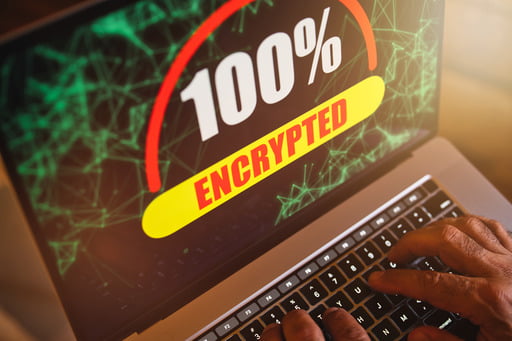 In 2021, data encryption software is essential for managing data. It's no longer something only used by large companies to protect sensitive information. In fact, there are lots of encryption programs meant for individual users who want to keep their data safe.
What Does Encryption Software Do?
In short, encryption software makes sure that your information can't be accessed by third parties. Encryption programs run your data through an algorithm that makes it unreadable to others who may be trying to steal it. To read your data, they will need a decryption key.
When choosing an encryption program, it is important to take into account the level of protection you need. With that, you will also need to consider how easy the software is to use if you don't want to spend too much time on tutorials.
In today's post, we have summed up our top picks for encryption software that can be a good fit for individual users.
Folder Lock
Folder Lock is great when it comes to encrypting mobile devices. The app will do an efficient job of protecting your personal files, photos, videos, contacts, wallet cards, audio recordings, and more. There are also some hidden security features on board. For instance, you can set a decoy password, use hacker deterrents, get alerted about brute-force attacks, and more.
The basic version of the app is free. There is also a pro version that you can purchase for a one-time fee.
Pros:
Free encryption software (basic version)
Good personal encryption
Cons:
Focused on mobile devices only
AxCrypt
AxCrypt is a paid encryption solution and is mostly geared towards small business teams. With that, it can also be a great choice for individuals who are looking for more functionality than what free software offers. There is a free version of the software too, but it is quite limited in functionality.
AxCrypt delivers strong security and keeps your files protected with 128-bit or 256-bit AES encryption. It also comes with cloud storage capabilities and will automatically encrypt files you have saved using Google Drive and Dropbox.
AxCrypt is available in Dutch, French, German, Italian, Korean, Spanish, Swedish, Russian, and Portuguese in addition to English.
Pros:
Strong encryption capabilities for both small teams and individual users
Free version available
Multilingual
Cons:
Geared towards mobile platforms
CryptoExpert
CryptoExpert is encryption software for Windows 10, 8 and 7 that creates secure data vaults for your data and keeps it safe against breaches.
CryptoExpert, true to its name, is a more powerful encryption tool than the programs we've mentioned earlier. It is super fast and works with a wide range of files, including Word, Excel, and PowerPoint files, multimedia files and email databases.
Another great feature is that CryptoExpert can protect vaults of unlimited size. The software uses Blowfish, Cast, 3DES, and AES-256 encryption algorithms. It works on 32-bit and 64-bit versions of Windows. There is also a free 30-day trial available so that you can test things out.
Pros:
Several encryption methods
Strong encryption
Secures files of unlimited size
Works with different file types
Cons:
Complicated interface
VeraCrypt
VeraCrypt is a very popular encryption tool offering advanced encryption for important files.
Despite its strong encryption capabilities, the software is quite easy to use. What it mostly does is add encrypted passwords to your data and partitions. You will need to "offer" the software some details about your files such as their size, location and hashing algorithms, and then VeraCrypt will do the rest.
The software is safe against brute-force attacks, and you won't have to worry about hackers getting to your passwords and other data. The basic version of the software is free to download and use.
Pros:
Effective encryption
Easy to understand
Free basic version
Cons:
Tricky installation
Secure IT 2000
Secure IT 2000 is data encryption software that can also compress your files. Because it does that, the whole process can take a tad longer compared to other programs — but it also makes your files more manageable.
Secure IT 2000 can encrypt files and folders, compress them and shred files too. It works on all versions of Windows (32-bit and 64-bit).
Note that the program works using a master password — which means that you won't be able to set different passwords for different files.
Pros:
Strong encryption
File compression
Cons:
More time-consuming encryption than what other software offers
Parting Thoughts
This concludes our list of some of the best encryption tools that can keep your files safe. The encryption programs listed above (whichever option you choose) will help you keep your files safely stored on your system — and even in the cloud.
However, things get a bit more complicated when it comes to transferring files over the internet. This is where your data is at its most vulnerable — and, unfortunately, most file transferring solutions are not able to guarantee security during this process.
This is why we recommend using FileWhopper, which is a new file transferring solution for sending large amounts of data over the web. It is specifically geared towards sending over really large files and folders. And, as data transferred online is often targeted by hackers, FileWhopper goes above and beyond to ensure security.
To achieve this, the service uses zero-knowledge encryption. This means that no one (including FileWhopper's team) except for you and your recipient can get to your data. Today, zero-knowledge encryption is the most secure way of storing your information on a public server. When a program uses zero-knowledge encryption, it means that the decryption key for your files and folders is not stored alongside your data. This means that nobody can access your files – whether it's a hacking attack or if access to your files is demanded on a higher level.
FileWhopper lets you transfer files and folders on a pay-as-you-go basis. With FileWhopper, you are only paying for the data you are sending over, and your fee is calculated based on its size. This can be much more convenient than having to commit to a long-term subscription, which is what most cloud sharing services require.
Another great thing about FileWhopper is that it lets you transfer files and folders of any size — actually ANY size. Even if there is a 10TB folder on your PC that you need to transfer, FileWhopper will take on the job.
FileWhopper saves your transfer progress in case of interruptions. If you run into a connection issue as your large file or folder is being transferred, the transfer will simply pause. Once the connection is restored, it will pick up from where it left off and no data will be lost in the process.
Using FileWhopper is super easy. All you need to do is download the tool's tiny app, which will help you through the whole process. Once the file transfer is complete, you will get a delivery report and the app will auto-delete.
FileWhopper is not free, but the software gives you a chance to try all of its features out with no money down. Your first 5GB transfer is entirely free.