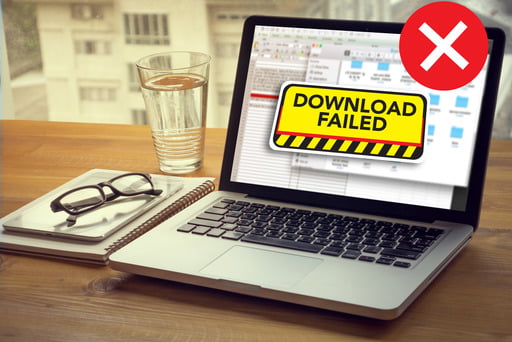 If you are looking to send large files online, there are quite a number of tools that you can use. From cloud storage services like Google Drive to file transfer platforms like WeTransfer, getting data across the web is becoming faster and easier.
However, things don't always go as smoothly as we want them to. And even trusted file-sharing services can occasionally throw up an error or two.
Today, we are looking into how to solve download errors when using WeTransfer.
Errors When Using WeTransfer
The platform's users have recently reported running into issues when opening the files they received via the service: they either can't download a file sent through WeTransfer or face an error when they try to unzip the data they have received.
So, what do you do if WeTransfer does not download the files you need? Or what if WeTransfer does not open at all? Luckily, there is more than one solution to this problem.
In this article, we will look into possible fixes for WeTransfer download errors. Plus, we will also suggest an alternative way of sharing large files online.
Let's get started.
How to Fix WeTransfer Download Errors
To fix an error, you need to first figure out why it happens. To do this, you need to take a closer look at how WeTransfer works. Here are a few important points:
When you transfer multiple files with WeTransfer, the service creates zip files. This ensures a fast and smooth upload for the sender and a quick and hassle-free download for the recipient.
Zip files are created regardless of the size of your upload — they are generated automatically when you upload more than one file at a time.
This is an efficient way of transferring data and helps you save loads of time that you would otherwise have to spend waiting for your original size files to upload and download. However, this method comes with a few disadvantages.
In most cases, when you receive a file via WeTransfer, all you need to open it is simply to double-click the file. You will then be able to access and manipulate the data inside any way you want.
The contents of your files are not affected by the archiving and unzipping of the data, and the process only takes a few seconds.
However, occasionally, you may run into a few complications. These issues seem to occur more frequently with files that are larger than 4GB in size — and it looks like these downloads are also difficult to handle for built-in apps on both Windows and Mac computers. Why does this happen?
First, in order to open these files, the program you want to open them with needs to support Zip64 archives — and not all apps can do that.
Second, while certain apps may be able to open zipped files, they will alter the format or even contents of these files in the process. (For instance, some users have reported that question marks in their documents don't make it through the unzipping process.)
So, how do you get rid of the errors and get the files received over WeTransfer to open on your device?
According to WeTransfer, here are the steps to take:
First, make sure you have the right tools. Check if you have the following apps installed on your computer: 7Zip for Windows and The Unarchiver for Macs.
If you already have these programs, make sure you are using their latest available versions.
Then, make sure that these are the programs your system uses to open WeTransfer files.
If you don't have 7Zip or The Unarchiver installed, download the tools from reliable sources and install their latest versions on your PC.
Make sure these apps are used by default when opening WeTransfer files.
And there you go. With the right tools on board, you should have no issues opening files sent via WeTransfer, and all the errors you've been running into should now be resolved.
But sometimes, WeTransfer issues are a lot more complicated than what is discussed above. For instance, WeTransfer received a lot of criticism earlier this year due to its constant breakdowns. In the month of April 2022 alone, the site was down at least three times. 
Most of the time, the error is extremely general and can occur at any time during the transfer process. When this happens, the user receives a message indicating that the credentials are invalid and that the file upload meter will stop progressing. There are cases when the user will be unable to download the files that have been sent via WeTransfer.
WeTransfer has acknowledged these issues and has been investigating the cause, but since the factors are too numerous, it would be difficult to truly get to the bottom of this. In instances like this, your best option is to use another file transfer app.
Fortunately, there is an alternative solution for sending large files and folders online — FileWhopper.
What Is FileWhopper?
FileWhopper is relatively new to the data sharing game — but it may just prove to be the easiest way to transfer files and folders online. With FileWhopper, you can send files and folders of any size (no limits), and they don't have to be zipped or archived, which prevents zipping and unzipping errors. Sounds pretty convenient, doesn't it?

Well, that's not all. Here are a few other features that make FileWhopper a great way to share large files online:
One of the biggest advantages of using FileWhopper is that the service doesn't require a paid subscription. It's 100% pay as you go. This means that you don't need to make a long-term financial commitment and can just pay for file transfers when you need them. How much you will need to pay depends on the size of your file or folder — and as you upload it to FileWhopper, it will calculate the price so that you know your exact fee.
With FileWhopper, you can send files and folders of any size. There are literally no limits when it comes to data size.
You can send all types of information, from simple .doc files to large video albums to applications.
FileWhopper uses zero-knowledge encryption for top-level privacy protection. When sending your files using the platform, you can be absolutely sure that your private data will never fall into the wrong hands.
The app is straightforward and simple to use. It won't distract you with features that you don't need or bombard you with ads.
The file transfer process is really easy and only takes a few steps. You download a tiny app, upload your file or folder, and then receive a link and password to share with the recipient(s) of your data. And that's it. When everything is ready and your data has been successfully delivered, you will receive a delivery report.
With FileWhopper, you also don't have to worry about force majeure events interrupting your transfer. If a connection failure or computer shutdown occurs, the app will automatically resume the process from where it stopped once everything is up and running again.
The download link for the file or folder you are sending won't be shortened. This means that the recipient will be able to see the full link and make sure that it goes all the way to the original FileWhopper website and is not phishing for their personal data. This may not seem like much, but with all the data theft happening when we go online, having that extra security feature can prove to be very comforting.
FileWhopper is also great at saving your time. With it, there is no need for the recipient to wait until the file or folder gets fully uploaded. They can start downloading the data right after you've started the upload.
[fwa-calculator]
And there you have it. FileWhopper can prove to be a great solution for sharing all types of data online. But you don't have to simply rely on our words. You can go to FileWhopper's official page and see for yourself. Your first 5GB transfer with FileWhopper is absolutely free. And this gives you the chance to try the app out, test out all of its features and see if it's a good fit for your needs — all before making any financial commitments.