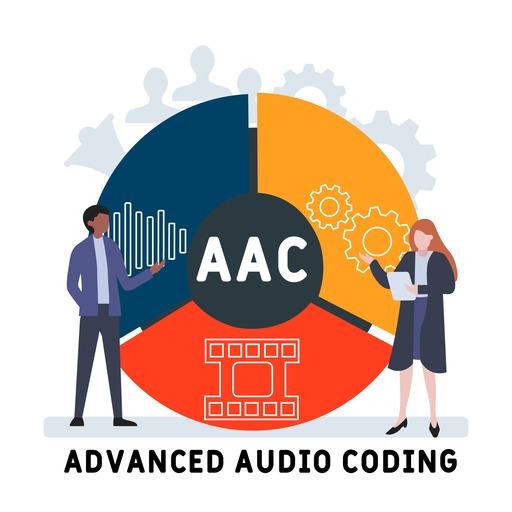 When it comes to the most popular audio formats or file extensions, MP3 tops the list. But it isn't the most efficient or best-sounding format out there. In fact, several audio formats outdo MP3s in every way possible. One of such formats is the AAC codec standard which is generally slightly better-sounding, takes up less space, and uses multiple file extensions.
The focus of this article is AAC audio files, how to open, convert, and send them. But first, let us delve a bit deeper into what is AAC and what makes these audio file formats different from the others.
What is an AAC File?
An AAC (Advanced Audio Coding) is a data compression and coding format used for digital audio. AAC is a lossy compression format, meaning that during the conversion of sound to digital files, only the most important information is captured while everything else is removed permanently. As a result, AAC files were designed to handle audio formats efficiently.
AAC and MP3 files are similar and different. In terms of similarities, both of them are audio formats and use the lossy compression format. In terms of differences, AAC files were developed to replace MP3s, so they render audio better at the same bit rate. One of the reasons for the better performance of AAC files is that they cover a wider frequency of 8 to 96 kHz, while MP3s only work with 16 to 48 kHz. Also, the AAC format has more file extensions, including .aac, .mp4, .m4a, .m4b, .m4p, .m4r, .mpv, and .3gp. The MP3 format only has and works with .mp3.
Nevertheless, MP3s are still more popular generally and can be used in virtually every device that supports audio and video. On the other hand, AACs are more popular with iPhone and iPod devices, thanks to iTunes.
How to Open an AAC File?
Since AAC files are not as popular as MP3s or other audio formats, opening and playing them often requires a bit of extra work on an audio player. This is also because many computer and phone manufacturers customize audio players to recognize only a handful of audio formats, often excluding AAC files.
However, the most common computer and phone operating systems come with audio players that have no problem working with AAC file formats. Examples of these players are Microsoft Windows' Groove Music and Mac's Apple Music. Others include the VLC (VideoLAN Client) media player, KMPlayer, and Winamp, among others. Also, similar to how many platforms use MP3s as the default audio format, a few such platforms such as iTunes, PlayStation 4, and Nintendo 3DS use AACs as the default file format for audios.
Note that AAC files cannot be successfully renamed to other audio file formats. If you manage to change the file extension of an AAC file from .aac to .mp3, for example, that does not mean that it will automatically inherit the characteristics of MP3s. In other words, if the players on your computer are unable to open and play an AAC file, renaming the file extension to one that the players recognize will not solve the issue.
If Windows Media Player is failing to recognize an AAC audio file, you can download the Windows Player Codec Pack from the official website and install it on your Windows PC. This codec pack lets your computer support various audio file formats, including AAC. As for Android devices, you may have to use third-party apps such as VLC media player, N7player, and a host of others. With Apple Music and iTunes, Macs, iPhones, and iPods have no problem playing AAC files.
How to Convert an AAC File?
If you don't want to go through the stress of downloading codec packs and using third-party software to open and play AAC files, the only option available for you is conversion. Once you know how to convert AAC files into more widely recognized audio formats, you will have no issue using them.
The only way to convert an AAC audio file is to use a third-party app. There are quite a number of these apps that were designed to play and convert special audio formats like AAC. The most common examples of these are Apple Music and iTunes (for Apple devices) and VLC (for all devices). So, whether you want to convert an AAC file to MP3 or vice versa, Apple Music, iTunes, and VLC are your go-to players. You can also use Windows Media Player in any version of Windows you have, but there is a small caveat for this conversion process.
Converting AAC Files with Apple Music and iTunes
To convert an AAC audio file format to MP3 via Apple Music on Mac, for example, use the following steps:
Open the Apple Music app on the Mac.
Navigate to the menu bar and select Music, and then choose Preferences from the options that pop up.
Next, select the Files tab and choose the Import Settings options.
Click on the options bar near Import Using and select MP3 (or any other audio format of your choice).
Once the conversion process is through, the audio file (in the file format you selected) will be added to your music library. So, for every AAC audio file you want to convert, simply select the song in your library, navigate to the File menu, click on Convert, and it will be done.
Similarly, to convert AAC to other audio file formats using iTunes, simply:
Open the iTunes app and select the Preferences menu option.
Navigate to the General tab and select the Import Settings option.
Click on the Import Settings' drop-down menu and select the audio encoder of your choice. Typically, the encoder options include AAC, AIFF, Apple Lossless, MP3, and WAV.
Select your preferred audio quality and click OK to finalize the modifications.
Once you have saved these settings, you can select any song on your iTunes library, go to the File menu from the pop-up options, and choose Convert. After you have selected the audio version, say MP3, the AAC file will be converted to MP3 and added to your iTunes library.
Converting AAC Files with VLC
Converting AAC files to MP3s or any other audio file format is very easy. All you need to do is follow the steps outlined below:
Open the VLC app on your PC.
Next, navigate to the menu bar and select Media.
Scroll down to the Convert / Save option and click.
From the options tabs (File, Disc, Network, and Capture Device), choose File.
Use the Add… button to select the AAC file from anywhere on your computer.
After adding the AAC audio file(s), move your cursor to the Convert / Save option and click the radio button for options.
Select the Convert option. This will adjust the interface a bit, adding a category for settings and audio profile.
Navigate to the Profile bar and select Audio - MP3 or any other audio conversion format. If you want to make more adjustments, you can select the spanner icon to edit your selected profile. From the profile options that follow, you can change the audio, bit rate, or even filter the audio to reflect whatever sound modifications you want.
Next, select the Browse button to choose the destination for the converted file.
Click Start to convert the AAC file to your preferred audio format.
Converting AAC Files with Windows Media Player
Converting AAC files to MP3s is tricky with Windows Media Player. Originally, Microsoft did not make any options for AAC file conversion, but you can still find your way around it if you are spoilt for choice. However, you have to burn the file to a CD and then use Windows Media Player's provision for ripping audio out of CDs to get the AAC file in MP3, WAV, ALAC, or FLAC.
After you have uploaded the AAC file to a CD, you can then follow the subsequent steps to convert AAC files to the MP3 audio format using Windows Media Player:
Open Windows Media Player on your PC.
Use the ctrl + M key option to display the menu option.
Select the Tools menu and choose Options.
Choose the Rip Music tab and navigate to the Rip settings subcategory.
Under the Format option, click the drop-down menu and select MP3 or any other audio format.
Click Apply and OK. And that's all.
So, whenever you have an AAC file on a CD, you can simply use the Windows Media Player to convert it to MP3s or any other preferred audio format.
How to Send an AAC File?
As is the case with every other file format, you can send AAC files to other people or store them somewhere other than your computer or phone. However, there are several factors you have to consider before sending AAC files. The most important of these factors is the size of the AAC file and the security of the transfer. Nevertheless, the safest way to send AAC files is via cloud storage services. This option is less likely to forcefully convert the AAC file to a format that is unrecognizable and consequently unusable.
Use General Cloud-Storage Services
To send an AAC file securely, you can use any of the most common cloud storage services. These include Google Drive, iCloud Mail, and Outlook, among others. These services are popular and consequently have a lot of users subscribed to them. This means that whoever you are sending the file to is likely a user of the cloud service and therefore does not need to register to access the AAC file.
However, there are a number of issues with using these services. The most prominent of these is security. There is no guarantee that losing the password to your account will not give hackers access to the file you send. Secondly, these services have size restrictions, and none of them allow the transfer of audio files that are more than 35 MB unless you are a premium user—the same as the receiver in some cases.
Faced with these restrictions, your best option for sending an AAC file is to use dedicated services like FileWhopper.
Use FileWhopper
Unlike the cloud storage services earlier mentioned, FileWhopper is a dedicated file-sharing service with security and speed as its main priorities. FileWhopper can send AAC files reaching up to 10 TB in size without compressing them. Also, the service uses zero-knowledge encryption, meaning that you have sole access to the file after uploading it to FileWhopper's servers. Moreover, there is no need for registration before usage and you only have to pay for the service when the files you are sending exceed 5 GB in size.
So, among dedicated file-sharing services, FileWhopper is your best bet for sending AAC files without having to convert or compress them.