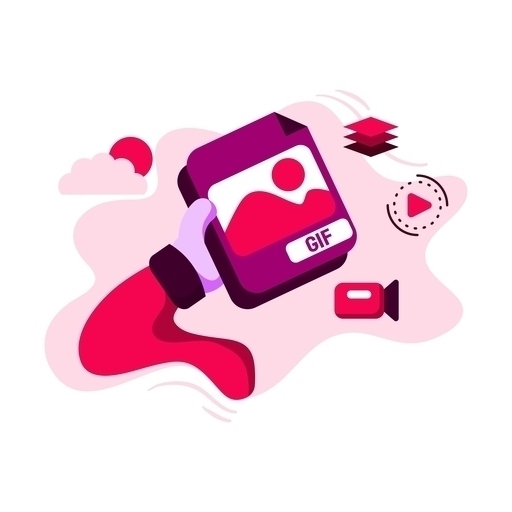 GIFs have grown to become an Internet staple, dominating every part of the web, especially on social media platforms.
They make social media posts more fun and relatable and add excitement to conversations.
This article drills down to the basics of the GIF file, showing you how to make, open, convert, and share them
What is GIF?
GIF is short for Graphic Interchange Format. It is a raster or bitmap file format developed to store basic images ideal for internet use. GIF files are designed to carry 256 indexed colors and support 8 bits per pixel for each file.
GIFs are image files in their simplest forms, just like your regular JPEG, BMP, and PNG. That said, they have a unique feature. Apart from storing still images like other formats, GIF allows you to combine frames and images to create simple animations.
These animations are possible because GIFs can contain multiple pictures or frames at the same time and display them sequentially, like a flipbook.
Note that these animations aren't considered videos as the file format doesn't support audio and other video properties.
GIF files have the .gif file extension.
A Little History
The GIF format was first developed by US software engineer Steve Wilhite at CompuServe, a US tech company.
The main purpose of developing the format was to make downloads faster for large images.
Since the company helped users send emails and files before the advent of the Internet. They had the challenge of sending files fast without consuming too much storage space.
The developers introduced the Graphics Interchange Format to solve this problem.
However, the format went on to replace the company's black-and-white file download formats, since it has color support.
The file format also went from almost still-image-exclusive to supporting animations.
The first GIF format was named 87a. While this version already supported combining images, the next version, 89a, introduced in 1989, added support for animation delays, metadata storage, transparent background colors, and text labels.
The format got the loop functionality in 1995 with Netscape Navigator 2.0.
GIF began to gain social media popularity when Facebook announced support for the format in 2015. Instagram followed suit in 2018.
Today, GIFs are so versatile that you can use them virtually anywhere. For example, GIFs are now embedded into instant messaging applications, and even some keyboards support using GIFs as emojis.
How to Open GIF Files?
GIFs are among the easiest files to open. Almost every image-viewing application on your device can launch and display GIF images, even in their animated format.
Other applications, such as your web browser, and instant messaging apps (WhatsApp, Telegram, and Messenger) can also display GIF files without issues.
How to Create GIF Images?
As GIF images grew in popularity, so did platforms designed to create and provide them. There are numerous online tools that allow you to create animated GIF files from online videos or images. These online tools will also allow you to apply text to the GIF images.
Imgur, for example, is one of the well-known online tools that allow you to create GIFs from online videos. To use the tool, enter the video's URL, then select the section you want to turn into a GIF. After that, you can overlay text to the GIF file.
GIPHY, another online tool, also allows you to create GIFs from video URLs and uploaded videos.
Apart from using online tools, you can use programs such as Adobe Photoshop to create GIF images from scratch.
Here's a simple step on how to use photoshop:
Launch Photoshop and click on File > Scripts > Load Files into Stack, then upload your images.
Next, click Create Frame Animation.
Go to the Timeline panel and select the "Make frames from layers" option.
Still in the Timeline panel, open the Repeat menu and click on Forever. This allows the GIF to be in a continuous loop.
You can now preview your animation by clicking the Play button.
You can save your GIF by clicking on File, then selecting Export > Save for Web (Legacy).
You can also use your smartphone to create GIFs, thanks to mobile applications such as Ezgif and Pixel Animator: GIF Maker.
How to Convert GIFs?
There are situations where GIF files aren't ideal or even suitable. For example, since GIF files only support 256 colors, they tend to look blurry and have low resolutions.
JPEG files, on the other hand, can support up to 16 million colors.
The good thing is that there are different ways, and tools, to convert GIFs to static images.
One of the easiest methods is using Microsoft paint. Follow these steps:
Go to the Windows Start menu, search for paint, then launch the application.
Click on File and select Open.
Browse to the GIF image and open it.
Once the file loads, go to the File menu and click on the arrow next to Save As.
Select JPEG file or any other format.
Choose a folder and save the image.
You can also use online image converters to convert GIFs to JPEG or PNGs.
Applications like Photoshop and Coreldraw can also easily convert GIFs to images.
How to Use GIFs?
As we mentioned, GIFs have enjoyed widespread adoption that you can now add them to your chats, emails, and social media posts straight from your keyboard.
You can easily pick the GIF that fits your messaging context and send it in seconds.
Nowadays, you don't have to download and store GIFs to your device then go through your gallery when you want to send them.
Keyboards like Gboard allow you to search for and use GIFs. Just click on the GIF option and use the search function.
Social media websites also partner with image hosting platforms to make GIFs easily accessible.
Twitter and Facebook Messenger, for example, have a GIF search bar that makes GIFs easy to use just as you emojis.
WhatsApp also has a GIF tab in the emoji section which allows you to pick and send any GIF of your choice. You can also build a GIF collection on WhatsApp by saving stickers you receive as favorites.
Another way to use GIFs is by copying links from image hosting sites such as Gifycat, Imgur, and GIPHY. Once you identify the GIF you want to use, click on the "copy link" option then paste the link where you want to use it.
These options mean you don't necessarily have to stack your computer or phone with GIFs, unless you're creating custom GIFs from scratch.
How to Send GIF Files?
GIF files were primarily created to solve the issue of easily transferring images. They're quite lightweight, making it easy to share them via email.
Today, you can send numerous GIFs through instant messaging apps and social media posts.
That said, if you have a large batch of files to transfer, there are different ways to do that. One of the best means is using a file transfer service that allows you to send files without paying a subscription fee. This service is FileWhopper.
Instead of monthly payments, you're only obligated to pay for what you send. The service has a meter on its homepage that allows you to calculate how much you'll spend on the size of the file you want to transfer.
Closing Thoughts
GIFs will continue to remain an integral part of the Internet as people will keep using them to add excitement to email and text conversations and make the web more fun.