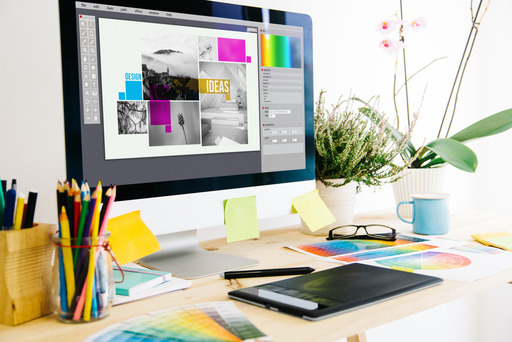 You may have encountered image files with the BMP extension, especially if you use a Windows computer. However, these files are not as popular as GIF, PNG, and JPEG photos.
You may even wonder what the BMP file is if it doesn't have a thumbnail or short info.
But the story is different for professional photographers and those with an average knowledge of photography and image files.
The BMP image file type has grown in popularity over the years because of its many uses. It can store multi-color and monochrome image data in 64-, 32-, and 16-bit color depths.
Long story short, BMP is a great image format with a variety of uses. That's why we've put this article together to explain what BMP files are, their pros and cons, and how to open, convert, and share them.
What is BMP?
The BMP file format is short for bitmap. It's an uncompressed image file developed to store and display high-quality images. Bitmap images are also called raster images.
Bitmap or raster images represent pictures in two-dimensional formats as a grid of square pixels or a rectangular matrix.
The file may be occasionally called Device Independent Bitmap, but BMP is more common, and it's usually pronounced as "bump."
BMP files were originally developed by Microsoft for the Windows operating system. The format was designed to ensure digital image resolution remains consistent across different devices and screens. You can use it to store two-dimensional photos in black and white or color.
Bitmaps are normally uncompressed, which means they tend to occupy large amounts of space. That said, you can easily compress them without compromising too much in image quality.
The image file starts with a file header that contains things such as:
Bitmap identifier
Width
Height
File size
Color options
Data compression method
After the header, optional ICC color profile data and raw pixel image data are stored.
What are BMP Files Used For?
BMP files are used to store high-quality photos and maintain consistency regardless of which devices they're stored on or viewed.
Because they come in the raster or bitmap format, BMP images are primarily made of pixels. That means they can contain a wide range of details and colors. This structure makes them a great choice for high-quality photos such as 2D photographs. They can also handle high image data levels since they're uncompressed by default.
What's more, you don't lose image data whenever you edit BMP files, making them ideal for storing images across different devices without losing picture quality.
How to Open BMP Files
While BMP files started as a Windows exclusive, they're now compatible with other operating systems such as Mac, iOS, Android, and Linux. The image viewers in these operating systems can easily open BMP photos without breaking a sweat.
Pros and Cons
There are many great reasons to use BMP files, especially when you think about image quality. But using the format comes with some downsides and you should know these drawbacks before deciding to go for the format.
Let's cover BMP's advantages and disadvantages.
Advantages
High Image Quality Support
As we mentioned, BMP file formats can support original, high-quality photos because they store pixels and are uncompressed.
Consistency
BMP files are device-agnostic and designed for consistent quality. That means they can be transferred and viewed across different devices and operating systems while maintaining the same quality. Bitmap images specify pixels in a form that isn't affected by how display devices represent color. That way, they'll all display a BMP image the same.
Versatility
BMP files can handle multiple profiles, alpha channels, and color depths. Also, while they're uncompressed by default, they also support data compression. That means you can compress them to a degree without losing noticeable quality.
Support
BMP image files are supported across numerous operating systems and web browsers. That means you can keep your files in BMP formats without worrying about compatibility in most cases.
Disadvantages
BMP Files are Old
While they have numerous advantages, BMP files are now considered outdated, especially for modern operating systems and devices such as Android and iOS smartphones, Windows 11 and macOS devices, and even iPadOS. 
Some websites don't allow BMP uploads when you're trying to complete a form or upload an image.
JPEGs may be as old, but they enjoy more support across these platforms.
Larger File Sizes
You'll have to consider a trade-off between quality and storage size. BMP files are quite large because they're uncompressed and store a great deal of image data. Their size could make them less ideal for web transfer and storage.
Process Production Limitation
BMP is limited to the RGB color format, which makes it unsuitable for process Production since prepress requirements favor CMYK. So, if you work with CMYK images, you may want to look for alternatives.
How to Convert BMP Files
You may want to convert BMP to JPG to reduce file size, work with CMYK colors, or use a supported file type for a form or website. You may have to convert BMP to PNG or other formats for any of these reasons.
The good thing is that there are different accessible ways to convert BMP to any other image format regardless of the operating system you use.
You can use Microsoft's photo app or any image converter.
How to Use Microsoft Photos App to Convert BMP Files
Follow these steps:
Double-click on the BMP file to open it with the photos app. If the photos app isn't the default program for opening images, right-click on the BMP file and select Open With, then click on Photos.
Go to the top of the Photos window and click on File or the three horizontal dots.
Select the Save As option.
Now, enter a file name and select BMP in the "Save as type" drop-down menu.
Click on the Save button.
Using Online Converters
There are many different online converters that you can use to change your BMP format comfortably. You can search for an online image converter on Google, then head to the site, upload the BMP image, and click on the Convert option.
Note that some of these services may not be free.
BMP vs JPEG
JPEG and BMP files are the oldest image file formats around, as they date back to the 1990s. They're also raster files that can display high-quality photos with compression support. Another similarity between the two is that they're not quite ideal for printing physical photos.
But that's pretty much where their similarities end.
JPEG files are more popular and widely supported than BMP files due to widespread support on smartphones, tablets, and web platforms like social media.
JPEG images compress automatically whereas BMP files are uncompressed. That means JPEGs tend to be smaller in size but BMPs tend to maintain higher photo quality.
How to Send BMP Files
You can send a single BMP image file through your email or even any instant messaging platform such as WhatsApp, Telegram, and Facebook Messenger.
But it's a different story if you want to send really large files. For example, you may want to send a batch of raw BMP photos. 
As you know, BMP images are large and take up a lot of storage space. That means sending large batches through email and messaging apps may be out of the question.
These platforms have file transfer limits, so you may have to look for alternatives.
Thankfully, you can use FileWhopper to send large files of any size.
FileWhopper is a service developed to help users transfer large amounts of files in a fast and secure manner without having to pay recurrent subscription fees.
You're only required to pay a one-time fee, which is determined by the size of the file you want to transfer. You'll also get to transfer your first 5GB for free.
FileWhopper uses a sender-to-receiver zero-knowledge encryption model. This transfer system means that only you and the recipient will have access to the file.
To use the tool, head to FileWhopper's home page and click on Choose File or Choose Folder, depending on what you want to send. Before choosing, you can use the slider to find out how much it costs to send your file or folder.
Use the dialog to browse the file or folder you want to send and select it. Note that you're not uploading at this point. The service will only calculate the size of the folder or file and show you an accurate quotation.
Then, you can proceed to pay and download the tiny app that facilitates the transfer. The app is a small piece of software that self-destructs once it completes the transfer.
Closing Thoughts
BMP files are great for editing and provide many advantages if you want to maintain high-quality photo viewing across different devices.
That said, BMP files can take up a lot of space, which is why you should lean on transfer services like FileWhopper if you want to send batches to a friend, colleague, or client.