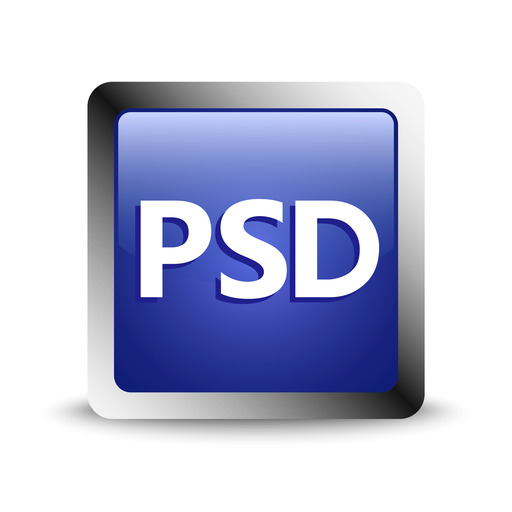 Compared to image formats like JPEG, PNG, and GIF, PSD files are not very well-known except to graphic designers. Nevertheless, this particular image file type has some advantages that others do not. For one, unlike the majority of other image formats, PSD can hold many layers of image information and objects. Also, because it is a high-resolution image format, it is generally regarded as a standard format for graphic designers and other industry professionals that work with image production.
Considering the value of PSD files, we developed this article to answer some of the most essential questions of web users about the file format. Therefore, this article will explain what a PSD file is, outline some of its characteristics, and note some ways users can open and use them. The article will also sketch out how to convert PSD files, and finish with how to send them.
What is PSD?
A PSD (short for Photoshop Document) is the native file format of Adobe Photoshop. It is a raster format like JPG/JPEG, PNG, GIF, TIF/TIFF, and BMP. This means that a PSD file consists of tiny pixels (picture elements) that individually hold information about the overall image being displayed. PSD images are powerful because they are the native file format of Adobe Photoshop, and record images in very high resolutions. Furthermore, they can also hold layers and can easily be manipulated to be transparent.
Like many other native file formats of image-editing software applications, PSD files can be used to store objects. More than that, they can be used to store vector files, granting Photoshop users the option of saving their projects in vectorized form. As a result of this and several other advantages, PSD is considered an industry-standard image format, despite being generally used by creatives.
The PSD image format has an interesting history. Initially, it was introduced alongside Adobe Photoshop as the default file type for saving images and objects. The format enabled users of the image-editing software application to save their Photoshop output in editable documents that were the best quality possible. This was wayback in 1988 when Adobe Photoshop was developed. So, PSD came into public usetwo years later and increased the editing efficiency of graphic designers. However, even though many years have passed since its introduction with Photoshop, the PSD image format is still very useful to the point of being classified as an industry-standard format.
PSD vs Other Image Formats
PSD Vs JPG/JPEG
PSD certainly has several advantages over more popular image formats such as JPG, PNG, TIFF, and EPS. In the case of PSD and JPG, PSD is the companion format of an image-editing software application (Photoshop) whereas JPG is not. Following from this, PSD has a lot more capacity for image editing. For example, PSD supports editing layers, whereas JPG does not. It also stores editing information such as history, but JPG does not have this capacity. So, while JPG is only a raster image format used for displaying pixel information, PSD is more useful for manipulating an image and preserving a lot more than just the pixel displays.
PSD Vs PNG
The PSD image format is also very different from PNG (Portable Network Graphics) files. For one, the latter was chiefly designed as an option to store and send images online. This is why converting a typical JPG image to PNG reduces the size of the image, even though it does not appear as if the display quality is affected. PNG files can also hold 24-bit RGB or 32-bit RGBA colors, as well as different shades of gray. But they are unusable for subtractive color mode, that is, CMYK. Consequently, PNG files are not considered useful or up to par for displaying images in professional settings. However, PSD files are not limited in any of these capacities. Instead, they can display an extensive spectrum of colors, thereby giving depth and spread to the image.
PSD Vs TIFF
PSD and TIFF (Tag Image File Format) are more similar compared to the others. Both of them can be used for displaying and editing images, as well as for embedding metadata into an image file. Furthermore, they can equally be used in the Adobe Photoshop environment, offering more options for image manipulation. However, in terms of file size, TIFF files are typically smaller than PSD files. One of the reasons for this is that TIFF compresses images better than PSD. Also, TIFF allows faster updates of metadata compared to PSD. However, even though the debate is still ongoing, PSD files are typically a bit superior to TIFF files in terms of image quality.
PSD Vs EPS
Like PSD, the EPS (Encapsulated PostScript) image format can also be used for editing. This means that it can store and retain information and image elements to be used in different image-editing software applications. However, compared to PSD, its editing functions are limited. PSD offers a wider range of editing capacity, including a higher pixel number support. Thus, the image quality for PSD is generally greater than the image quality for EPS. Moreover, EPS is typically used for vector images, whereas PSD can be manipulated to support both vector and raster.
PSD Vs WEBP
WEBP is likely the most recent image format. It was developed by Google to be the most useful image format and increase the speed at which files can be sent online. As a result, WEBP files are optimized in terms of file size and quality. Moreover, the compression system is flexible as it can store files in both lossy and lossless format. Furthermore, it can also be used in Adobe Photoshop. However, compared to PSD, WEBP files can only be used by default in more recent versions of Photoshop. Specifically, if you only have version 23.1 of Photoshop or even older versions, you have to first download a plugin from Google.
Ultimately, PSD is one of the best ranked image formats. Because of its quality and high-resolution support, among other things, it is largely preferred above the majority of file types.
How to Open PSD Files
One of the biggest differences between the PSD image format and others like JPG or PNG is that PSD was developed as the default format of Adobe Photoshop. This means that a lot of work went into designing it. Thus, it had to have distinctive features that marked it out as a native image format of a popular image-editing software application. The relevance of this information is that PSD files can easily be opened using Adobe Photoshop. In other words, as long as you have Photoshop installed on your Windows PC or Mac, you can open PSD files without installing drivers or other supporting components.
Apart from Adobe Photoshop, you can also use Adobe-related applications. These include Illustrator, Premiere Pro, and After Effects. However, if you don't have any of these software applications on your Windows or Mac device, you could use similarly-designed image-editing programs like CorelDRAW. If you don't have traditional graphics-particular applications like CorelDRAW, you may have to download GIMP to use on your Windows or Mac. This is because GIMP runs on multiple operating systems, including GNU/Linux.
If, for one reason or another you are unable to use these offline applications, you can also use their online alternatives. These include the following:
Autodesk SketchBook: It is web-enabled, free, and can be accessed from your desktop or smartphone.
Artweaver: It is optimized for creative users that can use Photoshop and other professional image-editing software applications.
Canver: It is more popularly used for creating visuals to be used on social media.
Paint.NET Online: It is a rich online image-editor that is often placed on the same level as GIMP.
Photopea: It is robust and can be used for creating illustrations and even web design.
Polarr: Its greatest appeal is in the wide range of distinctive filters available for use online and offline.
XnView MP: It is an easy-to-use all-rounder.
So, if you don't have Adobe Photoshop or any of the more popular image-editing software applications, you can use any of these online image editors to open and even edit PSD files.
How to Convert a PSD Image
Due to the exclusive nature of PSD files, you may be like the many other users who want to convert PSD to JPG or any other more conventional image format. Typically, there are lots of ways you can accomplish this. However, these methods can be classified into two major classes: using Adobe Photoshop and using third-party applications and conversion platforms.
Converting PSD Files Using Adobe Photoshop
Whether you want to convert PSD to PNG, TIFF, WEBP, or any other usable image format, you can use Adobe Photoshop. The application is the main platform from which you can open, edit, and save PSD files. In the same way, it is the easiest means through which you can convert PSD files to other image formats.
To convert PSD files via Adobe Photoshop on your Windows PC or Mac, follow these steps:
On the Adobe Photoshop interface with the PSD file open, move your cursor to the File tab.
After clicking the File tab, choose the 'Save As' option from the list of options.
Under the 'Format' pointer, select JPG, PNG, WEBP or any other image format that you want.
Click on the 'Save' option to enable Photoshop to save the new file (with your preferred image format) in the location of your choosing.
This method is the most traditional method of image conversion. All you need is a working Adobe Photoshop application and the PSD file you want to convert.
Converting PSD Files Using Third-Party Applications/Platforms
Assuming that you don't have Adobe Photoshop installed on your PC or cannot access it, you can still convert PSD to EPS or any other image format of your choosing. However, you would need to use a third-party platform.
Some of these third-party PSD-converting platforms are offline, meaning that you can download them as applications to install on your computer. After starting them up, you can easily convert PSD files to supported image formats. However, the majority of PSD-converting platforms are online, meaning that they are web-based and every conversion process would require you to first upload the PSD file you want to convert to other image formats.
Examples of third-party platforms that you can use to convert PSD files are Convertio, IrfanView, XnView, Zamzar, and many others. For most of these platforms, you can use the same process for converting from PSD to preferred image formats as described earlier:
Select File tab to bring up options about the PSD file.
Choose the 'Save As' option.
Enter the preferred name.
Click the 'Format' or 'File Type' drop-down bar.
Select your preferred image type from the list of image format options.
Click 'Save' to complete the conversion.
How to Send a PSD Image
From our explanations so far, one reason PSD files stand out is image quality. PSD images are often very sharp and clear. But this also means that the resulting files are also very large. The effort involved in sending such large files online is typically prohibitive. But there are easy ways you can still accomplish this.
The most obvious method for sharing PSD files online is via a cloud service or platform. Google Drive and Microsoft's OneDrive are good examples of these services. Although there are limits to the size of the files you can send, this option is usable. However, these service platforms fall a bit behind dedicated file-sharing platforms when it comes to security, file size accommodations, and transfer speed.
In the case of FileWhopper, for example, you can send PSD files as large as 5GB at once. More so, FileWhopper enables you to encrypt your files using the zero-knowledge encryption method. As a result, not even FileWhopper can crack the files you are sending without the password that you generate yourself.
So, if you want to send a large PSD file without first converting it to a more widely known image format, and you want your file encrypted against unauthorized access, FileWhopper is your best option.