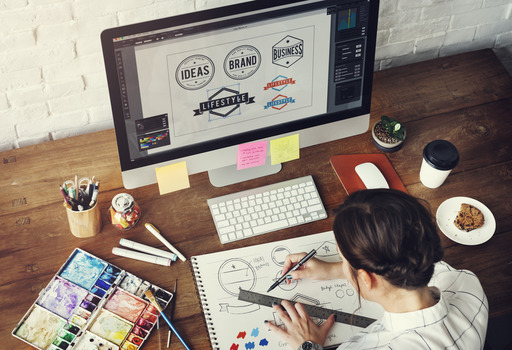 If you come across an EPS file and are unable to open it, you will need to install image viewing or editing software. Fortunately, there are numerous programs from which to choose.
This article describes what EPS files are and how they differ from other image types; which programs can open them; and how to convert them to another image format such as PNG or SVG.
What is EPS File?
Encapsulated PostScript (EPS) is a graphics format for vector images used by Adobe Illustrator. You are probably already familiar with the EPS file type if you use Adobe Illustrator. For those who are unfamiliar, it is important to first understand what vector images are. Vector images are images with mathematical equations that allow users to stretch images to any size without sacrificing quality.
Vector files include bitmaps that tell each pixel in the photo what size and color it should be, allowing you to recreate the image in any size or color. Vectors are useful for large-scale printing such as billboards and building decal wraps. The most convenient file format is EPS because it does not affect pixel quality when the image is expanded.
This file format is unique in that it supports all of the color models required for printing, can record data in RGB and clipping paths, uses fonts, and many other features. EPS files, which were created by Adobe in 1992, also include an embedded low-resolution preview that is used by programs that cannot otherwise open and display these vectors.
A vector graphic, as opposed to raster graphics files such as JPEG and PNG, is an image defined by points on a plane. Polygons are formed by connecting these points with lines and curves. EPS files, in other words, are defined by a set of equations.
Because of this concept, EPS files can be infinitely scaled or zoomed in without losing resolution. Thus, the primary advantage of vector graphics over raster graphics is their ability to scale while maintaining the original resolution. When you zoom into a JPEG file, the resolution begins to deteriorate. When you zoom in, even more, you'll notice individual pixels. Vector files, on the other hand, can be scaled indefinitely, making them ideal for billboards.
So, what exactly is an EPS file? This file format can store 2D vector graphics elements as well as raster images or text. You can open an EPS file in a variety of programs and graphic design software that includes tools for editing vector images. EPS files are frequently used as standard tools for transferring graphic data between different operating systems. Because this file format was created by Adobe, their software is the best for working with such files because it includes the PostScript language.
Difference Between EPS, JPG, PNG, and TIFF
It can be difficult to understand the differences between JPG, GIF, TIFF, PNG, and EPS if you don't have a background in image manipulation.
If you don't know what you're doing and choose the wrong file format for your images or logo design, your small business will suffer. Each image format makes choices between displayed colors, file size, and compatibility. The best part is that determining which image format to use is simple.
EPS vs JPG
EPS vs JPG is the difference between a vector (EPS) and a raster (JPG) image. When magnified, one is crisp and sharp, while the other is barely legible.
A JPG is an image format that can store millions of colors. Furthermore, it compresses extremely well, resulting in file sizes that are a fraction of those of other file formats. JPG is an excellent format for storing images and photos with smooth color variations. However, it is not particularly good at displaying sharply contrasting edges, lines, or text.
Vectors, like EPS, are excellent for all types of printing. Because the format is based on an equation, the image can be scaled up and down to be printed at any size while maintaining the same quality.  EPS can be scaled to any size you require. Other image formats are not scalable. This means that if you need to enlarge the images to fit them on a sign or a banner, the detail will be lost and the images will become pixilated. This is not a problem with EPS because it can be scaled to any size.
EPS vs TIFF
A TIFF is similar to a highly detailed JPG. When you save an image as a TIFF, the TIFF file format retains all of the image's detail and color, so everything remains exactly as you need it. The disadvantage is that TIFFs typically have large file sizes, which are not well suited to the online environment.
TIFF and EPS are both large file formats, but there is a distinct difference between these two. TIFFs are commonly used for professional photography because they use lossless compression to maintain image integrity and clarity.EPS, on the other hand, is formatted for use with PostScript printers and imagesetters. It is best for large banners and signs.
EPS vs PNG
PNG is the new kid on the block. It was created as an alternative to GIFs at first. A PNG can display millions of colors as well as sharp edges with ease. Furthermore, it compresses extremely well, resulting in small file size. Two thumbs up! This makes it ideal for use in an online environment. Transparencies are also supported by the PNG file format.
While the PNG format is useful for managing images, logos, and other 2D graphics data in a digital environment, it is not suitable for printing images on paper. PNG files work best on screens, while EPS files work best on paper.
What Is an EPS File Used For?
EPS files are most commonly used in designs that will be printed in large quantities, incorporated into other vector designs, or used as logos because they do not lose resolution.
The most common applications for EPS files are:
Logos
Designs for billboards
Illustrations
Wallpapers
Diagrams
Figures
Charts
Large-surface graphics
Photographs, on the other hand, cannot be included in a vector because they are defined by pixels.
How To Open Eps Files
You may or may not require additional software depending on your operating system. EPS files can be opened by default on a Mac without the need for additional software. You'll need software on Windows that can open vector files without flattening them, like Adobe Illustrator, Corel Draw, or GIMP.
Adobe Illustrator, a well-known graphic design software for the creation of vector graphics from Adobe Systems, is the basic program for creating EPS files. These files can be edited in Adobe Photoshop and Illustrator. If you can't afford Photoshop or Illustrator, you can work with EPS using free apps. There are also a number of services and programs that work with EPS files. Let's talk about them all.
Paid Tools
Adobe. Adobe PDF Reader, Adobe Illustrator or Adobe InDesign, and Adobe Acrobat DC are the quickest and easiest ways to open an EPS file on Windows or macOS.
CorelDRAW. Corel graphic design software can also open EPS files. You can import the required file into the program, view it, or edit it using CorelDRAW.
QuarkXPress. This is a professional program for creating layouts for books, magazines, and websites, among other things. You will be able to not only view but also edit EPS files with its assistance.
Free Tools
Inkscape. Similar to Illustrator and CorelDRAW, this is a free vector graphics editor. This software includes many standard elements, such as selecting, scaling, filling, an airbrush, and various standard shapes. Its disadvantage is that it has a problem with document structure when you export it - you will receive a file with only one layer.
GIMP. GIMP is an incredible graphic design program that deserves to considered one of the best free graphic design tools. The program works flawlessly with the EPS file extension. You can see all of the layers and change them however you want.
Scribus. This program will only open EPS files if you have Ghostscript installed. Depending on how complex the original file is, importing a vector image from an EPS file may take too long. If the file was created in Illustrator 9+, the import may also be problematic. It happens because files created with the most recent Illustrator versions contain a lot of Adobe-specific information embedded. The two solutions are to save the file in a version compatible with Illustrator 7 or to use AI format.
Online Tools
Art Viewer: This is the first online service on our list that can help you view your EPS file. It is very easy to use. You visit the website, click "View," and then enter the path to the file you want to preview. Then enter the captcha and click the "View Image" button. The service will process the file (which usually takes 10-20 seconds) and display the image to you.
OFOCT. OFOCT is the next service you can use to view EPS files. Open the website and specify the path to the file by clicking "Upload" to load it (or paste the URL by clicking "From URL" above). Wait for the file to upload before clicking "View" below. You will be able to see the image on your screen once the service has processed it.
Fviewer. Fviewer is one of the most popular online services for opening various file types, including EPS. After visiting its EPS viewer, you must upload the desired EPS file. Simply drag and drop the file or select "Select a Local File" to open it from your computer. You can also paste the URL to your file into a special field. Its contents will
appear in the browser automatically after it is uploaded.
How To Convert an EPS Image
If your device still won't open or work with EPS files despite the software you've downloaded and installed, you may have no choice but to convert them.
Because none of the software on your system appears to be able to open the file, you must turn your attention to your system's image converter. If you don't have a file converter on your computer, you can find a plethora of converters online. However, depending on your budget and requirements, you will have to choose between premium and free apps.
Some free converters, such as Zamzar, can do the job quickly. Zamzar takes up no space on your device because it runs in the browser to convert eps to JPG and other compatible formats. It is thus quite convenient for you if you are concerned about the limited storage on your device. FileZigZag, another similar app, can convert eps to PPT, ODG, and HTML formats.
If you already have Adobe Photoshop or Illustrator on your system, you may not need to install any converters. Open the EPS file you want to convert, then go to File, then Save As. You should be able to convert EPS to TIFF, BMP, GIF, or PNG format so that you can send them to friends whose devices cannot read EPS files.
How To Send an EPS Image
Anyone who has worked with EPS files knows that uploading, downloading, or sharing them can be a time-consuming and laborious task. This is due to the fact that EPS files can be quite large. For example, an EPS file created in Adobe Photoshop can be larger than 16 megabytes in size for a 4.25 x 6.25 image rendered in CMYK color mode (which is common for digital offset printing).
Whether you are a graphic designer by trade, work in the marketing department, or simply need something professionally printed, chances are you work with EPS files and have had to deal with their enormous sizes.
Because of this, sending EPS files via email or other regular platforms is impossible. Aside from the size limit (which makes it impossible to attach them), you'll be dealing with a quality loss if you decide to resize them.
The best option for sending large files like EPS is to share them via FileWhopper. FileWhopper is an online service for sending large files and folders. It allows you to transfer data of any type and size in just a few clicks. The fact that FileWhopper is not a subscription-based service distinguishes it from the competition. Most storage and file-sharing programs require you to commit to their services for an extended period of time and purchase a subscription, whereas FileWhopper allows you to share large files and folders online with a single payment — you only pay for what you transfer.
The size of the files is not limited, so you can transfer your EPS files without having to worry about zipping them or dividing them into smaller pieces. You will be able to send everything at once, regardless of how large your transfer is.
Wrapping Up
To summarize, EPS files are vector files that can include graphics and text. They are widely used in graphic design because they are vector files, which means they do not lose resolution when scaled.
You can get them from almost any stock photo site and open them in a variety of photo design software, such as Adobe Illustrator. If you want to send an EPS file, you can use FileWhopper because it is easy to use and has no size limit.