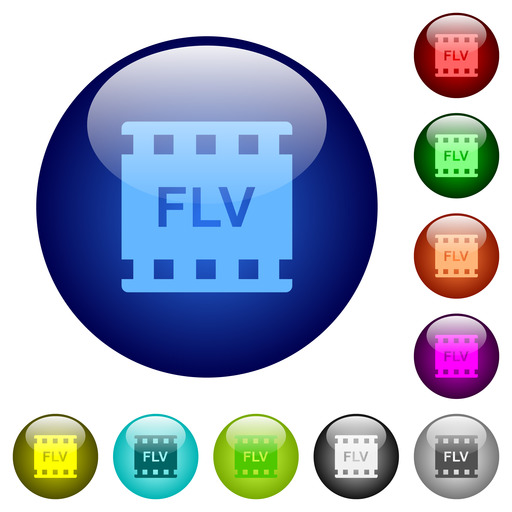 This article is your one-stop source for everything concerning the FLV format. It will cover what FLV files are, how you can open them on different platforms, converting them to different video formats, how they compare against MP4 files, and the best way to share them.
What is an FLV File?
FLV (.flv) is an extension used for the flash video file format. The format was developed by Adobe for transmitting and streaming videos over the internet using Adobe Air or Adobe Flash.
At the peak of the flash video usage, the format was adopted by popular video streaming platforms like Hulu and YouTube. The flash player was supported by nearly every operating system except iOS.
Flash was so commonplace that your computer would seem incomplete without the plugin installed.
It also came with other perks, such as the ability to run mini-games without needing installation files.
The flash video format comes in two types:
F4V, which is used for H.264-based content and supports a wide range full HD video formats.
Open FLV, which is used for other codecs with complex support for wide-ranging formats.
Are FLV Video Files Still Common Today?
Unfortunately, a lot of things weren't working for Flash as the Internet continued to evolve. Eventually, Adobe had to discontinue support for the video format, following what was essentially a natural end-of-life.
That said, some people still favor the FLV file format mainly because of its comparatively superior audio and video qualities. Some content creators also stick to this format since they use Adobe Animate.
But using Flash comes with security risks. In fact, Adobe and other tech experts strongly advise that you uninstall the plugin, and the recommendation started making the rounds since 2015. So, you have to rely on other third-party services to use it, especially when streaming.
Why Did Adobe Pull the Plug on Flash?
At the height of Flash's popularity in the 2000s, almost every website implemented the format for video streaming. This put a target on its back and hackers started figuring out ways to exploit the plugin.
As a result, Flash was labelled a security risk like other plugins such as Java and ActiveX. Adobe's hands were tied and they had to discontinue the plugin since they couldn't rectify the security problems.
Flash video was also deemed power and memory deficient.
However, the final blows were its lack of support for mobile platforms and the introduction of HTML5 video elements and CSS animations.
Apple made the historic decision not to support flash on its new iPhone in 2007, which triggered events that would lead to a massive shift from the plugin. It was no longer needed since developers found a way to use dedicated browser technologies like HTML5 and mobile platforms to stream quality videos in secure environments.
How to Open FLV Files
FLV video formats are usually created using Adobe Animate's Flash Video Exporter. That means the program can play the video file without issues.
But since flash video was mainly developed for Internet distribution, common video players don't support it. Plus Adobe no longer develops the once-famous Adobe Flash player.
So, you must get a codec to play FLV video files if your default media player doesn't support it. For example, you can't open the file on Windows Media Player without the necessary codec.
Another option is downloading a video player that can open flash videos by default if you're open to the idea of adding another media player to your system.
Which Media Players Support Flash Videos?
There are numerous video players that support flash videos. Your choice of media player comes down to your operating system and personal preference.
If you use a Windows PC or Mac, you can go for the following:
VLC Media Player
AnyMP4
Winamp
FLV-Media-Player
Axara Media Free FLV Player
Moyea Web Player
Consider the following for your iOS device:
KMPlayer
PlayerXtreme Media Player
Infuse 7
CnX Player
Here are Android options:
Easy Video Player
MX Player
BS Player
VLC Media Player
FLV vs MP4 - Which is Better?
The main difference between FLV and MP4 is that one was developed for online video distribution and the other caters to the offline crowd.
In case you haven't been following or need a reminder, flash video is the former.
But there are other differences.
No doubt, MP4 is more popular since it's supported by almost every media player on every operating system.
However, that's not all. Now let's draw our comparisons:
| FLV | MP4 |
| --- | --- |
| Uses the FLV, F4A, F4B, F4P and F4V extensions. | Uses the MP4, M4P, and M4V extensions. |
| Developed for online video distribution. | Optimized for offline playback. |
| Has low media player support. | Compatible with almost every media player including native operating system players. |
| Large file size. | Smaller file size. |
| Relatively superior audio and video quality. | Video and quality are comparatively lower. |
| Can lose noticeable video quality when compressed. | Can preserve video quality after compression. |
So how do you choose which format to go for? You have to make different considerations from compatibility and size to quality and usage. Let's break down your options:
Compatibility: If you created a video and want to send it over to a client, you'll want to use a format they can easily play, preferably using their default media player. Now, if that media player isn't VLC, they'll likely get an error if they double-click an FLV file.
Size: FLV files tend to be larger than MP4 files and may lose significant quality after compression. MP4 files on the other hand are smaller and can handle compression without sacrificing noticeable video quality.
Usage: As we mentioned, FLV files are developed for online distribution while MP4 formats are optimized for offline consumption. But you should also note that Adobe discontinued support for flash, so you might have to find alternatives if you're looking to host a video online.
Quality: Both video formats can offer great video and quality. However, FLV comes out on top in this department.
It undoubtedly looks like MP4 comes out on top and it would be the right choice. That means you'll have to convert your FLV to MP4 before sending it over to clients or your colleagues. That leads us to the next section.
How to Convert FLV videos
Converting an FLV file to MP4 or other formats becomes necessary when you want to send videos to other people who don't use players that support flash video.
You also need to convert the file if you just downloaded it and don't want to install a codec or another media player.
Thankfully, conversion is easy and straightforward, and you can change your video format from FLV to MP4, AVI, MKV, WEBm, etc.
There are different tools designed for video conversion. Some of these applications live on the Internet and others are programs you have to install on your computer.
If you don't want to spend too much on data to convert large FLV files, you can go for dedicated local programs such as Freemake and VLC.
Using VLC
While VLC allows you to play FLV files and just about any other video file, you may need to convert the video for other people. Thankfully, the media player comes with a built-in converter.
Follow these steps:
Launch VLC and click on Media in the top-left corner.
Select Convert/Save.
You can also tap CTRL + R once you open VLC.
Under the File tab of the Open Media dialog, click on the Add button, then browse to the FLV file and double-click it. You can also drag and drop the file to the File Selection box.
Check the "Use a subtitle file" box if you want to add a subtitle file.
You can click on the Show More options box, but this is mainly for video editing experts.
Next, click on the Convert/Save button.
Once the Convert dialog appears, click on the drop-down menu next to Profile to select the file type you want to convert to. You can also click on the spanner icon to see more profile option.
Click on the Browse button next to Destination FIle to choose a save location and name the converted the file.
After that, click Start.
Using Online Video Converters
The process with online video converters like Movavi and UniConverter is similar. You just have to look for the upload button, select the format you want to convert to, and hit the Convert button.
Of course, every website has its nuances, but you'll be able to find your way around as they make things intuitive.
How to Compress an FLV FIle?
FLV files are usually large, so you may need to compress them to shrink their size to conserve storage space or facilitate transfers.
But before you start compressing an FLV file type, you must understand the risks. Unlike MP4 and other file types, flash video doesn't always handle compression well. That means you'll likely notice a significant drop in audio and video quality after the drop.
You can use tools like WinZip and 7zip to compress FLV files. You can also use the native File Explorer.
Using 7zip
Open the 7zip File Manager. You can search for it in the Start menu.
Browse to the FLV file and click on it.
After selecting the file, click on the Add button at the top of the window.
Once the Add to Archive dialog appears, select a file name and choose the Zip option under the Archive format drop-down.
Click on the OK button.
The compressed Zip file will appear in the same folder.
Using File Explorer
Launch Windows File Explorer by tapping Win + E.
Locate the FLV file and right-click it.
Select Compress to Zip File if you're using Windows 11.
If you're using an older Windows version such as Windows 10, hover your pointer over the Send To option and click on Compressed (zipped) folder.
Using WinZip
Lunch the WinZip app.
Head to the left panel and navigate to the FLV file you want to compress.
Next, select the file and click Add to Zip at the bottom of the left panel.
Click on the Save As button in the bottom right corner, then name the converted file and select Save.
How to send FLV Video Files
If you've just worked on an FLV video file and want to transfer it to a colleague or client, there are different ways to do that.
You can use your email, chatting platform, or cloud storage service. However, these options come with limitations.
You can't send files larger than 25 MB via email. And instant messaging platforms like WhatsApp and Telegram also have file transfer caps.
While cloud storage services allow you to store and share large files, you'll have to pay for a monthly subscription at least. You'll also be limited in terms of how much gigabytes you can send at once.
Use FileWhopper
To escape the restrictions and limitations that come with other file transfer methods, use FileWhopper, a sharing platform that allows you send files of any size without subscriptions.
You can transfer your file and make a one-time payment, which is calculated based on the size of your file(s).
FileWhopper allows you to transfer more than one file at a time (in a folder) and there are no limits to what you can send.
You'll enjoy a fast transfer service as the platform uses multi-threaded technology to speed things up. Multiple servers are used to process the transfer, meaning that pieces of your files are processed and transferred at the same time.
To make things even more snappy, the file selection and payment process are fast. You'll download a tiny app that facilitates the transfer. The application self-destructs once it completes the transfer, ensuring you don't have to worry about storage or memory issues.
FileWhopper uses military grade, zero-knowledge security policies to keep your file(s) protected. Unlike other cloud storage services, the FileWhopper team won't have access to your files to check their contents. The app will provide a password that you will share to your recipient to decrypt the files.
What's more, your recipient can start downloading once you begin the upload process. However, they'll have to complete the download before they can start using the files.
You also don't have to worry about interruptions like lost Internet signals or sudden computer shutdowns. That's because FileWhopper never loses your transfer progress and allows you to continue where you left off.
You can try the service for free as you won't be charged for your first 5 GB.
Wrapping Up
While major streaming platforms and most website have eliminated flash videos on their platforms, the format still exists. And you if you receive an FLV file or have to share one, you now know how to play, convert, compress, and transfer it.