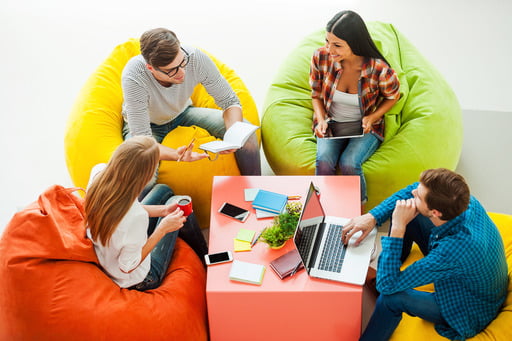 Nowadays files and folders are becoming larger and larger. I mean, quality photos or video files could be 100GB in size or even more. One day I needed to send a 1TB folder online to my friend on another continent. So, after doing some research on the Internet, I decided that the best solution for transferring large folders online would be to use a cloud storage service. By the way, here you can find the list of different cloud storage options. Don't mention it.
Unfortunately, almost everywhere, there are those notorious monthly subscription plans and limits on the amount of data that could be uploaded. And that's what really drives me up the wall. Why on earth should I pay a monthly subscription fee when I have only one huge folder (a little bit bigger than 1TB) for transfer? And why should I splash out when my upload is limited? Also, I'm kind of a security geek. Yep, I always put security first. So I always choose a service where there is an option to encrypt my personal files with a password.
Let's sum up what I needed to get the job done:
No upload or download limits.
No monthly subscriptions because I needed to send one large folder (just one!) to my friend.
Secure transfer and proper file encryption.
The integrity of transmitted data. I wanted some kind of a resume function since internet connection and electricity problems happen in my area. Just imagine that you have uploaded 90% of your 1.17TB folder, only to see the upload fail. This means you have to start all over and lose your time. Well, I wouldn't make it. 🙁
Simultaneous upload and download would be an awesome option since that would save my and my friend's time.
And lucky me, all my needs were covered by a new service called FileWhopper. I checked the website, looked over the FAQ and How it works pages, and decided to give it a try.
I'm a Windows user, but my friend is running macOS. You can imagine how happy I was to discover that I didn't need to worry about that because the service supports uploads and downloads on both Windows and macOS.
Oh goody! The name of my folder was encrypted! The great thing is, instead of the real name of the file or folder you're going to send, FileWhopper uses Transfer ID. The real name of my folder was not transferred to or saved on FileWhopper's servers. I think that this is really cool if you are crazy about security like I am.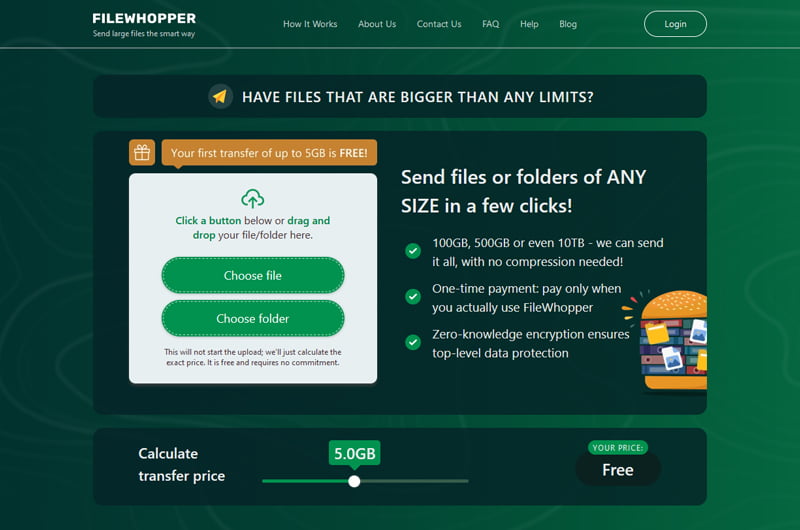 The price that you see after choosing your file or folder on the main page includes only one download and 14 days of storage by default. I decided that 14 days of storage were not enough in my case (sorry Jim, you can be a slowpoke at times 🙂 ) and added extra 14 days of storage for my folder (so that Jim could have enough time to download it). Besides, I knew that uploading and downloading a large folder could take a lot of time. To be honest, I had never tried to upload a 1TB folder before that time, but my Internet connection is not stable sometimes (saying hi to my ISP here), so some extra time was in order. 🙂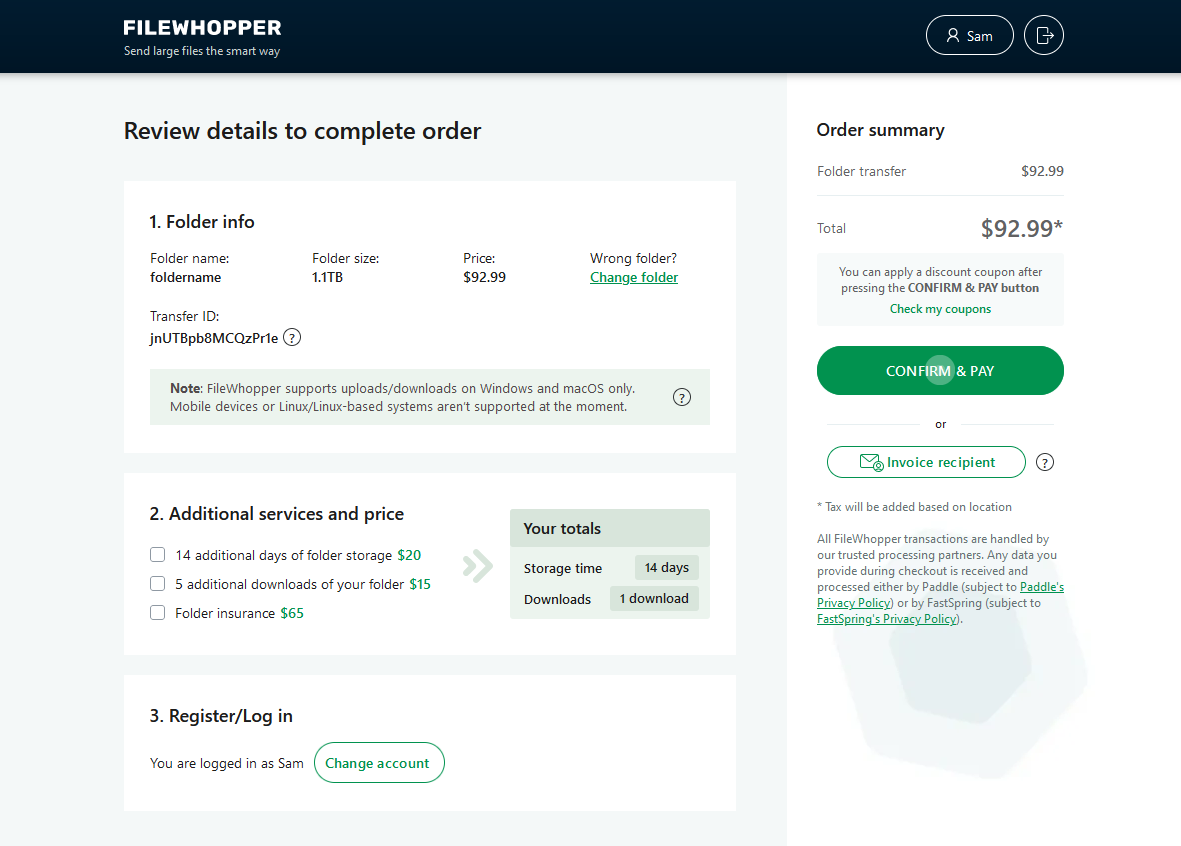 After completing my purchase, I was redirected to my personal account. There I saw all the details of my transfer: my Transfer ID, the size of my folder, and the price that I paid. To start the transfer, I needed to get the FileWhopper app. And that's when I thought: "Gosh, things are getting complicated!" But then I read about all the advantages of the app and breathed out. That tiny utility is a godsend for those who need to transfer a huge folder online.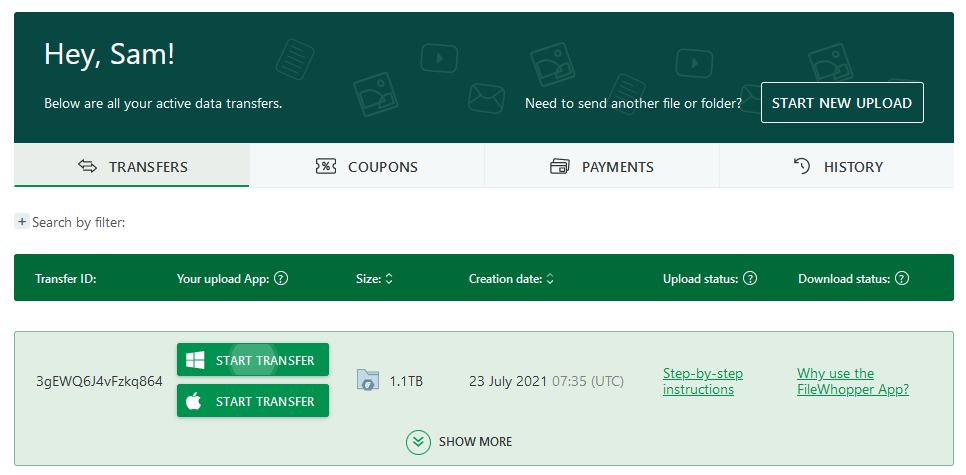 More to the point, the main advantages of the app are as follows:
Your folder is being encrypted and protected with a password.
It ensures simultaneous upload and download.
Your upload or download is resumed after any interruptions. If your data has been already uploaded, the progress won't be lost.
Multi-threaded transfer technology allows you to send/receive data at top speeds. However, your speed depends on your Internet connection.
No uninstallation is needed. The tiny app automatically deletes itself when done.
My advice is to give browser-based file sharing services a wide berth when you need to transfer a huge folder online. The point is, no browser is a good option to transfer large files or folders quickly enough. When faced with an error or connection loss, you lose your uploaded data and have to start all over, which is a big drama indeed.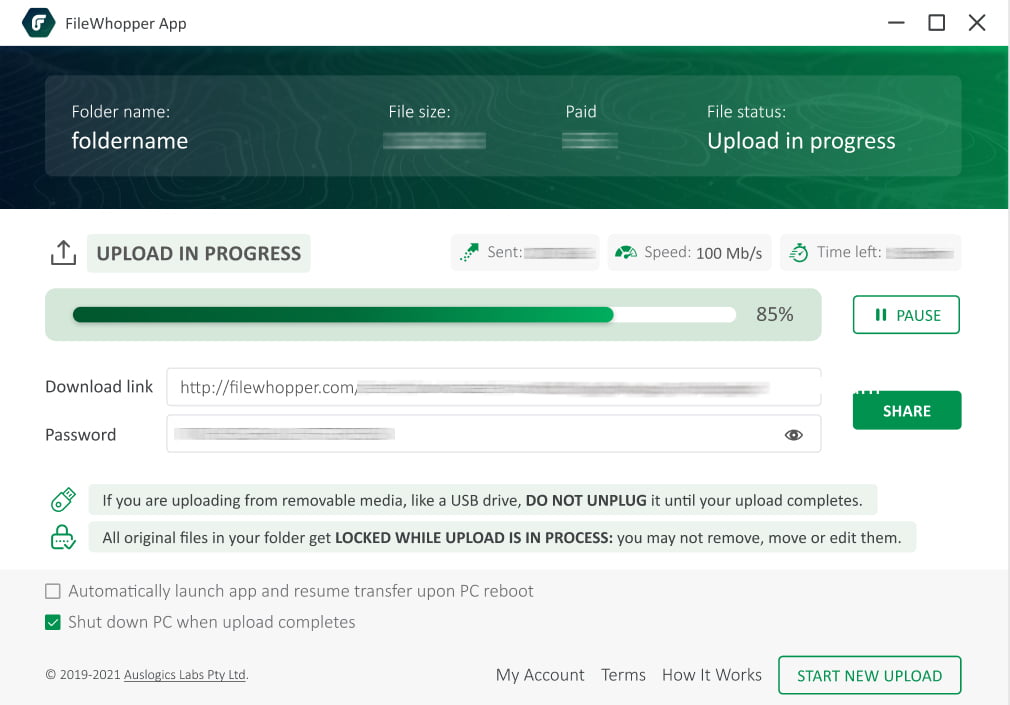 The FileWhopper app shows the progress of your upload, how much data has already been uploaded, the speed of the upload process (it is changing depending on the Internet speed), and how much time is left till the upload is finished (also depends on the Internet speed and may vary).
And here is another important note: while the folder is uploading, all its contents get locked. You can watch the movie inside this folder, but you can't delete or make changes to it. So make sure that you don't need anything for work from your folder while it is uploading. I made copies of some Word and PDF files that I needed for my work before starting to upload my folder.
As soon as I started to upload the folder, I shared the download link and the password with my friend. So while the folder was still uploading, my friend started to download it. That's a really great option because it helps to save time.
By the way, in my personal account on the website, I saw the download status and progress. There was no need to ask my friend whether the folder had already been downloaded or not.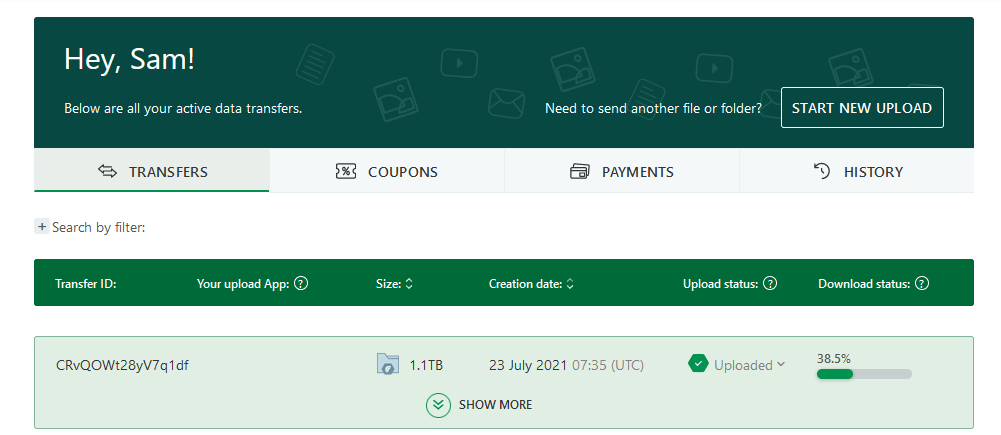 Everything went smoothly. Although my heart sank when the connection was lost, nothing bad actually happened. No tearing of hair was needed: my upload progress just stopped, but nothing was lost. By the way, in the FileWhopper app, there is an option to shut down your PC when your upload completes. That's what I chose. So, I am not sure how many hours it took to upload my 1.1 TB folder, but it was approximately 29-30 hours or even more. By the way, I didn't need the 14 additional days of storage and asked the support team for a full refund according to their rules.
All in all, I would like to say that FileWhopper is a great choice for sending a huge folder at a reasonable price. And you can be sure that all payments and transfers are 100% safe!