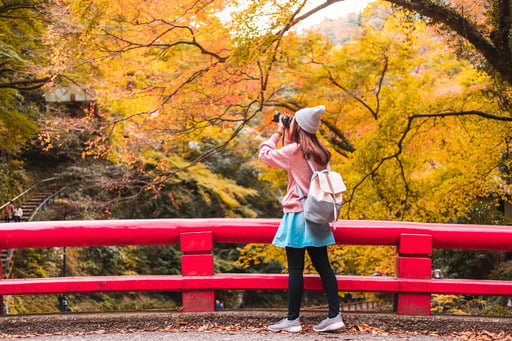 Summer is once again gone to be missed and remembered with warmth on particularly cold windy nights. Autumn is here — and this means photo season. While taking pictures in summer is surely fun, fall brings something truly special to the mix that a camera lens just can't get enough of. It could be the eclectically-colored autumn leaves, the mysterious morning mists or the reflections of mountain tops in the rain puddles. Whatever it may be, one thing is certain — our cameras probably won't get a lot of rest as the golden leaves start to fall.
In this post, we are taking a look at how to photograph autumn colors and share tips on how to shoot stunning fall photography.
Portraits in Motion
Let's start off with one of the most Instagram fall categories — the portrait. Whether you are shooting yourself or taking pictures for others, here are a few things you can do to make your photos better:
Add movement. Throwing or kicking leaves into the air may be the oldest idea in the book but the idea behind it is very right. Doing these things adds a sense of fun and movement to the shot and also makes the whole process much more exciting, for both the photographer and the model.
Adjust the aperture. When shooting these types of photos, set Aperture Priority mode on your camera and try using a fairly shallow aperture (something around f/4). This will sharpen the focus on the model's facial features with a layered effect. Meanwhile, everything in the background will appear progressively out of focus.
Shoot from further back. Zooming in with a short telephoto lens can further accentuate the layered effect. Plus, under the mild autumn sunlight, this can also result in a rather fast shutter speed. This can create a "freezing" effect for the falling leaves and other background action.
Timing Is Everything
What is the best time to take fall pictures?
Some of the most magical times to shoot in autumn are straight after sunrise and just before sunset. The light at this time has a wonderfully soft and warm quality. If you want to know how to make your picture look autumnal, shooting at sunrise or sunset would be the way to go.
The great thing about autumn is that the sunrise time shifts to later and later towards the end of October and the sun stays lower in the sky for longer. This means you have more time to capture great shots without having to wake up painfully early.
This is also the best time to use the sun to your advantage. Shoot with the sun behind you to light up the landscape in front. You can also take photos with the sun to the side if you want to capture elongated shadows. Meanwhile, you can shoot right into the sun for dramatically beautiful sunrises.
Morning Mists
With cold nights often followed by warm days, autumn brings with it the most favorable conditions for capturing the eerie and majestic morning mists. Even a light ground-hugging mist can add that unmistakable "heaviness" to a seemingly simple photo and can be a powerful element in creative photography.
The best time to capture an autumn mist is around sunrise. As the sun rises higher in the sky, the mist starts to evaporate. So, the window of time for capturing the phenomenon at its best is limited.
When shooting a misty shot, it's best to be at an elevated position. For instance, you can shoot into a valley from a nearby hill. It would also be great if there was something accentuating your photo: like trees or old castle ruins poking through the mist.
To take a good photo in the mist, it's best to be equipped with a tripod and shoot at slow shutter speeds in the low dawn light. To emphasize the layered effect of the mist, consider using a 70-200mm telephoto lens.
Reflection in the Water
Whether you are strolling by a lakeside mansion or only have access to a few fresh puddles, reflections in the water can be turned into true works of art.
To make the most out of these photos, it's best to have a higher vantage point so that you shoot down to a pool of water and take in as much of the scene as possible. For the best mirror-like effect, it's important that it's a calm and windless day so there are no ripples on the water. If it's a clear day and the sky is blue, you can try shooting wide to get more of the background scenery into the shot. If it's overcast and cloudy, it may be best to zoom in to focus on a smaller area.
If you are shooting from a distance, consider using a mid-range aperture (around f/8) for more depth of field. To smooth out ripples on the water, try a long exposure. Placing your camera on a tripod will help to keep it perfectly still and can also be beneficial to the overall composition of the shot.
Colors of the Leaves
Colorful leaves are definite stars of the fall photography season. So, are you ready to learn how to capture fall colors through photography?
One way to "get" the multitude of colors a single autumn leaf can hold is to do a really good close-up. You might want to get really deep into the colors and capture larger-than-life detail of the beautiful leaf that you are looking at. If so, you will need a macro lens or any lens that is capable of focusing reasonably closely on the one leaf that you want to capture — or a group of leaves. Once again, putting your camera on a tripod will be very helpful here. This way, you will be able to shift the plane of focus so that is as flat-on to the leaf as possible. It's best to use Live View and Manual focus, zoom (to 5x or 10x) and twist the focus ring until optimum focus is achieved.
Note that shooting up close will reduce the depth of field significantly. Even if you are shooting as flat as possible, certain elements of the leaf (like small bumps and creases) could fall out of focus. A way to minimize this would be to use a mid-range aperture of f/8 to f/11, which will also help with bringing up more detail.
We hope that the tips above have been helpful. If you were wondering "how to make my picture look autumnal," you may have found the answer to that question above.
Now, when you finally have your nice collection of fall photos, you may be happy to share them with friends and family or to even get professional feedback on your work. So, how do you go about sending large files or even folders online? A quick Google search will reveal a number of services that will help you do that. However, if you are not looking to commit to a monthly subscription, we would recommend a service like FileWhopper. With FileWhopper, you can transfer files and folders of any size online with just a one-time payment based on the file size. Here's what you need to do:
Go to FileWhopper's home page.
Select the picture folder that you want to upload.
Click to choose this folder and drag and drop it into FileWhopper's home page.
Get a quote for how much it will cost.
Now, you can get started with the upload.
Some of the best things about FileWhopper are:
You only pay once for the file/folder you want to transfer — no need to commit to monthly payments.
The interface is easy and simple and the transfers are secured with a unique transfer ID.
All it takes to transfer files is a tiny app that will auto-delete once the upload is complete.
The person you are transferring data to can start downloading it instantly without having to wait until the transfer is fully complete.
So, if you have been looking for a safe and affordable way to send over your photos, FileWhopper may be a good match.