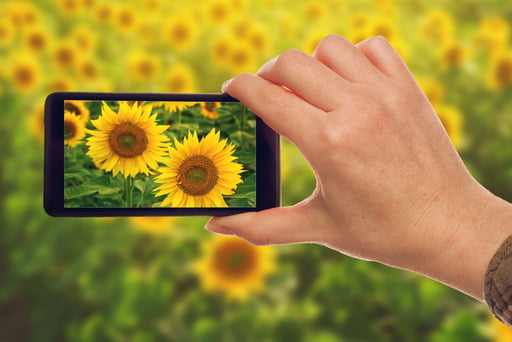 Taking pictures is fun. It's so much fun that for some people, the joy of taking pictures can last the whole day. However, getting a picture to come out right the first, second, or even third time sometimes seems like an impossible feat to accomplish. This is natural: beautiful pictures don't just come out right even if you are a born photographer. There are a lot of factors involved, such as lighting, brightness, and orientation. Whatever the issue might be, you can't spend the whole day trying to get it right. So, why not use some of the best photography apps to edit images into what you want them to be? Since most of the people are using Android devices, and probably you are one of them, this article answers the question "What are the best photo editing apps for Android?" Photo apps are really handy and can save you ample time by just assisting in getting the right results within a short period.
Best Photography Apps for Android
Selecting the right app from a pool of choices can be challenging, especially if you are not sure about what you are looking for. In general, one would think that to get a photo right, you need to make a few tweaks here and there. Well, that thought comes from the use of average apps that don't have in-depth features to help you get the most out of your picture. Understanding the ins and outs of how to find the best photo editing app for an Android phone can be challenging. Therefore, to select the best app, you need to check various features offered. To know where to start, here is a list of the best photo editing apps for Android in 2021.
Photoshop Express
The list is not numbered, but there is a reason why we started with this app. Photoshop is a significant brand in the industry, and you have most likely heard of it if you are a photo lover. The product provides a simple interface and is feature-rich. For Android users, this is one of the best photo editing apps, if not the best. Essential features can be found on this app to help you crop, rotate, flip, resize, alter colour settings and lighting, and many more. You can download this app for free from any trusted Android app store. If you have an Adobe ID, you can unlock more cool features by simply signing in to your account. Here are some of the cool things that you can do with this app:
✔️ One-touch spot and dust removal
✔️ Add a personal touch by selecting any of the 15 unique borders and frames
✔️ Make your picture more informative by adding text or a quote
✔️ Make your picture more informative by adding text or a quote
✔️ Additional fun due to cool filter features
✔️ Decrease haze and fog
Camera MX
Camera MX is an Android-exclusive photo app developed by Magix. The app boasts a user-friendly interface and powerful enhancement tools. The effect that you may find the most enjoyable is Live Shots. You'll have a lot of fun creating animated photos and videos and using filters for creative image editing. The top features of the app include the following:
✔️ Live Shots – view photos as animated images or share them as cool live GIFs or videos
✔️ Shoot the Past – never miss the right moment and rewind your live shot after taking it to select the best picture
✔️ Effect and filter packages for photos and videos - explore your creative potential
Important note: use the app for Android 2.3.3 or higher ( the Live Shot feature for 4.3 or higher).

PicsArt Photo Studio
When you are looking for something complete, then this is the right app to consider. PicsArt is amazing in many ways as it gives one of the best editing experiences to users. The app is filled with so much fun thanks to its cool features, such as the collage maker and various photo editing tools. Moreover, the app is free and easy to download from any trusted Android app store. PicsArt Gold is the premium version, and it provides a more versatile photo editing platform that gives users access to immaculate stickers, borders, text fonts, and collages. Here are some of the app's coolest features:
✔️ 100+ free templates in the collage maker
✔️ Various tools that can make cutouts, add text, crop, and adjust curves
✔️ Create and share unique stickers
✔️ Amazing drawing tools with customizable brushes
✔️ Apply live effects when taking pictures
Instasize
This app is a complete suite for photo lovers who use Android. The app is popular and presents a basic toolkit for a digital artist. Designed to help the user achieve great aesthetic results, the app supports both photo and video editing. Here are some of the cool features that make this app stand out:
✔️ A user-friendly app complemented by a sleek design
✔️ Various border sets and themes
✔️ More beauty filters and sliders
✔️ Regular updates
PhotoDirector
The app is among the best Android apps. It is user-friendly, and it is easy to do quality work using PhotoDirector's straightforward interface. With all the basic features at your disposal, the end results are often pleasing. The app features an in-app camera that allows users to use live photo effects. PhotoDirector also enhances the sharing of photos on social media:
✔️ Resize, crop, add text, edit backgrounds, and brighten images in PhotoDirector
✔️ For travel pictures, you can adjust HDR effects to your liking
✔️ Use color editing tools to enhance your picture's color
✔️ To achieve unique photo effects, use photo retouch tools
Snapseed
Snapseed provides a platform that is safe and powerful to help users get the most out of their pictures. The app is free to download and does not contain ads. It comes with a variety of tools to edit your pictures. Ease of use makes it possible to modify photos in a fast and effective manner. On Snapseed, there is always a tool for something you wish to do, which keeps your creative levels high:
✔️ Modify pictures with precision
✔️ Give your images a special touch with bokeh effects
✔️ Manually add plain or stylized text
✔️ Select from various tools to modify your picture's color
AirBrush
This app is a big shot and can be used by anyone who wants to obtain excellent results without applying much expertise. Its user-friendly and amazing filters make it a great platform to achieve excellent editing results. AirBrush is not an average app as it delivers an awesome platform to edit photos to your liking. The included features are eye-catching and will help enhance your image. This is an app that can rival any other top Android app and give it a run for its money.
Toolwiz
There are 200+ amazing tools that one can use to refine their pictures with Toolwiz. The app is a wizard when it comes to editing photos. Not including this app in our list would have been equal to committing a crime. It is unique in every sense and delivers the right tools complemented by extra features that can help fine-tune your picture easily. You can download this app for free and still get a premium experience:
✔️ A great number of features to edit photos
✔️ User-friendly and free to download
✔️ An elegant and stylish interface
✔️ Both basic and advanced features included
YouCam Perfect
YouCam Perfect is a great photo editing app that is handy when it comes to adjusting the lighting and color of your pictures. The app's simple yet classy interface makes it easy to use YouCam Perfect. It's possible to have your photo fine-tuned within seconds. The app presents a complete set of tools to help you get the most out of your photo. Moreover, it is free to download from any of the trusted Android app stores.
Pixlr
The app is extremely popular among aspiring photographers. It has all the features that you may need to beautify your photo. The features included are relevant and quite handy. The dynamic features of Pixlr make it possible to get the results you want within a short period:
✔️ Use color splash or focal blur to add focus or impact
✔️ Effects can be added in various forms
✔️ You can easily resize your image
✔️ Use the app to easily share images on social media
Photo Lab
This is an app that you use when you want to make your image stand out. The app specializes in making your photos unique. It gives your picture a special touch and brings forth the hidden beauty within it. Photo Lab is indeed a lab for mixing special ingredients to come up with excellent pictures. The app offers 900+ dynamic effects and has all basic features to make your editing experience flawless.
VSCO Cam
Despite starting as a paid app, VSCO Cam later became completely free. VSCO Cam stands out when it comes to filters. Although some of the filters it presents come at an expense, you will enjoy every penny of your money. There are plenty of top tools to make your picture stunningly beautiful:
✔️ Use presets to quickly edit your images
✔️ A user-friendly interface that makes it easy to work with the app
✔️ Plenty of features, which include lighting, rotation, contrast, and saturation, to mention a few.
Flickr
Flickr is the best choice not only on Android devices but also on many other platforms. Moreover, the app is good not only for editing images but also for sharing, storing, organizing, and showcasing. Therefore, Flickr is as dynamic as it gets. With plenty of advanced tools, this app is perfect for both entry- and pro-level users:
✔️ Upload your pictures easily
✔️ Store pictures in the app after you are done applying tweaks
✔️ Plenty of fun filters to play around with
✔️ It's easy to organize uploaded images
TouchReTouch
This is a different app in every sense. Starting with the ability to make major changes, the app also lets you get rid of small obstacles that may be of negative effect to your photo. The highlight of the app is its on-point ability to remove tiny imperfections with ease. Although it comes at a cost, it is worth every cent:
✔️ Beautify your face with amazing features, such as the pimples remover
✔️ Easy to use
Cymera
This isn't just another app you can browse through. Cymera is a strong contender for the best Android app to consider in 2021. This isn't just a selfie camera app as it launches a strong platform for users looking to edit their images and make them unique. There is a lot to do with this app thanks to its feature-rich nature. The app offers a beauty camera complemented by stickers and advanced tools for photo editing:
✔️ Skin makeup features and the wrinkles remover
✔️ Features for removing dark spots and pimples
✔️ Excellent beauty filters
✔️ Editing tools that are easy to access
PhotoGrid
This is an app that lets you do everything at once. The app allows you to edit your photos before sharing them to various social media platforms. There is a lot that you can do with this app, including adding stickers, altering color settings, and applying filters:
✔️ 300+ collage templates that can be customized to your liking
✔️ A facial recognition feature to get rid of wrinkles and blemishes
✔️ Offers 200+ filters to make your photo stunning
Fotor
This is an app that does not stop at being one of the best photo editing tools in 2021. It also functions as an image licensing platform where both entry- and pro-level photographers can commercialize their photos. Users can easily get connected to PxBee, which is a marketplace.
Retrica
The app offers almost every feature you may need to make your photo stand out. Retrica is also ideal for use when you are a selfie lover. This app allows you to apply filters while taking pics, thereby providing results instantly. It's easy to get the most out of your picture with this app as it has plenty of features for you to select from.
Beauty Plus
Last but not least, Beauty Plus is an amazing app that can give any of the above-mentioned apps a run for their money. This is a humble app that manages to offer a stable platform with dynamic filters. Applying the thought of real makeup artists and photographers, Beauty Plus is a fine product that delivers realistic edited results.
Transfer Extremely Large Files & Folders with FileWhopper
If you are in search of a reliable online large file and folder transfer system, let me introduce you to FileWhopper. This is an amazing platform designed to meet the demands of all individuals seeking for a fast and secure file transfer service. With FileWhopper, you can transfer up to 10 TB of data at one go. You don't have to subscribe to a monthly payment plan. The platform requires users to make a one-off payment based on the file size. Moreover, you don't have to wait long to receive a price quote. You can find out how much it costs to transfer the file or folder you wish to send thanks to a price scale available on FileWhopper's website. Currently, there is a promotion running that provides users with a free first transfer of up to 5GB. The uploaded file or folder is stored online for free for up to 14 days, but the period can be extended upon request. Users can also enjoy simultaneous upload and download when using this platform. Here is how it works:
1. Adjust the price scale to instantly know your price quote.
2. Download the small FileWhopper desktop app and use it to upload your selected file or folder fast and securely.
3. Share the download link with the intended recipient(s) once the file or folder starts to upload.
4. Since your transfer is password-protected, make sure to securely share the password generated by the app. Otherwise, your recipient(s) won't be able to decrypt the file or folder.
5. The tiny FileWhopper desktop app will delete itself once the process has been completed.