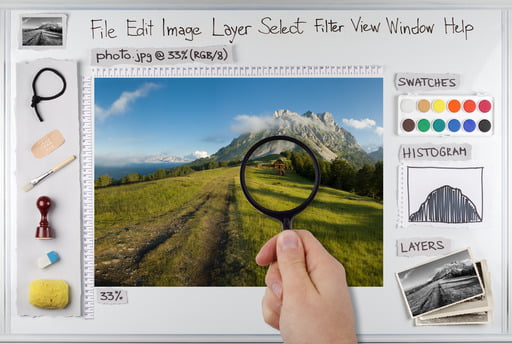 There's no denying the fact that Adobe Photoshop is an amazing piece of software when it comes to imaging and designing. It has even become the standard program for every digital creative out there.
Professionals and amateurs alike can use it in many fields, including graphic design, digital painting, photo editing, 3D modeling, designing web pages, creating vector graphics, and so much more.
But here's the thing. If you're a digital creative, you know paying ten bucks every month for Adobe Photoshop can be a costly expense, especially if you're still trying to find your path as a photographer or designer.
Not long ago, Adobe Photoshop was available as a one-off purchase. But now, it's a subscription-based service that costs $9.99 every month. For this amount, you get 20GB of cloud storage data, Lightroom, Lightroom Classic, and Photoshop.
If you are feeling extra wealthy or are a serious professional whose work pays well, you can upgrade to the $52.99-per-month plan, which gives you access to all Creative Cloud apps. As you can see, Adobe Photoshop does not come cheap. If you find it too expensive, you could try alternatives to Photoshop for your photo editing needs.
How to Get Adobe Photoshop for Free
What if we told you it's possible to download Photoshop for free? That's right. You can get an Adobe Photoshop free download and enjoy all its features and tools.
But there's a caveat. You can only take advantage of the entirely free version for seven days. After the trial period ends, you'll have to pay a subscription fee as per the plan you selected. However, Adobe offers a 14-day window from the day of purchase to cancel and get a full refund.
How to Get an Adobe Photoshop Free Download for Windows 10
There isn't a legal way to get an Adobe Photoshop free download for your Windows 10 PC except for the trial version. And here are a few quick steps to follow:
Launch your browser, visit the official Adobe Photoshop website and click on the "Free trial" link. Alternatively, you can visit the Adobe Photoshop Free Trial webpage and select the "Try for free" option. At this point, you'll get a prompt to choose from one of the three trial options. Note that they all cost different prices and come with varying feature sets. The cheapest service is the Photography plan at $9.99 per month, followed by the Photoshop plan at $20.99 per month. Creative Cloud All Apps is the most expensive subscription plan priced at $52.99 per month, but it's also the most advanced. Pick the plan that best fits your preferences and needs. Remember, the amount indicated is what you'll pay when the seven-day trial period ends.
Now, once you've settled on a service, click on the "Start free trial" option. You'll be taken to the checkout page, where you'll be required to input your email. You can review the details of the plan and confirm it is what you selected.
Click on the Continue button and choose your payment method. It could be PayPal or a credit card. Don't worry – you are not paying for Photoshop yet. As you can see, the due price is $0.00. You're simply getting the trial version, and money will be taken from your account only after the trial period ends. Plus, you could always cancel your subscription via your Adobe account. However, be sure to cancel before the seven days elapse – otherwise, the fee will be deducted. Enter accurate details and then select "Agree and Subscribe". If you're a new user, you'll be prompted to "set your password" and then follow the instructions on Adobe's website to create your new Adobe Account. Otherwise, click the "Get started" button.
The download should begin immediately, and you will find the installer in your Downloads folder or the location you specified. Double-click on the file to initiate the installation process and follow the wizard. After you click the "Start installing" button, wait a few minutes as Creative Cloud installs. Once done, it will open and start installing Photoshop, which should launch automatically once it gets installed.
You can now start enjoying the full features of the Adobe Photoshop free download before you run out of time. You may be thinking that you can always get a trial version when your current one runs out. Not quite. Adobe tracks and records all your computer downloads, making it difficult to get another trial on the same machine.
You could try using a different computer and a new Adobe account, but unless you have a dozen PCs, you'll soon run out of your trial Photoshop versions.
How to Cancel the Photoshop Free Trial
As noted, you need to cancel before your trial period ends. To do that, follow these simple steps:
1. Go to your Adobe Account page and log in using the credentials you used when requesting the trial.
2. Select the Plans tab at the top of the page and click on "My plans".
3. Open the "Manage plan" option and select "Cancel plan" on the next page.
4. Choose the reason that explains why you're canceling and click Continue.
5. Select Continue again and choose "No thanks" on the Offers page.
6. Finally, click the Confirm button to end the Photoshop trial.
Photoshop CS2 Is No Longer Supported on Windows
Adobe's Creative Suite 2, which was released back in 2005, is no longer compatible with Windows 10 or macOS.
In 2013, Adobe canceled its CS2 license management servers due to a technical glitch. Users interpreted this as the company offering the software for free. However, it meant that users with existing licenses could download the program without contacting the licensing servers. In other words, the service was available for download without requiring activation, but only for those with existing CS2 licenses.
CS2, therefore, while working on older operating systems at the time, was no longer supported. Trying to run it on computers running the latest versions of Windows 10 or macOS is bound to result in problems. In most cases, the software won't run at all.
Apart from CS2, Creative Suite 3 and Creative Suite 4 are no longer supported, even if you still own the original installation disks. The service was discontinued, and the software isn't functional anymore.
However, you may still find third-party websites offering CS2 downloads. We do not recommend downloading the application from these sites due to potential security risks. Furthermore, there's a high chance the software won't even work on your machine.
How to Transfer Photoshop Images Online with Ease
Photoshop creates high-quality photos and images, which are usually large. If you're working on a project and want to share a set of photos with your client, you need a fast, reliable, and affordable service.
Meet FileWhopper, an online file-sharing platform that lets you transfer files and folders of any size. It's a pay-as-you-go service, meaning you only pay for the file or folder you wish to transfer. You don't have to pay monthly service fees, which is common with other cloud storage services, like OneDrive or Google Drive.
With so many file-sharing services on the market, you may be wondering, why choose FileWhopper? Well, there are several reasons:
There are no limitations to the amount of data you can transfer online. Most cloud storage applications have put a limit on the size of files you can store and share. The only way to benefit is to subscribe to one of the higher tiers, which isn't always affordable, especially if you simply wish to send a file this one time only.
You transfer files as they are. There is no need to compress them or convert them to different formats.
FileWhopper charges you only for what you send. It's a great option for those who don't send files often. You don't need to make long-term commitments. The service will always be available whenever you want to transfer a file or folder – no strings attached.
Your data transfers on FileWhopper are secured with zero-knowledge encryption. It means no one (not even the FileWhopper team) can access your files or folders. The password that's generated in the FileWhopper app when the upload begins isn't transferred or even saved on FileWhopper's servers, implying complete security for your data.
Your transfers with FileWhopper are seamless. Before you start file sharing, you'll be prompted to download the tiny FileWhopper app. The app has several benefits, such as ensuring uninterrupted data transfer. Even if your computer shuts down unexpectedly or there's a connection failure, the transfer will resume right from where it left off. It also means you can switch your PC off and continue the transfer the next day.
The app ensures fast and safe transfers and auto-deletes as soon as your file or folder is sent. What's more, you'll receive a delivery report once the file or folder has reached its destination, meaning there is no second-guessing whether your recipient has received it or not.
Sending your first 5GB file or folder with FileWhopper is absolutely free. It's the perfect way to try the tool out and decide whether it's the best app to transfer large files online.