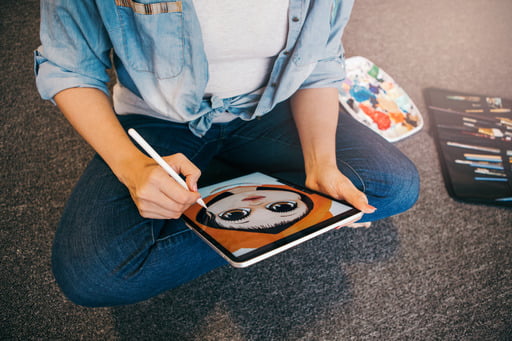 Digital drawing has taken the limelight and is now the focus of most professionals and budding artists, almost making the traditional pencil, paint, and canvas obsolete.
With good drawing software, you can draw and paint on your PC, iPad, iPhone, and Android device. All you require to create amazing art is a screen and a stylus or a mouse.
More and more drawing programs are being created every day. However, according to the paradox of choice, a surplus renders decision-making difficult. For those who cannot afford to purchase one of the more popular apps, such as Procreate, there is still excellent drawing software you can get for free.
Check out our list of free drawing software:
1. Krita
Krita is available on macOS, Windows, and Linux. It makes your digital drawing experience realistic by imitating real canvases and drawing tools, so it feels like you are creating your art on a kind of material you can smell and touch. This could be why many professionals like working on Krita.
With this app, you can create drawings from scratch or edit ready-made digital images. The program works smoothly with layers, does not limit the size of your virtual canvas (depending on the capabilities of your device), and has a varied assortment of artistic effects and tools for post-processing. Krita is often considered a worthy competitor against Adobe Photoshop.
The program has an easy-to-use interface. Artists can also post their work to Krita's online gallery.
Pros
Includes layers
An attractive and up-to-date user interface
Has an assortment of brushes
Supports HDR
Improved OpenGL
Cons
Might lag after an update
No image retouching tools
The text tool is subpar
2. Artweaver Free
Artweaver is available on Windows 7, Windows 8, and Windows 10. It is quite similar to Corel Painter. Some artists believe that it bears some resemblance to the 5th version of Photoshop.
The program provides an assortment of brushes (including acrylic fibers, sponge, pencil, charcoal, and many more). It also performs image-editing tasks effectively, and you can export or import graphics in various formats. You can work with layers, various kinds of filters (such as the oil effect, waves, wind effect, and granulation). You can even add additional filters using the Plugins Pack.
Pros
Small installation size (less than 20MB)
Scripts help automate your work
An assortment of brushes
Impressive painting tools
Cons
Works poorly with text
Drawing issues when using the stamp tool
3. Microsoft Paint 3D
Available on Windows 10, Paint 3D is preinstalled on your system. However, if you are not using Windows 10, you can get the app from the Microsoft Store.
The program allows you to create and animate three-dimensional objects. You can import models or draw your own shapes, which you can then inflate and view from different angles. Paint 3D provides a small selection of drawing tools for working on a flat canvas.
The fun part of this app is that you can create a scene by positioning multiple models at different depths. If you have a 3D printer, you might find it interesting to mold your finished work.
There are various finishes you can apply to your work (for instance, gloss, polished metal, matte, and more). You can also paint the surfaces and apply lighting. Microsoft Paint 3D is easy to use, even for kids.
Pros
You can record your drawing process and play it back
Easy to create and edit 3D images and share them on the web
A wide choice of painting effects
Cons
Does not contain standard picture-editing tools
Not possible to extrude 2D objects
The 3D effects are quite basic
4. MyPaint
MyPaint is available on Windows, macOS, and Linux. Its simple interface, large canvas size, large brush selections, and graphic editor make it one of the best free drawing programs for beginners. Brushes are available in three categories: Experimental, Classic, and Favorite. MyPaint includes a tool known as Notepad, where you can play around and see how different brushes work.
Pros
Available on all platforms
Includes a nice free option for anime and manga artists
Includes an assortment of special features
Cons
GUI issues when choosing brushes
The Undo feature is noticeably slow
Sharp lines could be smoother
5. Mischief
Mischief is available on macOS and Windows. The new version of the app has scalable brushes and a larger canvas you can stretch to your desired size. The user interface is now panel-based, and tools are placed across the screen. There are extra docks for brushes, two new custom swatch paint palettes, multi-touch support, and trackpad support for Mac devices.
Pros
The paid version is affordable
Updates for the free version
An attractive user interface
An unlimited canvas
An assortment of brushes
Con
You might find the brushes lacking
6. Corel Painter
Available on macOS and Windows, Corel Painter provides an impressive assortment of professional artist tools. There's a variety of paper textures, oil palettes, brushes, and many more. The program will serve quite well for your digital drawing needs although it was originally designed for painting.
It attempts to make the feel and working process of your drawing tools realistic. For example, the thinness and thickness of the pencil will depend on the angle of your stylus as it touches your device's screen. Also, when using the paintbrush, the paint gets thinner and less saturated until you dip it again in paint.
Pros
Frequent updates
Simple interface
Imitates real drawing
Cons
Can be challenging for new users
The upgrade is quite expensive
7. GIMP
Available on macOS, Windows, and Linux, GIMP is a customizable and versatile open-source raster image editor. You can create drawings from scratch with this free painting software. Not only does it contain various features that can be found on Photoshop, such as masks, layers, filters, color grading, and an assortment of soft and hard brushes, but the program also allows users to add more tools using third-party extensions.
Pros
Plug-ins available
'.xfc' file storage format for texts, textures, and layers
Can open PSD files
Supports graphics tablets
Cons
Paid analogs have more features
Not very easy to use
The user interface is poorly organized
Pro Tip: After you've made a lovely piece of digital art or created more than a few of them over time, perhaps you'd like to share them with a paying client or a friend. But you soon realize that your file/folder is too large to share over email or some other communication platform. What can you do in such a situation?
Fortunately, there is a simple solution. There's a file sharing service known as FileWhopper, which you can use to easily and securely transfer files and folders of any size.
Here are the benefits of using FileWhopper:
Files and folders are shared on a pay-as-you-go basis. So instead of charging you for an annual or monthly subscription, FileWhopper calculates the cost of your transfer in real time based on the size of the file or folder you are sharing. You, therefore, save yourself some money since there's no long-term commitment. You just pay a one-time fee.
You can actually send and receive files and folders of basically any size. There is no limit to the amount of data you can store and share. This gives FileWhopper an edge over many popular cloud storage platforms. 
FileWhopper protects your file/folder transfers from losing progress due to interruptions from unforeseen issues such as connection failures and power outages. Anyone can testify how frustrating it gets when an upload or download fails and you have to start all over again, your time and internet data being wasted. But with FileWhopper, if your transfer gets interrupted, it will pick up again from where it left off as soon as your connection is restored.
Zero-knowledge encryption ensures that no one (not even the FileWhopper team) will have access to your file or folder without your authorization.
You secure your data with a password, which you can create yourself or have the system generate one for you automatically. The password will not be kept on FileWhopper's servers.
When you send your protected file or folder to someone, they can only commence download after they've obtained the password from you.  
When you wish to send or receive a file or folder on the platform, a small app gets installed on your device. Its purpose is to ensure that the file transfer goes along smoothly in the fastest and safest way. No interruption will cause your transfer to start afresh. After your file upload or download is complete, you will get a delivery report. The app will then uninstall itself automatically, so you won't have to go through the trouble of removing it yourself.
Give FileWhopper a try today. Your first 5GB transfer is absolutely free.
Conclusion
In this article, we compiled free painting and drawing apps. Once you achieve a mastery of digital drawing with these tools, creating and sharing jaw-dropping art can't get any easier.
Since there are several free drawing programs to choose from, we hope the suggestions here fast-track your decision-making process.
We hope you've found this post useful. Feel free to check out our blog for more beneficial articles.