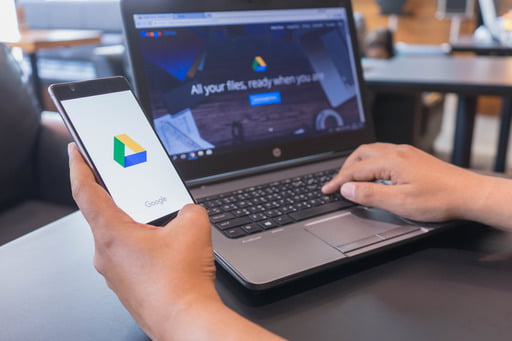 If you are not a Google community member, you might be thinking about joining. The Google community has grown to an extent that it's surprising for one not to have used one of Google products in their entire life. Google rules the tech world, and its ecosystem offers just about everything you may need. After the company acquired YouTube, it became evident that its goal is to dominate the internet by offering its clientele a full range of digital services. Google's environment has just about everything you may need, including the creation and sharing of documents, files, and folders. Google's ecosystem lets you upload anything from PDFs to MP3s to the brand's file hosting service, Google Drive. It takes a few minutes to get the task done. You can then share the files with anyone, and all you need is their email address.
As expected, it is not only Google Drive out there offering these services. However, Google Drive provides one of the quickest and easiest ways of sharing folders or files. There are various ways of sharing documents using Google Drive. The following are the simple steps that one can take to easily share folders via Google Drive.
Sharing Folders on Google Drive
To create a folder on Google Drive, the user should access Google Drive on their browser. Note that the user must be logged in. If not logged in, when trying to access Google Drive, the user will be prompted to enter their login credentials. Once you have passed this stage, you will then be able to view files and folders in your Google Drive. Create a new folder by clicking the "New" button, which is found in the upper left corner of the screen just under the Google Drive logo. Click on it, and a drop-down menu with options will appear. Click on Folder to create a new folder. If you already have a folder ready in your local storage, you can select the Folder upload option on this menu to browse your PC and choose the folder you wish to upload.
Once you have selected or created the desired folder, the system will then prompt you to enter the title of your folder. Give your folder the title you want and then press Enter to proceed. Your folder will then be created or added to your Google Drive account. It will now be visible among other folders you have in your account. Now, click on the title of the folder you just added to open it.
Once you have opened the folder, you can then upload your desired files by dragging and dropping them or by right-clicking the screen and clicking the Upload files button. Once you have uploaded all your files, you will be ready to share your folder. Sharing your folder is simple, and the process is quite straightforward. For starters, you need to open the folder and then click on its title in the screen's top menu, which will then bring a drop-down menu. Choose the "Share" option from the drop-down menu.
A pop-up window will then appear prompting you to insert your recipient's name or email address. Entering the name of your recipient will only work if they're part of your contact list, which means their email address will then be auto-generated. However, if they are not on your contact list, you need to enter their email address. You can add as many recipients as you wish. After inserting their email addresses, proceed by pressing the Enter key. You will then need to click the Send button after verifying the emails of the people you wish to share your folder with. An invitation to view the folder will then be sent to your recipients' email addresses.
If you want to share the folder using another method, you can copy a link to the folder. To get this link, you need to click on "Get shareable link" located in the upper right corner of the window, which appears after you click on the "Share" button. Copy this link by clicking on the copy icon and then paste it on the messaging platform that you prefer to use.
It is also important to set proper sharing permissions for the folder you are sending. This feature determines the clearance level that the recipient has when viewing the files. You can allow your recipient to view the files without the privilege of editing. This also ensures the safety of your files. You can access this option on the Share with others screen.
As you can see, sharing a folder using Google Drive is a piece of cake. You don't need to be a skilled tech to succeed. The more often you repeat the process, the faster it becomes. This leaves us with one question: with everything considered, is Google Drive the best file or folder sharing platform out there? To answer this question, read the information below.
Have you heard of FileWhopper?
Well, it is arguably the most convenient platform for file or folder sharing. Now, unlike Google Drive, which comes with a lot of restrictions and limitations, FileWhopper lets you share extremely large files and folders with multiple recipients at one go (to achieve this, make sure to add all your extra recipients when placing your order; by default, your order includes one download). Developed by a Microsoft partner, the platform uses multi-threaded transfer technology, which ensures the receiving and sending of data at high speed. The platform allows paused or interrupted uploads or downloads to resume from where they left off and lets your recipient start to download your file or folder as soon as you start uploading it. There is no need to install heavy apps since the small-sized FileWhopper client app automatically deletes itself after the process is completed. To ensure the safety of the folder or file being transferred, FileWhopper employs high-end encryption technology and protects your data using a unique password. Also, FileWhopper allows new members to transfer their first 5 GB of data for free. The best thing is, users are allowed to transfer an extremely large file or folder of any size at one go.
Here is how it works:
1️⃣ Select the large file or folder you wish to share and instantly receive a quote.
2️⃣ Upload your large file or folder using the FileWhopper App to achieve high upload and download speeds and enhanced security. The app will automatically delete itself once it has completed its task.
3️⃣ There is no need to wait for the file or folder to finish uploading. The download link will be available once it begins uploading. Share the link with your recipient(s) so that they can start downloading the data immediately.