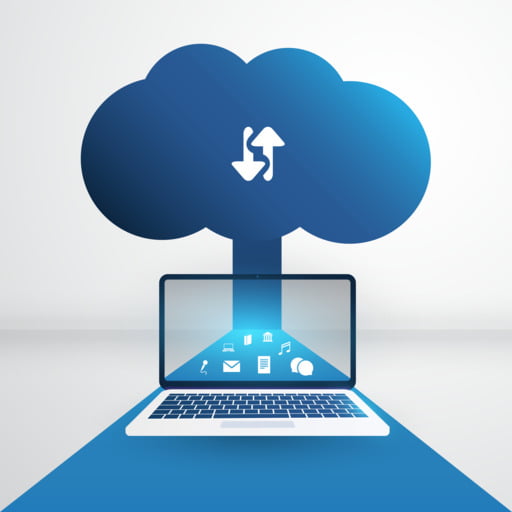 OneDrive is one of the most popular file storage and sharing tools on the web. It comes integrated with Windows 10, which makes it a very convenient option for anyone working on a Windows PC.
To use OneDrive on a Windows PC, all you need to do is go to the OneDrive folder in File Explorer and start uploading and sharing your files.
At this point, you may start to wonder, "Why are my documents saved to the OneDrive cloud?"
On most PCs, OneDrive cloud storage is enabled by default. This means that once you place your files in the OneDrive folder on your PC, they will automatically sync with the cloud.
This may be exactly how you want things to be — and then everything is fine. However, if you are wondering, "How do I stop automatically saving files to OneDrive?", then this article is for you.
If you want to stop your files from syncing automatically, we will show you how to do that below.
How to Stop Files From Going to OneDrive
If you want to prevent your files from syncing with the OneDrive cloud automatically, there are several things you can do:
Pause syncing in OneDrive settings
Remove all files from OneDrive folders
Stop OneDrive from starting when Windows launches
Unlink OneDrive
Use an alternative service for sharing files
Let's start from the beginning.
Option 1: Pause OneDrive syncing
In order to pause OneDrive syncing, take the following steps:
Go to the notification area.
Click the OneDrive icon.
Select Help & Security.
Go to Pause syncing.
On this page, you will be able to choose for how long you want to pause syncing: two, eight or twenty-four hours.
Once you've made your choice and paused syncing, you should see the OneDrive cloud icon saying "paused".
This is a good way of achieving the result you are looking for. However, as you can see from the timing options above, this is only a temporary solution. This means that you will need to remember to repeat the steps above once syncing is re-enabled.
Option 2: Remove files from OneDrive folders
Another (more permanent) option is to remove all files from OneDrive folders. Here's how to do it:
Click the OneDrive icon and go to Help & Settings.
Click Settings.
Go to the Account tab.
Here, go to Choose Folders.
Go on to disable "Sync all files and folders in OneDrive".
Press OK for the changes to take effect.
This should stop your OneDrive files from syncing. And there are still two more options for you to try.
Option 3: Stop OneDrive from starting when Windows launches
Another thing you can do is stop OneDrive from starting together with Windows. Here are the steps to take:
Click the OneDrive icon.
Navigate to Help & Settings.
Go to the Settings tab.
Here, disable the "Start OneDrive automatically when I sign in to Windows" option.
To save the changes you've made, press OK.
Once you have completed these steps, your files will no longer be syncing automatically.
Option 4: Unlink OneDrive
Unlinking OneDrive can also stop your files from syncing. Here's how to unlink OneDrive:
Find the OneDrive icon in the notification area.
Click Help & Settings.
Go to Settings.
Select the Account tab.
Choose the "Unlink this PC" option.
You will be asked to confirm the changes you are making.
Click "Unlink this account".
Once this is done, OneDrive will sign out on your computer. From now on, your files won't be syncing to the cloud automatically.
So, once you've stopped syncing your files to OneDrive, you may want to start looking for alternative solutions for sharing your data.
One such solution is a service called FileWhopper. With it, you can send large files and folders over the web without worrying about syncing your data or having it stored on the cloud.

Here are a few more reasons why you might like FileWhopper:
● Unlike many cloud storage solutions, including OneDrive, that ask users to sign up for a monthly subscription, FileWhopper uses a pay-as-you-go system. This way, you only get to pay for the file or folder you are sending at this very moment — without worrying about long-term commitments. This can be a very nice option when you don't need to send files on a regular basis.
Payments are flexible, too. You can choose who you want to pay for the transfer: it can be you or the recipient of the file or folder. This option can come in especially handy when sending over work assignments.
[fwa-calculator]
● With FileWhopper, you can send files and folders of any size — there are no limits. Cloud storage apps also let their users send over large files — but there are often limits on how big these files can be. And if you want to store bigger files, you will need to sign up for a more expensive subscription.
With FileWhopper, even if you need to send over a huge 10TB file, the service will make it happen without any commitments. So, you can send over photo albums, videos and even software without worrying about compressing them or splitting them into several transfers.
● The data you are transferring is safe and secure. FileWhopper uses zero-knowledge encryption and protects your files and folders with a password — it can be generated automatically, or you can choose to set it yourself. Without this password, no one can ever get access to your data. What's more, the password is not even stored on FileWhopper's servers.
● Using FileWhopper is really easy. It all starts and ends with the tiny FileWhopper app, which you need to download. Then, you will be guided through the transfer process, which involves the following simple steps:
Select the file or folder that you want to transfer.
Upload it to FileWhopper.
Get a quote on how much the transfer will cost.
Send your file or folder quickly with the help of the FileWhopper app.
Receive a personal link to the file or folder you have transferred.
Share the link with the recipient(s) — and that's it.
Once the transfer is complete, the small FileWhopper app will auto-delete and save you all the time and effort you would otherwise have needed to spend removing it yourself. Once your file or folder has reached its destination, you will receive a delivery report.
● FileWhopper doesn't come with complicated or unnecessary functionality. So, you won't be distracted with features that you probably won't be using too often.
● With that, there are some extra features that you can purchase if you want to expand FileWhopper's basic service package. For example, you can send your file or folder to more than one recipient at the same time. Or, you can keep your data on FileWhopper's servers for longer – by default, it is stored there for 14 days.
● Sending your files and folders over with FileWhopper will help you avoid lots of errors and glitches that often come up when there is a need to sync or compress data. FileWhopper sends your files exactly as they are — so, you don't have to look for compression software or worry about compatibility issues on the recipient's side.
● Transfers with FileWhopper are fast and efficient. As your files don't need to be synced or compressed, they are sent over quickly and with no extra hassle on your side. What's more, the recipient of your data won't have to wait until it uploads completely — they can start downloading it as soon as you start uploading your file or folder.
● FileWhopper transfers are protected from issues like connection failures or blackouts. And should you encounter any of these problems, your data transfer will pick up right from where it left off once the connection is restored.
As you can see from all of the above, FileWhopper takes data sharing to a whole new level. But the best thing about it is that you don't have to take our word for it. You can head to FileWhopper.com right now and try the service out — your first 5GB transfer is free and will give you a good idea of what the program offers.