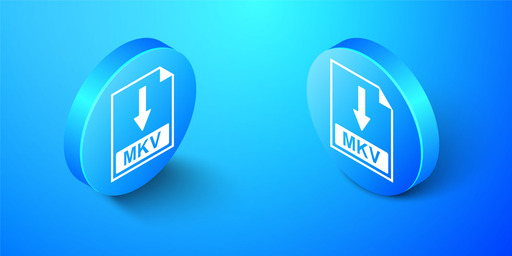 You've probably been combing the net in search of the best guide on what MKV files entail and how to use, send and convert them but have yet to read a satisfactory post on it.
Look no further.
This article explains in detail what an MKV file is, how to use it, how to convert it to MP4 as well as how to compress and send it.
To start, let's quickly explain what an MVK is.
What is an MKV file?
An MKV is a file format that ends with .MKV extension. The Matroska Video file aka MKV file format is a video container like MP4, AVI, or MOV that can be used to open any video, picture, audio, image and subtitle tracks like .SRT, .SSA or .USF.
One key factor that often distinguishes the MKV file format from others is that it is open source. This means that anyone can use it for any purpose as no patent or copyright restriction is placed on it.
Released for public consumption in 2002, the MKV file format is unique because of its multiple functions. These include video or audio descriptions, cover art, ratings and even chapter highlights.
Although it is primarily used for short clips and has found its way into constant use by anime enthusiasts, it is a widely accepted file format for quality video and audio. Infact, the MKV file extension is so popular among people who cherish high quality video that it is not surprising to find that it is DivX's default file format.
Now that we know what an MKV file is all about, it is important to also know how to play it.
How to Play an MKV File
You know that you can store or save your video or audio in an .MKV format but do you know how to play it?
Playing or opening your MKV file should be easy. All you need to do is to just double click the file and it instantly starts to play, right?
Well, that is not always true. For example, if you want to play multiple videos from different places, chances are some video files won't play well.
To avoid this, here is what you do instead. You must ensure that your computer or mobile device (whichever one you want to use) contains the right codec for that type of video. Otherwise, it won't stream or render.
In case you didn't know, a codec helps compress or decompress a video to create a smaller size for easier storage and distribution.
To play or open an MKV file, you can use a media player. Whether you're using a Windows PC, Mac, Linux, Android or IOS device, there is a media player suitable for opening an MKV file for each one.
Which Media Players Can Play Matroska Videos?
As one of the most popular multimedia container formats, MKV supports many multimedia players depending on your choice of device.
Here's a breakdown of each device and the media players you can use to play an MKV video.
For Windows, you can use:
KMPlayer
DiVx Player
MPlayer
AnyMP4
FLV Media Player
MKV File Player
The Core Media Player
These are for IOS devices:
Elmedia Player
KMPlayer
Roxio
Infuse 7
CnX Player
PlayerXtreme
Use these for Android:
VLC Media Player
MX Player
Simple MP4 Video Player
Easy Video Player
BX Player
For Linux devices, use:
Xine
VLC
Moyea Web Player
The Core Media Player
MPC-HC
Having gone over the different multimedia Player options for playing the MKV file, we should now move on to comparing the two most popular file container formats, MKV and MP4 to see the difference.
MKV vs MP4 – Which is Better?
The very first unique difference between the MKV and the MP4 is that the former is open-source, which means it allows for both private and commercial use without any copyright infringement. The latter, on the other hand, is controlled by MPEG, which means you might need to obtain a license to create and distribute the file's software.
The MKV file format is also the most widely used because it supports multiple players. It can hold video, audio, image and other content types. It has the extensions .mkv, .mka, .mk3d for video, audio, 3D video files respectively. In addition, the MKV's individually encrypted structure makes it easy to access some files protected by Digital Rights Management and be able to use them.
Though MP4 is also widely used and works on different file multimedia formats, it does not have the capacity to penetrate a DRM-protected file.
To be sure, here's a list of comparative points that clearly shows the difference between the two file containers.
MKV
It uses the .mkv, .mka and mk3d extensions
It can be used both online and offline
Though popularly used for storing movies, it also stores audio, other file content and subtitle tracks as a single file.
It stores large files with high quality resolution content.
It has a very high quality video and audio.
The MKV file format may not work on some platforms. For example, videos in this format can't be uploaded to YouTube.
MP4
MP4's extension includes MP4, M4P and M4V.
It is mainly designed to play offline videos.
It is widely used with many media players.
It stores files of smaller sizes.
Its video and audio quality is lower than that of MKV.
It works on virtually every device and platform including YouTube.
Now that you know the difference between MKV and MP4, how then do you decide on which is better?
You should consider factors like compatibility, size, usage and quality.
Let's break it down.
Compatibility: To play a video saved in the MKV format, you must use a media player that is compatible with it. Otherwise, it won't play, especially if you aren't using VLC.
Size: As clearly stated in the table above, MKV Files are larger than those of MP4.Compressing MKV files tends to reduce the content quality while smaller MP4 files retaintheir quality.
Usage: Both formats are widely used across multiple devices and at forms for both online and offline distribution. MKV can't be uploaded on YouTube though.
Quality: In terms of quality, there is really not much difference between MKV and MP4 formats. Since what majorly determines the quality of a video stored with any format is the codec, it becomes impossible to label one format as superior to the other.
Subtitle Support: With its capacity to support SSA/ASS subtitles, MKV is far better than MP4 in this regard, as the latter lacks support for these subtitles.
Now, let's take a look at how you can convert MKV.
How to Convert an MKV File?
For one reason or the other, you might need to send a video in MKV format to MP4 or other formats probably so that it can be accessed through the format the person uses.
How about if you recently downloaded an MKV file and wouldn't like the idea of using a codec or another media player? Converting it to MP4, AVI, MOV, MKV and other formats is your best bet.
The process is actually easy and straightforward.
You may use VLC or the numerous video converter programs availableonline.
Let's start withVLC.
Converting MKV Files Using VLC
VLC is a popular multimedia player that works across devices. It's mainly used to play video but is also useful to convert your MKV Files to other formats of your choice.
Follow these steps to use VLC for file conversion.
Open VLC on your device and click Media in the top left corner of the app
Click Convert/Save
You will see an Open Media box, click the Add button, and locate your MKV file and double click it.
Then click the Convert/Save button.
The Convert dialog box will appear. Next, choose the file type you want to convert it to, from the drop-down menu.
Then choose file location by clicking the Browse button close to Destination File to save the converted file.
Finally, click Start.
Converting MKV Files Using Online Video Converters
As mentionedabove, you can also convert your MKV file to AVI or other formats online. Luckily, there are a lot of options of converters to choose from.
But you can use Movavi, UniConverter, or Capwing to convert your video files.
Though the process may vary from website to website, it almost always involvesthe same steps. Locate the Upload button, click it and attach your MKV file, choose your desired format and then click the Convert button. Simple, isn't it?
How to Compress an MKV File?
Compressing an MKV file is necessary if you are considering the size and your device's storage capacity. This is because the MKV file format is usually large in size and this could hinder a smooth transfer.
To compress an MKV file, you can use File Explorer and WinZip.
Here's the steps if you want to use File Explorer.
On Windows, type Win + E.
Find the MKV file in your folder and click it.
If you haveWindows 11, choose Compress to Zip file. However, if you're using Windows 10 and other versions, place your mouse cursor on Send To and click "Compressed zipped folder".
Follow these steps to use WinZip.
Open the WinZip app
On the left panel, locate the MKV file you want compressed
Select the file and click Add to Zip below the left panel
In the bottom-right corner, click Save As, name the file and select Save.
If you know how to convert an MKV file, knowing how to send it is more important.
How to Send an MKV File?
You've just finished working on a video and need to send it to a friend or colleague or client, you have a variety of options to choose from. You can send it via a cloud storage service, email or an instant messaging platform.
But these come with some limitations, you can't send files beyond the required size. And sending large file sizes requires a premium subscription and may even be restricted to a specific number of gigabytes you can send monthly.
So, if none of these options work for you,what should you use?
Use FileWhopper
If you want to enjoy the benefits of unrestricted file transfer, use FileWhopper. With this file sharing platform, there is no limit to the size of file you can send. What's more, you don't even need a monthly subscription to enjoy it.
Based on the size of your file, you can transfer a file of any size, with just a one-time payment.
You can also transfer multiple files at a time by placing them in a folderand uploading it toFileWhopper.
With FileWhopper, you will:
be able to select your file and make payment very fast.
have maximum protection of your data and files.
be able to make your recipient download the file as you upload it, not when you finish the upload.
have zero worries on interruptions or loss during file transfer as the platform allows you to pick up where you left off in the case of Internet failure or system shut down.
enjoy a free trial to transfer a file of 5GB free of charge.
You probably had no idea how to play, convert, compress and transfer an MKV file without learning about allthe technicalities. However, with this complete guide, you are now prepared to do all kinds of things with these files.