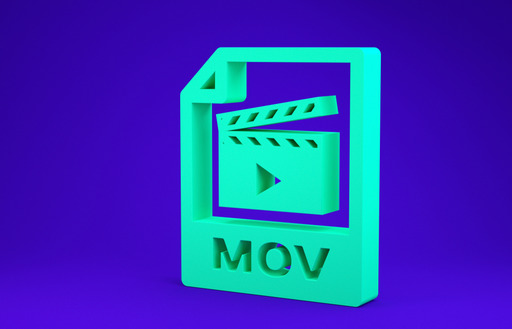 MOV is one of the most popular multimedia file formats. And if you use Apple devices, you are probably very familiar with how MOV files work and how to use them. However, MOV files may not be readable on other devices.
What is a MOV file?
Today, we are looking into what MOV files are, how to open them, convert them, compress them and send them online.
A file that has the MOV file extension is an Apple QuickTime Movie file. It is stored in a QuickTime File Format (QTFF) container file.
A MOV file can be used to store audio, video, and text in the same space but in different tracks. MOV is the default field format for iPhones, iPads and other Apple devices.
How to open a MOV file?
You can easily open a MOV file by using the following media applications:
Apple's iTunes
QuickTime programs
VLC
Windows Media Player
Elmedia Player
Another way to open a MOV file is by using Google Drive. This way you will be uploading your file to an online storage service and will make it accessible on any device using the Google Drive app.
How to convert a MOV file?
As you can see, opening a MOV file is not particularly complicated if you are using the right software. However, not all media players, devices and online storage platforms support MOV files. If you have a problem opening a MOV file on your device, you will need to convert the MOV file into a different format.
Converting a MOV file into a different format is relatively easy and can be done in several ways.
First of all, lots of media players and video editors will let you convert a MOV file into a different format.
For instance, with VLC media player, you can convert your MOV file into the following formats:
.MP4 - MPEG-4 Video
.WEBM - WebM Video
.TS - Video Transport Stream
.ASF - Advanced Systems Format
.OGG - Ogg Vorbis Audio
.MP3 - MP3 Audio
.FLAC - Free Lossless Audio Codec
.WAV - WAVE Audio.
Another option you have for converting a MOV file is to use an online converter. There are a lot of programs like these available online and you can easily find them with just a quick Google search. Simply search for the format that you will need to convert the file to like "MOV to MP4 converter".
Some tools will convert your files for free, others may ask for a small one-time fee or a subscription fee. But you should easily find a tool that will let you convert MOV to MP4, MOV to GIF and so on.
Why you sometimes need to compress a MOV file
As MOV is a media file format, files with this extension tend to be quite big. Here's why you might want to compress a MOV file:
The file is too big, which makes it hard to work with. Larger files will take up lots of space on your device, which can cause storage problems, glitches, and other issues on your device. To avoid these problems, you may want to compress your file to minimize the amount of space it takes on your device.
You may have to compress a MOV file if you need to send it. Sending a large file online isn't easy and most file transfer solutions will set a size limit for how big of a file you can transfer.
The same is true for online storage platforms. In order to store a lot of data on cloud storage platforms, you will often need a paid subscription added on how much data you want to store.
But there is another way to send large files online that doesn't require a subscription — stay tuned for that.
If you need to compress a MOV file, the easiest way to go about it is by using an online compression platform. There are lots of such tools available online and, in most cases, you will be able to compress your MOV file for free. The process for compressing a MOV file with most of these platforms is typically quite simple and requires a few standard steps such as:
Launching the file compression tool.
Selecting the file you need to compress.
Selecting an output location for your file.
And that is pretty much it. It will only take a few moments to compress your file and you will have a smaller file that's much easier to work with.
When you need to, you will have to "unzip" your file again. Most of the time, you can do this with the same software that you've used to compress it. The one downside of this approach is that sometimes you may run into problems when unzipping your file. In rare cases, it may lead to loss of data and file damage.
Fortunately, as we've mentioned above, there is another way to send your MOV file that doesn't require compression.
How to send an MOV file
To send a larger MOV file without compressing it, you need a tool called FileWhopper. With FileWhopper, you will be able to send files of any size online. Here's why FileWhopper may be a good solution for sending your MOV file:
You won't have to compress your MOV file to send it with FileWhopper. FileWhopper has been specifically designed to transfer large files online. With it, you will be able to send any type of multimedia file or folder, even as large as 10 TB.
FileWhopper won't ask you for a subscription fee. When using FileWhopper, you will only need to pay for the file you are transferring. Your fee will be calculated based on the file's size. This means that you won't have to commit to a long-term subscription if you just have a couple of files to send over.
Sending files with FileWhopper is safe. The service uses zero-knowledge encryption, which is the highest standard for data protection today. Thanks to it, no one but you will ever have access to your files.
FileWhopper also makes sure that your transfers are protected against interruptions and shutdowns. For instance, if you have a connection issue, your file transfer will simply be paused and will then pick up from where it left off when the connection is restored.
Another great thing about FileWhopper is that it's really easy to use. The only thing you need is a tiny FileWhopper app that will guide you through the transfer process. Plus, once your transfer is complete, the app will auto-delete.
As you can see, FileWhopper is one of the best ways for sending a large MOV file online. And you can check if it works to you for free with a complimentary first file transfer of up to 5 GB.