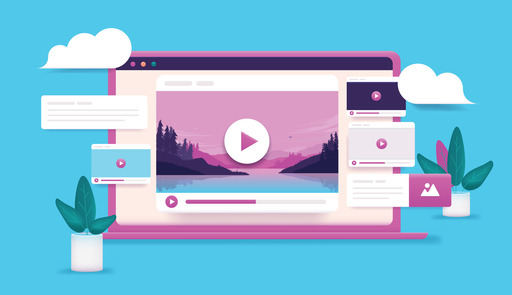 Video is one of the most common vehicles for communication, entertainment, and education. From movies and event coverage to tutorials and documentation, videos are now a part of everyday life.
Video files, whether created with phones or professional cameras, come in different formats, and MPEG happens to be one of the most popular ones.
A video format refers to how audio, video, images, and other data are written and compressed into a container file.
The video format you use determines the video's quality and how you view and send it.
In this article, we'll discuss the MPEG video format, and how to play, convert, and compress it.
What is MPEG?
MPEG is one of the most common video formats around. It's mainly used for movies distributed online. The file format utilizes the MPEG-1, MPEG-2, and MPEG-4 compression styles, which makes it easy to stream and download video files than other formats.
What Does MPEG Stand For?
MPEG stands for Moving Picture Experts Group, named after its creators, the group that also brought us the MP3 audio format. They designed the MPEG format to allow its container to hold data compressed at a high rate. That's because it stores changes that happen in each video frame instead storing every new frame.
Identifying MPEG Files
Video formats can be identified by their file extensions. For example, the common extension for MPEG files is .MPEG.
However, an MPEG video can come in different formats such as MPG, MPE, and MPG2. You'll also find MPEG-4 video files ending with the MP4 extension and files with MPEG-2 compression using the MP2 format.
That said, .MP4 is the most common format as the MPEG-4 is now the most widely adopted compression technology.
How to Play MPEG Files
Video files are generally played using video players on computers, phones, tablets, and televisions. Each device requires the right software program to decode and play a video file.
Since MPEG files are widely compatible, your operating system's built-in player will likely have native support. So, you can play your MPEG videos by double-clicking them.
That said, you can also watch MPEG videos using third-party media players that support multiple formats. These include VLC, Allplayer, GOM player, and Cyberlink Power DVD.
How to Convert MPEG Files
You'll find little to no issues opening MPEG video files. However, some situations require you to use other video formats. For example, you may want to stick to your video player.
You could also be uploading the file to platforms that require specific formats or may be sending the video to someone who sticks to a particular format.
Thankfully, you can convert MPEG video formats to:
.mov – QuickTime
.webm – WebM video
.ogg – Ogg Vorbis Audio
.asf – Advanced Systems Format
.wav – Wave Audio
.ts – Video Transport System
.flac – Free Lossless Audio Codec
.avi – AVI
.mkv – Matroska Multimedia Container
.mp4 – MPEG-4 compressed file
You'll need video conversion software to change your video format, and there are many to choose from.
VLC Media Player
While VLC is a third-party media player used to play audio and video files, it comes with a powerful built-in video converter. The tool is completely free and you won't be subjected to ads.
However, the conversion process may be slow, and it may take some time to fully grasp its interface and understand its nuances.
For example, to convert MPEG to MP4, open VLC and click on Media >> Convert/Save. Click on the Add button under File Selection, browse to your video file, and double-click it. Once it shows up under the file selection box, click on the Convert/Save button. Now, click on the spanner icon next to Profile, select the MP4 video format and enter the profile name. Click on the create button.
Online Video Converters
There are various web-based conversion tools like Cloudconvert and Movavi that allow you to upload your MPEG file and convert to any format of your choice.
After opening the website, you'll see a button that allows you to upload the file, then you can choose which format to convert to from a drop-down menu, and hit the Convert button.
You should note that not all online tools come for free. And the free versions are quite limited.
Freemake
Freemake is a popular video conversion platform that allows you convert videos without size and length limits. The interface is user-friendly and intuitive.
Click on File in the top-left corner and select Add Video. You can also drag and drop your video file to the tool's interface to add it. Then, all you have to do is click on any of the video format options at the bottom of the screen to continue converting.
Note that your converted video may come with a watermark if you're using the free version of Freemake.
Compressing MPEG Video Files
One of the advantages of the MPEG format is that its compressors facilitate high-quality compression and are able to reduce video size, unlike other formats. However, some MPEG files still take up a lot of storage space.
As such, you may want to reduce the file size to save space. Also, you may want to send the video via email and may have to reduce its size. Compression helps you do all that.
There are two types of compression: lossy and lossless.
Lossless Compression
With lossless compression, you're reducing the file size without removing any information. This type of compression works by removing redundant information and reconstructing the original file. It's mainly used for executable files that require every original information intact.
Lossy Compression
Lossy compression helps you significantly reduce file size by removing bits of information from a file. This type of file compression is commonly used for audio, image, and video files where things that are not noticeable are removed from the file. For example, when you compress a video file, the compression program may get rid of things like background noise and extra pixilation.
How Do You Compress Videos?
While video compression doesn't always result in noticeable quality drops, you may notice a significant quality reduction when you compress heavily.
There are different ways to compress your video file and shrink its size.
First, you can zip the file using Windows' built-in File Explorer. Open the explorer, right-click on your video file, then click on Send To >> Compressed (zip) folder.
You can also use tools specifically built for Android devices or VLC media player and Windows' built-in Video Editor.
MPEG vs MP4 - Which is Better?
MP4 are video files compressed using AAC audio and MPEG-4 compression. On the other hand, other MPEG files are compressed using MPEg-1 and MPEG-2, which are the predecessors of the MPEG-4 compressor.
Unlike other MPEG formats, MP4 videos allow you to store audio, still images, and subtitles. MP4 also support streams and can contain menus.
MP4 videos are widely considered better than other MPEG formats because they're supported across multiple devices and offer smoother playback.
Sending Large Video Files via FileWhopper
If you want to compress or convert your MPEG video file to reduce the file size and transfer to someone, you have another option.
FileWhopper allows you to send video files of any size to anyone. This way, you can send videos without worrying about a drop in quality.
The service charges according to the size of files you want to send. However, the first 5 GB of files you transfer come at no cost.
Here the benefits of using FileWhopper:
You don't require file compression or conversion to send MPEG files.
No transfer limits – you can send up to 10 TB at once.
You can send multiple MPEG files via a folder.
Send files securely using zero-knowledge encryption.
Network interruptions and shutdowns don't affect file transfer progress.
Recipient can start downloading the file before you complete your upload.
No recurring subscription required.
Light, user-friendly app.
You can try out the service by transferring your first 5 GB for free. Then, you can determine if it serves your purpose.
FileWhopper also has a mobile version, which allows you to use your Android device's browser to send large files of up to 2 GB.