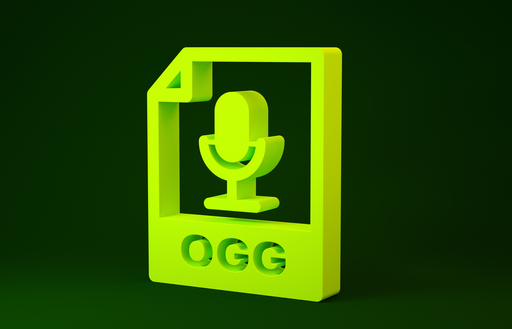 Many people today use digital music files for easier accessibility and a considerably better listening experience. Whether you have them stored on your computer or an external hard drive, converting them to another format can be quite challenging.
Most audio files downloaded from the internet come in M4A or MP3 file formats. However, that does not mean that they are the only audio formats you can come across. Some audio files might use the OGG Vorbis format.
The OGG format is a common format used to store high-quality audio. However, opening OGG Vorbis files poses a few challenges to many people, especially Windows users. Fortunately, this article will teach you how to open, convert and send OGG Vorbis files seamlessly to your friends.
What Is an OGG File?
An OGG Vorbis file is an audio file that uses free and easily accessible open-source code to store audio. You can create an OGG Vorbis audio file by recording audio in an audio recording application or downloading music from a website such as SoundCloud. OGG Vorbis audio files can use variable length codes to compress audio and make it smaller.
This format is trendy because it offers better quality than other accessible formats such as WAV, MP3, and M4A at much smaller file sizes. Besides, this open-source audio codec was created as an alternative to the MP3 format because of widespread licensing issues.
How to Open OGG Files
If you want to open an OGG Vorbis file, you can use an online file viewer or audio player. There are many audio players that you can install on your device. But online audio players perform well too. Some of the programs that can open OGG files include Audials One, VLC, Adobe Audition, and Windows Media Player. If you'd prefer to do it online, then Google Drive is a fantastic option.
If you are a Linux user, then Amarok is a good option to consider. You should also note that iPhones, iPads, and iPod Touches do not natively support OGG files. This means you have to install a third-party app like VLC to play OGG files on these devices.
Browsers handle OGG files differently. For instance, Chrome requires you to download an OGG file before playing it. However, you can play the file by dragging and dropping it into Chrome or other browsers, such as Opera or Firefox.
If you have tried different methods but still can't open the file, then it might be corrupted. So, try downloading the file again, then retry opening it. Also, verify that you do not have any viruses on your computer that could be stopping you from opening the file.
How to Convert OGG Audio Files
If you need to open OGG Vorbis files and do not have any compatible software, you can convert them to another format. This will allow you to open them via most used audio editing software or media players, including Windows Media Player.
It's important to note that you may lose some quality when converting from OGG to MP3. So, to keep the sound quality high, use a different format, like WAV. Many online file conversion tools can help you convert OGG Vorbis to MP3. Here are a few examples:
Try OGG to MP3 Converter Online
Use Google Drive
Use Zamzar
Converting OGG Files Using VLC
You can also use VLC media to convert your OGG Vorbis files by following the below steps:
Open VLC Media Player, then click "Media" in the top-left corner.
From the dropdown that appears, pick "Convert/Save…"
Click "Add" on the window that appears, then select the OGG files you want to convert.
Click on the Convert/Save button at the bottom.
Select "Audio-mp3" from the "Profile" dropdown menu.
Go to the destination section and click on Browse. Then select where you want to save the file and assign it a name.
Finally, click Start to convert the files.
Sending OGG Vorbis Audio Files 
There are a few ways to send these files, including email and Dropbox. However, if a transfer option does not allow uploading OGG files, you must convert OGG to MP3 before sending them. Also, some OGG Vorbis audio files could be huge. We recommend using a professional file transfer service like FileWhopper to ensure smooth audio file transfers. 
FileWhopper is an online file transfer service used to send large files without compressing them. This online service is designed to transfer large files across the internet with less hassle. It can send any media file or folder of up to 10 TB in size. This eliminates the need to compress the file, which would have messed up the file's quality.
Additionally, FileWhopper does not charge you a subscription fee. But, you make a one-time payment for your transfers through the service. So, you don't have to worry about making an unnecessary long-term commitment.
FileWhopper also encrypts your files before sending them. Therefore, you don't have to worry about your data landing in the wrong hands since even FileWhopper's staff can't access your data.
Conclusion 
The OGG Vorbis file format stores audio files in a compressed form. It is renowned for its high-quality and low-size audio files. Due to incompatibility issues, you might find it challenging to open or send these files, thus forcing you to convert them. Luckily, you can easily convert them to other formats in case you don't have any software that supports OGG Vorbis audio files. We hope this guide has helped you understand how to open, convert, and send OGG Vorbis audio files. If you know other effective ways of achieving the same, kindly share them with us in the comments section below.