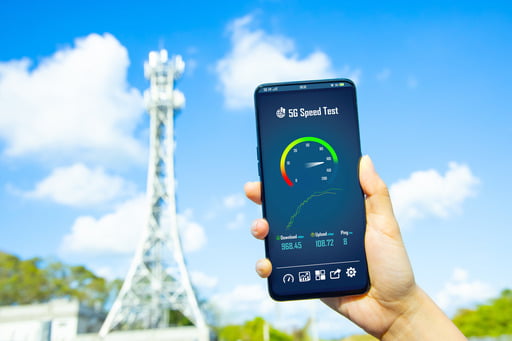 With 31 percent of American adults saying they are constantly online, the internet is an essential service in today's digital world. It's the one thing that makes it possible for remote teams to connect and collaborate with ease. It also enables the transfer of data from one person to another, not to mention streaming videos on YouTube, Netflix, and other services.
Given the importance of the internet, it's necessary to have the proper speed. There are numerous service providers, each offering unique packages. When you subscribe to an internet service, you'd want to know if the internet service provider is offering you the actual speed you're paying for.
An internet speed test can quickly tell you your connection speed. But, with so many apps on the market, which Android app is best for testing your internet speed? This guide highlights the factors to consider when choosing an internet speed test app for Android. We've also compiled a list of the top 8 apps to check the internet speed on your Android device.
How to Choose the Best Internet Speed Test App for Android in 2021
An internet speed test app provides real-time information about how fast your Wi-Fi or mobile connection transfers data. A higher rate means faster transfers, and a lower rate may result in lags and constant buffering.
Generally, an internet speed test app measures the following:
You will find out how long it takes for a signal to move to and from the internet server. You should aim for lower latency, especially if you game or video chat a lot since it leads to better responsiveness.
The app shows how quickly the information you request from the internet gets to your device.
The app shows how quickly information sent from your Android device reaches the internet. The upload speed is crucial if your work involves sending large files over the internet.
Internet speed needs and requirements vary from one person to another based on the nature of their work or what they are using the internet for. For instance, gamers will require the highest internet speeds to enjoy a smooth gaming experience. On the other hand, someone who simply browses may only need average speeds. Typically, 25mbps of download speed and 3mbps of upload speed work for most people.
Here are some factors to consider when choosing the best internet test app for Android:
Accuracy. If an app can't give you accurate internet data readings, there's no point using it.
Ease of use. You want a test app that gets the job done quickly. You don't want to spend endless minutes learning how to perform the test.
A wide server range. A service that has servers across the country or globe will give more accurate readings than one with just a few servers in one region.
A simple, user-friendly design. An app that's straightforward to use makes your work easier. You don't need additional tools or ads running in the background as this will affect the test results.
Quick Tips Before Running an Internet Speed Test on Your Smartphone
Close all background applications since they suck bandwidth and will affect the results.
Make sure to sit as close to the router as possible and set your Wi-Fi to 5Ghz if your router supports it. Wi-Fi signals are affected by obstructions and may give inaccurate readings.
Make sure no one else is using the internet at that particular moment. This will interfere with the test and give incorrect results.
Test internet speeds over the course of the day. Some ISP providers throttle your connection during peak hours. Performing several tests throughout the day will ensure accuracy.
The Best Apps to Check the Internet Speed on Your Android Device
Please note that you can always run an Internet speed test without downloading any app. Simply launch the Google Chrome web browser on your smartphone and follow these steps:
Search for "speed test" on the Chrome browser, and the speed test section should open above the search results.
Tap on the "Run Speed Test" button to initiate the test. This takes only a few seconds, and you should see the download and upload speeds. To check the speed again, tap on the "Test Again" button.
Google also shares some useful information. For example, it will let you know if your internet speed is fine and the video quality the connection can handle when streaming.
If you prefer to have an app installed on your Android device, here are the top eight tools you can check out.
Speedtest by Ookla
Price: Free / In-app purchases
Many people ask, what is the most accurate speed test app for Android? Well, not only is Speedtest by Ookla one of the most popular internet speed test apps for Android in 2021, but it also offers reliable results for free.
While it gives bare-bones information, it's the details most people find useful. Being a free app, Speedtest contains ads. However, you can remove them by subscribing to one of its packages, which range between $0.99 and $4.99. The app is also available for iOS.
The Speedtest app has a simple UI and looks the same as on the website. It's this familiarity that makes it easy to use. It does the basic tests, checking your ping latency and download and upload speeds. It also keeps a history of all the speed tests you've performed for future reference. What's more, you can switch to a different server if you're not satisfied with the results.
Get it on Google Play or Amazon Appstore.
Meteor by Opensignal
Price: Free
Meteor by Opensignal is an independent internet speed test app for Android and iOS devices. It is free and has a simple interface that shows what you need to know. On top of the usual ping response time and download/upload speed test, it also provides information on cellular network coverage, which travelers may find helpful.
Another interesting thing about Meteor is that it lets you perform speed tests on individual apps. Its site gives you the option to download the Opensignal app to get more detailed data on your mobile or Wi-Fi connection. Or, you can download the Meteor app to simply test your internet's download and upload speed.
Like Speedtest, the Opensignal app keeps a history of your speed tests and presents it as a map or list. It also shows other details, like how much time you're connected to your mobile data network or have no signal.
You can download the app from Google Play Store or Apple Store.
Speed Test WiFi Analyzer by Analiti
Price: Free / In-app purchases
Speed Test WiFi Analyzer is one of the most comprehensive and powerful apps today. On top of performing the basic download and upload speed tests, it doubles as a Wi-Fi analyzer. It shows you details like the channels you're on, your router's throughput speeds, and nearby signals.
It even lets you know if your router is Wi-Fi 6-capable, even if it doesn't show on your phone. The app scans LAN-connected devices so you can know who's using the network. It also analyzes ping and DNS speeds to help you find the quickest DNS or fastest gamer servers.
The app is free but contains ads. To remove the ads and purchase in-app products, you can sign up for one of its paid packages, which range from $0.99 to $99.99 based on the products you purchase.
Get it on Google Play.
FAST by Netflix
Price: Free
FAST is one of the best internet speed test apps for Android. It is free, displays no ads, and has one of the simplest user interfaces. Using it is straightforward. Just launch the app on your device and see the results.
There is no "Go" or "Run" button. It automatically runs the speed test and starts by measuring the download speed. FAST analyzes the ping response time, the download and upload speeds, and your average internet speed.
Due to its simplicity, some people may find it too basic. So, if you need more data on your connection, you may want to skip this one.
Internet Speed Meter Lite
Price: Free
Internet Speed Meter shows your internet speed in the status bar on your phone's screen and the amount of data used in the notification pane. This makes it easy to monitor your connection strength. It doesn't contain any ads and is lightweight, meaning it won't drain your battery. Internet Speed Meter tracks your daily traffic usage and monitors your traffic data for the last 30 days. It features smart notifications that only appear when you're connected to the internet.
What's more, it lets you select a theme for the user interface to suit your taste and mood. By default, it displays only the download speed on the status bar, but you can set it to show both the download and upload speeds.
Get it on Google Play.
Speed Test Master
Price: Ads / In-app purchases
Speed Test Master measures your network performance by checking the ping latency, as well as the upload and download speeds. It's a free service, but you can pay between $0.99 - $14.99 to purchase its in-app products.
Speed Test Master is also a Wi-Fi analyzer that checks your Wi-Fi signal to help you find the strongest signal spot. If you're in a café, airport, or any other busy area with multiple signals, the app will let you know which is the best. It also helps you detect who's using your Wi-Fi.
Additionally, the app comes with a data usage manager that lets you monitor your mobile data usage so you don't go overboard.
Get it on Google Play.
Simple Speedcheck
Price: Free / In-app purchases
Simple Speedcheck is a straightforward internet speed test app for Android. It automates checking the connection speed like FAST by Netflix and even features a similar design. However, it displays more details in a colorful presentation, making the results easier to read.
Users get access to several servers across the globe that they can use to check their internet speeds. Simple Speedcheck is available for free but comes with ads and in-app purchases, ranging between $1.49 to $19.99 per item.
Like most Android internet speed test apps on this list, Simple Speedcheck keeps a history of your test results for future reference. The history contains details like the signal strength, download and upload speeds, ping latency, internal and external IP, network name, and test date.
Get it on Google Play.
nPerf
Price: Free / In-app purchases
If you're looking for the best internet speed test app for Android with some cool features, then nPerf is a perfect choice. It performs the normal download and upload speed test, but it also measures other stuff, like your streaming and browsing speeds, ping response time, and bitrate.
It also displays a coverage map for the major US carriers: T-Mobile, Sprint, AT&T, and Verizon Wireless. The app monitors network function and displays real-time data on the status bar. You can perform each test separately via the hamburger icon in the top left corner of your mobile screen.
Additionally, it saves your data with all test locations on a map and lets you share your results with other users. When you choose nPerf, you must give it permission to access your photos, files, and media (mandatory for Google Maps cache). So, you may want to skip this one if you're worried about your privacy.
Get it on Google Play.
One more thing. Do you struggle to send large files online? We have good news for you. FileWhopper makes it a tad easier. Gone are the days when you had to subscribe to pricey cloud storage plans or put up with file size limits.
Things work quite differently with FileWhopper. For starters, there are absolutely no file size limits for users. It doesn't matter how big your file or folder is – the app can transfer data of any size.
FileWhopper is one of the most reliable services for sending large files and folders online. It simplifies the entire process so you don't waste time following a tedious procedure. Here is how to use it:
Visit FileWhopper.com and upload your file or folder.
You'll instantly get a quote based on the item's size.
You'll then proceed to register to receive a link to the uploaded file or folder and the corresponding password. Don't worry, the registration process only takes a few seconds.
Share the link with your recipient(s) along with the password.
Your recipient(s) can start downloading the file/folder as soon as the upload begins.
You'll be pleased to know that your content is safe and the transfer is fast thanks to FileWhopper's speedy app. What's more, your data is automatically deleted from the FileWhopper servers the instant your recipient completes the download.
There you have it! These are the top apps for testing the internet speed right from your smartphone. Did we miss any reliable internet speed test apps for Android? Please let us know by using the comments section below.