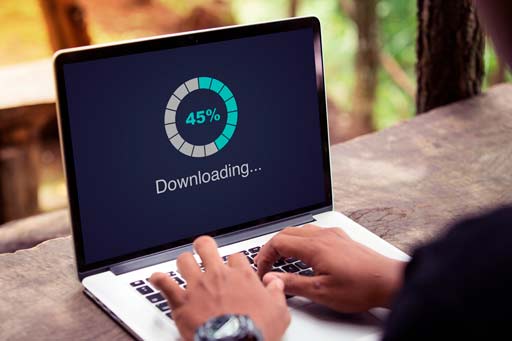 There is no need to use a download manager when downloading documents, music, or most software programs. However, downloading large files via browsers can be a slow and frustrating process. When it comes to browser downloads, you don't get fast download speeds most of the time, and even then, your downloads can fail at any time. That is why download managers have become increasingly popular – they help you accelerate the download process by downloading each item from multiple sources at the same time. Not only do download managers increase download speeds, but they also allow users to pause and resume downloads and run multiple downloads simultaneously. If you are searching for a paid or free download manager for Windows 10, this article will help you. The thing is, there are many third-party download managers that provide far more features than the built-in download functionality of your browsers.
What Are the Best Download Managers for a Windows PC?
Free Download Manager
Free Download Manager is an open-source download manager that operates on Windows, macOS, Linux, and Android. Free Download Manager works on Google Chrome, Firefox, and Internet Explorer. It lets you download files at a faster download speed by splitting the files into different smaller parts and then downloading them all at once. For downloads, Free Download Manager has the Snail, Light, Medium, and Heavy download modes, which offer unique features. Although files are downloaded in the order they are listed in Free Download Manager, you can prioritize downloads and move them up and down the list. Even so, you can easily drag and drop URLs (perhaps a YouTube video URL) into the download window in order to get your files. Also, you can preview and convert audio and video files while they're downloading and schedule downloads to happen on specific days.
Xtreme Download Manager
Xtreme Download Manager (XDM) comes with a highly intuitive interface that makes it easy to download files on the go. It runs on macOS and Windows and integrates with various browsers, including Mozilla Firefox, Opera, Google Chrome, and Chromium. While XDM supports multiple file formats, it's best for downloading video files. You can quickly download videos with XDM since it supports YouTube, Vimeo, and Dailymotion, among other video streaming platforms. On YouTube, you can download a playlist without having to copy and paste individual links for each video—how easy is that? Xtreme Download Manager lets you preview your media files before they are downloaded. Other features of XDM include Smart Scheduler, the ability to pause and resume downloads, and bandwidth allocation management, among many others.
Internet Download Manager
Internet Download Manager is another download manager that integrates with popular browsers, including Google Chrome, Mozilla Firefox, Microsoft Internet Explorer, Netscape, and several others. With IDM, you can easily download files from the Internet, rather than using your browser's built-in download functionality. Like other download managers, IDM comes with an intelligent multi-part downloading feature to accelerate your download speeds. So, even if your PC crashes while you are downloading a file, IDM will be able to resume the download without starting the process afresh. You can use the drag and drop feature to download files on the go, or you can set up IDM from the command line. This means you can set IDM to dial your modem at a specific time, download the files you select, and then close the browser or shut down your computer once it is done. Internet Download Manager also supports ZIP preview, audio and video processing, progressive downloads, proxy servers, firewalls, FTP and HTTP protocols, and other nice-to-have features, such as multilingual support.
EagleGet
EagleGet is a free download manager that is easy to use, as it isn't loaded with unnecessary features. It supports FTP, HTTP, HTTPS, RTSP, and MMS protocols and integrates with popular browsers such as Internet Explorer, Google Chrome, Opera, and Mozilla Firefox. EagleGet can automatically download videos from streaming websites and detect download links for other media content across all the browsers it supports. EagleGet comes with a built-in malware scanner and file integrity checker that not only protects you from viruses but also verifies the legitimacy of every downloaded file. Once you download a file, you can configure EagleGet to check for malware using the installed antivirus software on your computer. It uses high-speed multi-threaded connectivity to boost download speeds, and it also supports manual, automatic, and batch downloads.
Ninja Download Manager
Ninja Download Manager is a simple, easy-to-use download manager that lets you use HTTP, Socks4, or Socks5 proxy servers to download content and gives you full control over the download process. With Ninja Download Manager, it is very easy to manage your download queues by setting download limits and schedules. The sequential download feature in NDM allows you to download your files from start to finish, thereby allowing you to preview your downloads even before they are complete. Using this feature allows you to check the quality of a video before downloading it, which helps you save time and data. Also, NDM splits an entire file into distinct parts and uses different server points to simultaneously download each part, allowing for exponentially faster and reliable download speeds.
Internet Download Accelerator
Consider using Internet Download Accelerator for Windows if you are tired of slow download speeds on your browser. Internet Download Accelerator (IDA) supports HTTP, HTTPS, and FTP protocols and seamlessly works on Internet Explorer, Google Chrome, Safari, Vivaldi, Firefox, Netscape, and more. With IDA, you can work right from whatever Internet browser you choose because it gives you full access to all of the things you need to download quickly and easily. Like the other download managers we have covered so far, Internet Download Accelerator increases your download speed by splitting files into parts and downloading them all at once. IDA can automatically resume broken downloads from where they stopped on both HTTP, HTTPS, and FTP servers.
JDownloader
JDownloader is an open-source download manager that is available for Windows, macOS, and Linux. This means that you can use the platform completely free of charge without having to deal with annoying advertisements. You can use JDownloader to extract archived files automatically, pause and start downloads, download multiple files, manage your download bandwidth, and do a lot more. Moreover, the platform supports popular video streaming websites such as YouTube, DailyMotion, and Vimeo. In addition to offering great features, JDownloader also offers over 300 plugins that give users enhanced functionality. For instance, with the scheduler plugin, you can automatically schedule downloads for a later time without the need to start or pause the download. Nonetheless, you need the Java Runtime Environment 1.5 or higher to run JDownloader, and when installing it, be aware the installer contains adware along with the Download Manager program, so be sure to uncheck that option.
Conclusion
We discussed seven of the best free and paid download managers available for Windows 10 users. Have you ever used any of these download managers? How was your experience with the platform? Let us know using the comment section below.
Also, if you have been struggling with sending large files over the internet, you will love FileWhopper. It is a cloud-based platform that allows you to send files and folders of any size to anybody, anywhere and at any time as long as they have an internet connection. There are no limits on how much data you can transfer using FileWhopper — you can choose to send a 1GB movie or a 10TB folder. 
FileWhopper is a pay-as-you-go service, so there are no monthly fees and you only pay for what you actually send over the internet. It's easy. Once you select the file or folder you want to transfer, you will see your quote and will be able to make a single, non-recurring payment. There are no additional charges, and your payment is calculated based on the size of your transfer.
Additionally, with FileWhopper, uploads and downloads can happen simultaneously: the recipient can start downloading your file or folder while you are still uploading it, saving you time, especially if you have a tight deadline or bad internet connection. With FileWhopper's military-grade encryption, your files and folders are protected during transfer, thus ensuring the safety of your sensitive data. Moreover, you are provided with a password, which you must only share with the recipient to guarantee that only the person you selected can access your data.