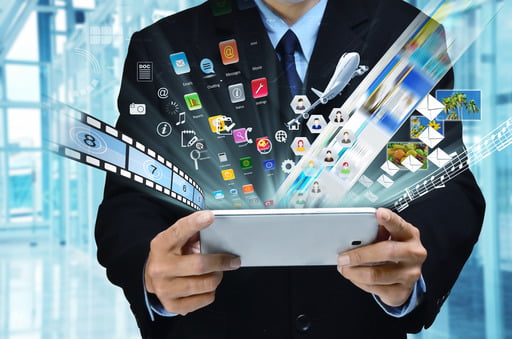 As many as 71% of individuals are working on teams that support remote work. With 31% of these respondents working for companies where all employees are permanent remote workers and 40% working for companies where half of the team members work remotely, it is clear that remote work is gaining a lot of popularity. Companies are now tapping into the diversity and benefits that come with it. This also means that file-sharing services are now more essential than ever. To run a remote team, you need to be able to share files with team members no matter where they are. Collaboration on projects depends on it!
Even if you are not operating a remote team, having access to file-sharing services is essential to make projects run smoothly and increase productivity. The good news is that there are free file-sharing programs for businesses, and you can start using them today.
In this article, we will be showing you how to find the best file-sharing tools for business in 2021 so that you can decide what works best for you and your business.
The Best File-Sharing Services Everyone Should Know About
What are the most secure file-sharing tools for business? Let's take a look at some of them.
1. FileWhopper
At the top of the list is FileWhopper, a file-sharing platform that allows you to transfer files and folders of any size at an affordable price. If your business deals with huge data volumes, then you cannot go wrong with this tool. With FileWhopper's high transfer speeds and military-grade data encryption, your sensitive and important files will be delivered to the intended recipients in a fast and secure manner.
What is amazing about this tool is that you do not have to wait until file upload is complete before getting access to the download link. You can share it and the password you created earlier to protect your transfer with your clients and team members once the upload is initiated. This means that they can start downloading your data immediately, thereby saving precious time. What's more, you do not need to worry about network interruptions. If your internet connection gets cut off or disrupted, your upload will resume automatically once the connection is restored.
As we've already mentioned, FileWhopper encrypts your files and folders with a password, ensuring you and the recipient(s) are the only ones who can open and download them. You also do not need to worry about installing and uninstalling huge apps that will hog your storage space. FileWhopper's tiny app will automatically delete itself once it's done executing your file upload.
One of the best things about FileWhopper is that it doesn't require you to purchase any subscription plans: you pay as you go, and the price of your order depends on the amount of data you want to transfer. As of this writing, first-time users can test-drive the service by ordering the transfer of up to 5 GB for free.
Features
Your data is encrypted, which means it cannot be accessed by third parties.
You don't have to purchase annual or monthly subscriptions to use the service – just pay as you go.
The tool provides high transfer speeds, supports simultaneous uploads and downloads, and automatically resumes interrupted uploads.
2. Google Drive
Google Drive is a popular cloud-based file-sharing and storage platform. As you might have guessed from the name, this tool was designed by one of the most innovative companies out there – Google. You can use this service to store your documents, pictures, and music files, among other things.
The best part? Everything is stored in one place, and this allows you to access your files from any device with an internet connection anywhere in the world! In addition, Google Drive automatically syncs your files across all the devices that are linked to your account and allows you to grant specific file access to whomever you choose. This also allows them to leave comments and download these files.
This tool is excellent for small businesses and freelancers looking for an all-round file-sharing service. What's more, you can integrate it with other tools, such as Google Calendar. This allows you to keep up with your schedule and track your tasks.
Features
The tool increases collaboration between users by allowing them to assign tasks, request access to files, and keep track of revisions.
It provides a high level of security and keeps your data protected.
3. DropBox
DropBox is another popular file-sharing service. It has more than 450,000 users, including top companies such as Yahoo, Expedia, Hyatt, Lonely Planet, and News Corp, to name but a few.
It is great for large businesses looking for a smart workspace that can bring team members, tools, and content together. It grants team managers full control over the activities of everyone on the team. What's more, it comes with separate modules that allow it to be used for both private and commercial purposes.
You can make use of the 1TB business storage version to automatically sync and update data across all connected devices.
Features
It can be integrated smoothly with third-party tools, such as Slack and Zoom.
Its reliable and active customer support team is always ready to help you.
4. OneDrive
OneDrive is a file-sharing tool designed by another tech giant: Microsoft. Popular among businesses, it gives you the ability to update and share data while on the move from any location. It is an amazing collaboration tool that allows you to save files and access them from any device of your choice (be it a tablet, smartphone, or computer).
In addition, you can install it as an on-premise platform on your servers or use it as cloud-based storage.
Easily upload files and folders and share the links with co-workers or family members through email, text, or iMessage.
Features
Your files are encrypted with SSL.
There are dedicated mobile apps for iOS or Android devices.
5. Egnyte
Egnyte is a file-sharing tool designed to enhance collaboration and productivity among employees, reduce the cost of cloud-based services, and promote safe and efficient file sharing. It comes with a well-organized, intuitive dashboard, which makes achieving these goals a breeze.
It was designed to reduce the risk of data leaks and security breaches while also allowing its users to share and access files from any location across multiple devices. With an internet connection, you can share files with team members while on the go.
Enjoy peace of mind knowing your data is always safe as the tool backs it up automatically.
Features
You can grant restricted access to sensitive data. This allows only permitted individuals to have access to these files.
A high level of security is in place to prevent accidental or malicious sharing of stored files.
In Conclusion
Cloud-based services are here to stay, and you should tap into their vast resources. If you want to increase employee productivity, whether you operate a remote team or not, you need to make use of the best file-sharing platforms available for businesses. It is one way to increase collaboration among team members and ensure low operating costs. Decide on the platform that works best for you and make sure to get the most out of it. With the right file-sharing and storage service at your fingertips, you no longer have to worry about losing important files or folders!