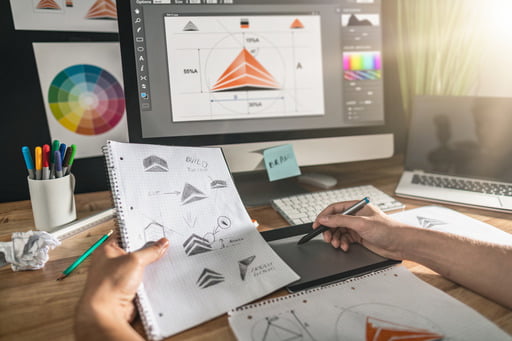 A picture is worth a thousand words. These words may be even more true today. Quality visuals are absolutely essential whether you are running a business, writing a blog post, or running a social media page.
Fortunately, creating great visuals doesn't have to be complicated. These days, thanks to the abundance of professional design software, making beautiful graphics on a laptop is relatively easy and accessible to most of us.
So, what is the best graphic design software out there? This is what we are here to find out.
The Top Graphic Design Programs to Use in 2021
Here's a list of our top picks for the best graphic design programs. A lot of the software in this post is meant for graphic designers and comes with paid subscription plans. However, if you are looking for free graphic design software, you will also find some options here.
Adobe InDesign
Adobe InDesign is the ultimate graphic design toolkit. It comes with everything you need to create a variety of materials, from brochures and info sheets to magazines.
Key Features:
Unlike the standard version of Photoshop, InDesign comes with a minimal learning curve. This means that even if you are a very new user, you will be able to get the hang of all the key functionality in no time.
The new "Adjust Layout" feature lets designers easily reconfigure text and graphics by automatically adjusting the layout, which is a great feature to have on board for creating infographics.
The AI-powered Sensei technology, which automatically resizes and arranges images, is a great tool to have in your arsenal.
You can use the InCopy feature of the app to collaborate with other team members on a design.
Pros:
You can easily combine text and graphics.
Add tags to indexes, keywords, footnotes, captions with hyperlinks, etc.
The app supports HTML exporting: a web developer can easily export code as they design the layout of a website — this is particularly useful when working with WordPress sites.
You can easily resize multiple objects at the same time.
The Eyedropper feature lets you instantly copy attributes from one object to another within one document.
The software is pretty much the industry standard for desktop publishing.
Cons:
The tool is quite expensive compared to other software and geared primarily to enterprise use.
PDF commenting can be improved.
Pricing:
Monthly subscription: $20.99
Full Creative Cloud subscription: $52.99/month
CorelDraw Graphics Suite
CorelDraw Graphics Suite comes with lots of pro-level features and a very friendly interface. It's basically a whole collection of editing applications that deliver pretty powerful functionality.
Key Features:
You get access to Content Exchange, CorelDraw's dedicated library of high-resolution photos and images accessible to all registered users.
The tool's customizable UI lets you choose the size of your icons, how your documents open, the color scheme for window borders, and more.
You can use the new Pointilizer with lots of changeable parameters.
Pros:
There are three different price plans with easy upgrades.
You get to enjoy an app-wide workflow and performance boosts.
The app is perfectly compatible with the Surface Pen.
The app offers a smooth desktop-to-tablet transition.
It supports over 48 different file types.
Cons:
There is no free mobile app.
The app may be intimidating for beginners.
Pricing:
Free trial: 15 days
Full version: $474
Annual subscription: $198
Inkscape
Inkscape is free graphics software that will let you create scalable graphic designs. The app is very user-friendly and a nice option for beginners and those interested in casual vector drawing.
Key Features:
The software is straightforward and easy to use while offering good functionality.
Inkscape boasts a sizable community of developers — and you will get access to new features and updates regularly.
It's one of the very few free tools that offer lots of Adobe Illustrator-like features.
As the software is open-source, you have the option to alter the lines of code to boost functionality.
Pros:
The app supports multiple gradients and comes with a separate tool to make complex combinations.
There are Bezier handles on board for effortless movements.
You get to use dedicated tools for creating, editing and converting vectors.
There are options to download and create ready-made plugins.
Cons:
The Mac version could be improved.
Processing is not as fast as with other graphics software.
Pricing:
Free
Sketch
Sketch is vector-based graphics software that works best for designing applications, interfaces, web pages, etc. In short, it's a great fit for creating UI/UX designs.
Key Features:
The app boasts snap-to-grid and snap-to-pixel functionality.
You get access to an extensive selection of screen templates and web design layouts.
There are special plugins available for custom tasks thanks to solid community support.
Pros:
You get to enjoy easy sharing and collaboration via the cloud.
There is an option to mirror designs on larger devices for team view.
You can export any layer or group as a PNG file.
All design changes are saved automatically.
The learning curve is minimal.
Cons:
The tool is not as polished as other software.
Screens in cloud access don't render in high resolution.
The app is only for Mac users.
Pricing:
Annual subscription: $99
Adobe Illustrator
Adobe Illustrator is the industry favorite when it comes to all types of design work. It's perfect for creating illustrations, logos, website mockups, page layouts, and more.
Key Features:
You get multiple preset layouts and lots of options for customizing them.
You can edit multiple boards simultaneously.
A friendly user interface
The software is easy to navigate for beginners while offering lots of pro functionality. Plus, the interface adjusts perfectly to any device.
Pros:
Graphics are generated based on mathematical equations instead of stored pixels, resulting in crisper and sharper lines.
You get access to over 90 million images, videos and design templates from Adobe Stock.
You can enjoy Adobe font integration.
It is part of the Adobe ecosystem.
Cons:
The app is more expensive than most other graphic design tools.
It can be a bit overwhelming for new users.
The app takes up lots of system resources.
Pricing:
Monthly subscription: $9.99 for personal use; $33.99 for enterprise use.
Xara Designer Pro X
Xara Designer Pro X comes with a set of pro-level features. The software is primarily meant for working on web and print designs and has everything you might need for creating illustrations, editing photos, etc.
Key Features:
You can turn to this easily accessible collection of tools for basic edits.
A great time-saving feature that lets you zoom up to 25,000% to make edits and drag and drop items everywhere you want.
The software comes with a powerful vector rendering engine, which makes it a great option for working on more complicated designs.
Pros:
The app offers lots of editing features, like dragging, scaling, rotating, and more.
There is solid cloud support for viewing, editing and updating projects.
You can zoom up to 25,601% for a more detailed project overview.
Dropbox and Google Drive syncing options are available.
Lots of file formats are supported: JPEG, BMP, GIF, PNG, TIFF, and PSD.
Cons:
The app only works with Windows.
There is a steep learning curve to master all the features.
The masking feature is quite complicated.
Pricing:
Annual subscription: $299.
Gravit Designer
Gravit Designer is yet another graphic design application that will help you create high-quality vector graphics.
Key Features:
You can quickly switch between tabs and instantly apply dark themes.
You can organize your designs using multiple canvas areas.
You get access to a set of handy design tools, including the Bezigon tool, Lasso tools, the Pen tool, and others.
Cross-platform compatibility
The app works on Windows, macOS, Linux, and Chrome OS.
Pros:
The app has a modern user-friendly interface.
There are tools for designing social media posts for Facebook, Instagram and more.
The tool has both web and desktop versions.
You get to work with multiple documents at once.
The Pro version comes with unlimited cloud storage.
Cons:
There is limited information about using the software on the web.
No real-time collaboration options are available.
There is no way of running design prototypes on a smartphone.
You need an active internet connection to work with fonts.
Pricing:
Free with limited functionality.
Pro version: $100.
We hope that our selection of digital design programs has been helpful and you have found a graphic design tool that works best for you. Now, once you have found the graphic design software that you like and have created some stunning imagery, another question may arise: how do you transfer your large graphics file to a client, friend or just someone who admires your work? Here's where we recommend using FileWhopper.
FileWhopper can send files and folders of any size over the web. You can even send a 10TB folder without a hitch. The service doesn't require syncing, is very easy to use and won't ask you for a subscription. Here are few more things that you might like:
FileWhopper works on a pay-as-you-go basis. This means that you only pay for the file or folder you are transferring and the fee is calculated based on the size of your file or folder. This may be a much more convenient setup compared to cloud storage services like Google Drive or OneDrive that will ask you to commit to long-term payments.
Sending files and folders with FileWhopper is secure, and you can be sure that your data is safe. The service uses zero-knowledge encryption, which is the strongest form of data protection available today.
If your transfer gets interrupted, you won't lose time or data. If there is a connection issue during your transfer, it will simply pause and then resume once the connection is restored.
FileWhopper uses small upload and download apps to guide you and the file recipient through the transfer. The whole process just takes a few steps, and the apps auto-delete once it's complete.
If you have a file or folder you need to transfer, you can try out FileWhopper right now. Simply go to filewhopper.com and test out all of the features above with your FREE 5GB transfer.
[fwa-calculator]