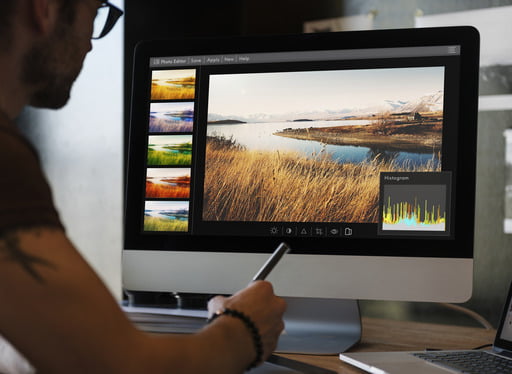 With over 449 million downloads, Adobe Photoshop is the most popular photo editing software on the web. Photographers, graphic designers and non-professional users from all over the world turn to Photoshop to edit photos, create stunning visuals, organize image libraries, and so much more.
However, while Photoshop is definitely a great way to edit photos and graphics, it's not the only one. Over the years, software developers have come up with lots of alternatives to Photoshop. The best Photoshop alternatives offer high-quality editing tools and typically cost way less than a standard Photoshop subscription.
In this post, we will look into some of the best alternatives to Photoshop to manage your photo editing needs.
Affinity Photo: the best Photoshop alternative overall
One of the strong points of Affinity Photo is that the platform already has an up and running iPad interface — while with Photoshop, it's still in its developing stages.
With that, while the app's design is geared towards iPad, Affinity Photo has lots of tools for mobile devices and Windows and Mac computers. Even if you are not a frequent iPad user, Affinity Photo may be a very good fit for you as it comes with one of the longest feature lists of all the Photoshop alternatives we will go over today. In fact, Affinity Photo and Photoshop have quite a lot in common. But there are also some notable differences:
First, you can purchase Affinity Photo for a lifetime for $50 — unlike with Photoshop, where you will need to sign up for a subscription and make recurring payments.
Second, as Affinity Photo is a newer program, it comes with a clean and more modern interface. A lot of users have compared using Affinity Photo to using a mobile app.
As Affinity Photo is competing directly with Photoshop, its developers have made sure that the software comes with much of the same functionality. Plus, Affinity Photo includes a set of advanced tools (photo merging for HDR composites, focus stacking, panoramas, layers, masking, and more).
GIMP: the best free alternative to Photoshop
You will find a good selection of free Photoshop lookalikes on the web. However, the open-source program GNU Image Manipulation Program (aka GIMP) is probably the closest option if you want to get access to more advanced tools.
GIMP is an open-source program, and it is free to use on macOS, Windows, and Linux.
It comes with some tools that are exactly like Photoshop's: layer editing, local adjustment, blemish correction, object removal, and more. This is a much better offer than you would typically get with free editing software, which makes GIMP the closest thing to Photoshop among free apps.
GIMP comes with a nice interface, but it is definitely not as polished as the one on Photoshop. However, it can also be a good thing as it won't feel as overwhelming as Photoshop's interface — especially for new users.
Note, however, that while GIMP does come with a very generous selection of features and tools, it still lacks a big chunk of Photoshop's functionality. For instance, you will get just one healing brush option (instead of four with Photoshop), and you won't have access to Photoshop's latest tools. Plus, GIMP may not be a strong enough option when it comes to graphic design — for example, CMYK support is not included.
Corel PaintShop Pro: the best alternative to Photoshop and Lightroom
If you are using Photoshop in tandem with Lightroom, Corel PaintShop Pro may be the best fit. The software is tied to AfterShotPro, which is basically a Lightroom alternative.
Corel is different from Photoshop in its pricing arrangement: it is available via a one-time payment and will be suitable for anyone wishing to escape Photoshop's subscription scheme.
Corel PaintShop Pro is an advanced photo editor. With that, it aims to make its interface beginner-friendly by introducing the Essentials panel. This makes the software very straightforward for new users — and when you are ready for more advanced functionality, it's easily accessible by simply switching to a different mode.
PaintShop Pro 2020 comes with a photography workspace and a set of tools designed specifically for a photo-editing workflow. You also get the refine brush option and a new content-aware clone tool.
While PaintShop Pro does come with a lot of similar functionality, it still can't beat Photoshop when it comes to content-aware adjustments, and you won't have access to tools like Face-Aware Liquify and Content-Aware Fill.
Note that PaintShop Pro is only available for Windows.
Pixelmator Pro: the best Photoshop alternative for easy use
Pixelmator Pro is MacOS-only software and is designed to make image editing easy for all.
Pixelmator Pro is not as powerful as Photoshop — but it's not a program only for beginners either. As the software has been designed specifically for macOS, Mac users will get to work with a very familiar interface. You will also get extra Mac features, like iCloud integration.
Pixelmator Pro is available via a one-time download and costs online $40 — which works out significantly cheaper than a Photoshop subscription.
Despite the pocket-friendly price tag, Pixelmator Pro comes with lots of photo editing functionality. You will get your basic tools like cropping, exposure adjustments, color correction, etc. Plus, there are also more advanced features on board: layers, brush tools, retouching tools, and more.
As Pixelmator Pro is a much newer app compared to Photoshop, it is regularly updated with new features. For instance, some of the latest additions include tools for upscaling photos and removing noise.
While Pixelmator Pro comes with lots of great functionality, it still falls behind Photoshop in some areas. For example, there is no support for GIFs, and it lacks the auto-align feature for merging HDR images and other cool time savers.
As you can see from above, Photoshop is not the only photo editor that can help you get things done. While Photoshop has a lot going for it, which explains its popularity, there are other options out there — especially if you are looking for a different payment arrangement.
Once you've found the photo editor that works best for you, you may discover that there is another problem to solve. Sending a set of professionally retouched photos to a client might be a challenge because usually, these files are quite large. This is why we recommend using FileWhopper. 
FileWhopper can help you send files and folders of any size online. It doesn't require syncing and won't ask you to compress your files, and you won't have to purchase a subscription.
Here's more:
If you are looking for alternatives to Photoshop because you don't want to commit to a subscription, you probably also want to avoid paying for a subscription when sharing files. With FileWhopper, you are in luck. The service won't ask you to subscribe — instead, it works on a pay-as-you-go basis. This means that you will only pay for what you want to send. Your fee is based on the size of your file or folder and is only paid once — no strings attached.
Another great thing about FileWhopper is that it doesn't set any limits as to the size of the file or folder you want to send. Even if you have a 10 TB folder with newly edited photos to send, you will be able to easily do it with FileWhopper, no questions asked.
[fwa-calculator]
If your FileWhopper transfer is interrupted — for example, if there is a connection problem — you don't have to worry. FileWhopper will simply pause the transfer until the connection is restored and then resume it from where it was paused. This way, you won't have to start uploading your file or folder from scratch and no data will be lost in the process.
FileWhopper uses zero-knowledge encryption to keep your data safe. Your transfer is also secured with a password, which can be generated automatically or set manually.
FileWhopper is very beginner-friendly. Even if you've never used a similar service before, you will be able to get things done in just a few simple steps. Plus, FileWhopper's lightweight app does most of the heavy lifting: all you need to do is download the app and follow the prompts. Once the transfer is done, the app will auto-delete.
So, we hope that you've been able to solve two things with this post: you've found some great Photoshop alternatives and an easy way to send very large files online. And there is just one more thing. If you need to transfer a file, you can test out FileWhopper right now: your first 5 GB transfer is totally free.