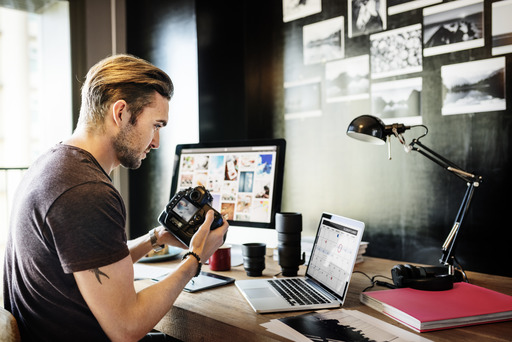 During your time as a digital content user, you have probably come across a variety of image file formats such as JPG, JPEG, PNG, BMP and others. The TIFF format is just another image file format in which you can take and share photos and images. It may be less popular than other file formats — but it's one of the most used formats in the graphics field.
If you want to learn more about the TIFF formats, you've come to the right place. In this article, we will go over the following frequently asked questions:
What is TIFF?
How to open TIFF files?
How to convert TIFF to JPG and other formats?
And how to send TIFF files over the web?
Let's start from the beginning.
What is a TIFF file?
TIFF is an image extension or format mainly used for high-resolution images. TIFF stands for Tagged Image File Format. This file format is mainly used for raster image extensions — but it is also occasionally used for vector images. This format is capable of delivering both lossy and lossless compression and can, thus, be used in multiple editing applications.
Originally, the TIFF was developed by the Aldus Corp. but was later bought over by Adobe. It's one of the most popular formats for graphic designers as it allows them to work with high-quality images.
How to open TIFF files?
If you work mostly with Windows, then you have probably been using the Microsoft Program to open other image files such as JPG or PNG. You can do the same when working with TIFF files and perform minor edits like cropping and drawing. Alternatively, you can use Microsoft Paint.
If you are an iOS user, you can use the Apple Photos app to work with TIFF files. Alternatively, you can also open and edit TIFF files with Apple Preview.
Now, if you want to get more functionality, you can work with TIFF files using Adobe Photoshop, Adobe Illustrator, Adobe Photoshop Elements and other similar programs.
What are the pros and cons of working with TIFF files?
Some of the key advantages of working with TIFF files include the following:
The format allows you to work with high-quality images.
The TIFF format supports lossless compression, which makes it perfect for editing images.
The TIFF format is supported across multiple platforms and programs.
The TIFF format is available for both 8-bit and 16-bit colors.
With the TIFF format, you can transfer data across platforms without losing resolution.
All of the above makes the TIFF format a very popular choice for graphic designers. However, there are also some cons that come with using TIFF:
The main con of working with TIFF files is their size. As there is no loss of quality with the TIFF format, the file you get at the end can be very big. As a result, you may have trouble finding a way to send it across the web. Stay tuned till the end of this article as we will share an efficient way to send very large files over the web.
The TIFF file format is not the best choice for the web as TIFF files require too much time to be sent and downloaded.
TIFF vs JPG, PNG and EPS
Now, let's see how TIFF files differ from other popular image formats.
TIFF vs JPG
The main difference between the JPG/JPEG formats and the TIFF format is that the former have more applications. This is one of the main reasons why the TIFF format is often converted to JPG/JPEG. On the other hand, the JPG format leads to the loss of quality as the image gets compressed. If you want to have your images in their original quality, you will do better using the TIFF format.
TIFF vs PNG
Both the TIFF and PNG formats are great options for working with complex images. However, PNG files are generally smaller than TIFF files and, thus, more suitable for the web. TIFF files, on the other hand, are the best option for professional use, scanning and printing.
TIFF vs EPS
EPS images are vector images. This makes them scalable to any size you might need. So, if you need to increase the physical size of the image to make it fit a banner, the image won't lose detail or become pixelated. The downside of the EPS file format is that it's a specialized vector image format that can only be opened with professional graphic design software. TIFF files, on the other hand, can be opened with both standard photo apps and specialized graphics software.
How to convert a TIFF image?
As we've mentioned earlier, TIFF images use lossless compression and can end up being quite large. The TIFF format is ideal for high-quality prints made for 300 dpi resolution art. However, this makes them very inconvenient for the web. JPG images, on the other hand, use lossy compression, which makes the end file smaller. If you want to convert a TIFF image into a JPG image, you can do this via Adobe:
Choose the file you want to convert.
Select Save As or go to File/Export/Save for Web (Legacy).
Next, in the JPG Options dialog box, make all the necessary selections.
Click OK.
Alternatively, you can use one of the many online tools to convert your TIFF image into JPG, JPEG or another format.
How to send a TIFF image?
As we keep saying throughout this article, TIFF files can get very large. So, how do you get a TIFF file across the web if you don't want to convert it or compress it and lose image quality?
FileWhopper is a good solution because it allows you to send files of any size fast and securely.
FileWhopper is a service for sending very large files online. And we mean really large — even if you have a 10 TB TIFF image folder to send, you can do it with FileWhopper.
Here are a few extra things that make FileWhopper a good image file sharing solution:
Unlike many cloud storage services such as OneDrive or Google Drive, FileWhopper won't ask you for a monthly subscription. So, you can transfer files and folders on a pay-as-you-go basis. This is a better option if you just need to make a one time large file transfer as you will avoid paying for an expensive cloud sharing subscription. Plus, you can choose who pays for the transfer: you can do it yourself or ask the recipient of the file or folder to make the payment.
Second, as we've already mentioned above, with FileWhopper you can send files and folders of any size — no limits. This makes it perfect for sending TIFF images, which tend to be very hefty.
FileWhopper uses zero-knowledge encryption — which is the highest form of data security available today. It means that no third party will ever be able to access your images.
FileWhopper is super simple to use. All you will need to do is download the tiny FileWhopper app and follow the prompts:
Choose the TIFF file you want to send and hold on as FileWhopper evaluates its size.
Get a quote for your transfer.
Use the FileWhopper app to send the file or folder fast.
Get a link to your transfer and share it with the recipient.
Your file will be protected with a password to ensure it transfers safely.
There are no complicated extras that will distract you as you use FileWhopper. And the learning curve is minimal.
While FileWhopper keeps it simple — there is extra functionality available on demand. For instance, you can add more recipients to your transfer or store data on FileWhopper's servers for longer.
FileWhopper makes sure your transfers aren't interrupted and keeps you safe from connection failures or blackouts. If anything like that should happen, your transfer will simply pause and then pick up right from where it left off when your connection is restored.
So, as you can see from above, FileWhopper offers a very efficient way to send large TIFF files that doesn't require conversion or compression.
But you don't have to simply believe us — the best way to go about it is try out the service for yourself. And here's the best part — your first 5GB transfer is absolutely free.