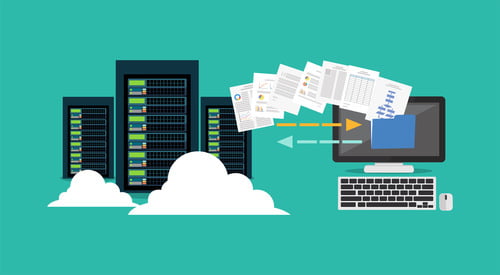 The age we live in is witnessing the increased demand for digital transformation. There are several reasons for this. For starters, the current situation, which has forced the entire world to go into a lockdown, has served as a wake-up call to all industries. Everyone sees that companies in the digital world continue to function well during this period.
There are various advantages of digital transformation , including how hybrid architectures and strategies manage to bring together resources from multiple sources and vendors. Moreover, digital transformation can help keep better control over the utilization of resources and scalability. Hybrid and multi-cloud systems are mainly used to diminish vendor lock-in and offer enhanced opportunities and better scalability. There are many other benefits when it comes to the implementation of these architectures. In this article, we will go through their fundamental characteristics and challenges. Moreover, the article will outline how to build a foolproof cloud migration strategy in 2020.
What Is New in Hybrid Migration?
A hybrid cloud is a combination of a public cloud and an on-premises framework. Hybrid architecture continues to grow in popularity due to the benefits that it brings to companies. For starters, the framework gives companies access to cloud-based resources via on-premises infrastructure, allowing them to manage high-priority workflows and data. There are plenty of combinations that one can use when it comes to building hybrid architecture. Regardless of the one you find the most convenient, there are always common traits that appear in all hybrid clouds, such as:
Data Integration – information and workflows are kept in sync across infrastructures and public clouds. To accomplish this, companies need to employ additional solutions to gain control over timing and data transfer.
Network Connections – the infrastructures involved are connected through networks. Often, the process involves connection via various internet networks, VPNs, and WANs.
Unified Management – to enable the standard and uniform deployment of policies and configurations, management tools are integrated through APIs.
Hybrid Cloud Migration Challenges
In business, to foresee obstacles is a skill that can lead a company to greatness. Therefore, you shouldn't expect a smooth move to a hybrid cloud as there are always associated challenges that you will have to overcome. Among various issues, the following are the three commonly faced that you should take note of.
Legacy Applications
These are the common obstacles to any business in cloud migration. Legacy applications are of critical use as they affect the fundamental operations of a company. However, the challenge is that they are not always compatible with cloud infrastructure. Therefore, it makes it difficult to migrate applications. Moreover, with these applications, one of the main benefits of cloud migration becomes ineffective as the company won't be able to obtain scalability.
Support for legacy applications is provided by hybrid clouds given that applications can be left in the on-premises system. Regardless, there is a need to harness data access and integrate applications with cloud-based workflows. Dominating cloud service providers offer assistance in providing legacy applications with access to the same data using common file protocols, such as NFS.
The Implementation of Multicloud Architecture
With the use of cloud services from multiple suppliers, an obstacle is created for hybrid clouds. Multicloud strategies are used in an attempt to optimize the provision of services that are orchestrated to match your needs and budget. Unfortunately, the services do not intertwine well, thus leading to a more complex nature when attempting to monitor and orchestrate things. A multi-cloud strategy combined with a hybrid cloud system usually demands that you utilize various control portals, sync APIs, and conform to fluctuating performance. To achieve this, the company needs staff members that have in-depth knowledge concerning each vendor and expertise to integrate services as efficiently and effectively as possible.
Regulatory Requirements
As the data is distributed across various services and systems, compliance can be an issue. With that said, some of the facets related to compliance can be made easier by hybrid clouds. For instance, keeping some of the data, especially sensitive data, within the premises delivers better control and enhanced security.
Although hybrid cloud services make it easier to meet regulatory requirements, the ball to align the settings of these services correctly remains in your company's court. Moreover, it is up to the company to ensure that their compliance needs are met during the application of these services. For instance, data locality can be restricted by some regulations, thus making it difficult to control data in a distributed cloud. Therefore, to ensure that all facets of your infrastructure comply with the regulatory requirements, you must acquire significant expertise.
How to Prepare for Hybrid Cloud Migration – Tips & Tricks
Despite the challenges of migrating to a cloud being quite visible, your migration can still be flawless. Using these tips and tricks, you can achieve a smooth migration process.
Utilize Pipelines
Pipelines help you to concentrate and narrow your vision towards the end target. With pipelines, you can monitor and control the migration process. These tools can help you standardize migration procedures and enhance workloads delivery.
Employ Automation
Automating the migration process will help reduce manual workload. Moreover, this can also help ensure that the use of resources is kept at a minimal level and configurations remain consistent across frameworks throughout the course. Combined with pipelines, automation can assist in rolling out alterations to the environment and services while having a minimal effect on the workload.
Develop Templates
Templates can function like guidelines in these circumstances. Using templates, you can define how you want your system configured and guarantee that these guidelines are followed. With templates, it is easy to delegate tasks and explain things. You can achieve this by assigning your most experienced workers to develop templates to be used by junior or less experienced staff members.
Migrate in Stages
Setting minor goals to achieve a significant one has proven effective in the business industry. One of the major advantages of hybrid cloud migration is that it is possible to migrate in stages while you keep productivity going. Migrating in stages ensures that there is no excess pressure on the workforce and deadlines can be set and met accordingly. This strategy also helps you to refine the completed migration stages on the go.
Analyze Applications
Not all of your applications need to be migrated. Some of the legacy applications are best kept on-premises, with others better migrated or even replaced. While making these decisions, one needs to analyze each of their applications to understand its functionality and architecture. Upon completing the analysis, one can then conclude which applications need to be migrated and what measures should be taken to guarantee smooth migration.
Follow Your Goals
The main objective behind migrating to a hybrid cloud is to accomplish your company goals. It does your business no good if the migration process is not going to help you achieve your business goals and objectives. Moreover, to migrate workloads together with data for the sake of following the trend is no use and, at most, a waste of time. Therefore, migrating to a hybrid cloud should add value to your business. Thus, you must ensure that your migration goals and objectives go hand in hand with your capabilities. You can achieve this by including stakeholders and executive-level members in the planning stage.
Prioritize Migration
What complements the strategy of migrating in stages is the ability to prioritize migration. The whole concept of this trick is to avoid moving things in a jumbled manner with no direction. Otherwise, it will disturb your workflow, making the whole process extremely difficult. Therefore, it becomes essential to determine which data assets and applications should be moved before determining the priority of asset migration.
The best way to prioritize migration is to begin with small workloads that do not take a lot of time or resources. This will help you test your migration strategy and align settings properly before moving on to bigger workloads. Starting small minimizes the risk of a huge impact when something goes wrong during the migration process.
Test Configurations
You need to test whether the migrated data and applications are functioning properly. This measure should be conducted throughout the migration process. Periodic testing should also be applied after the process has been completed to ensure that everything is functioning properly. Testing data and applications during the migration process minimizes the risk of starting the whole process afresh when you realize that data is corrupt or interfaces are not working properly after completing your migration.
With periodic testing, you ensure that your configuration remains the same and identify issues that might have been missed during the configuration testing. Moreover, periodic testing can assist in enhancing your hybrid cloud performance.
Verdict
If you need control over your computing resources and want to diminish vendor lock-in, a hybrid cloud is the best pill for your company. With that said, you should take note of the difficulties and challenges that come attached to hybrid migration due to legacy applications and regulatory requirements. Although these are real obstacles, it doesn't mean you can't create a unique hybrid cloud. By applying these tips and tricks, you can achieve effective hybrid cloud migration.
Get the Most Out of FileWhopper When Transferring Extremely Large Files
Are you in search of a flexible, trustworthy, and affordable way to transfer extremely large files and folders online? Meet FileWhopper, a platform developed by a Microsoft partner to deliver unique services to those seeking a fast and secure means of transferring large files and folders online. The platform presents a sleek design that makes it easy for first-timers to get a grip. Users can upload a file or folder of up to 10 TB in size at one go. The site also features a price scale that gives you the approximate price of sending a particular amount of data. You can also take advantage of the site's current running promotion that lets newcomers send their first 5GB of data for free. The uploaded file or folder is protected using high-end encryption technology. Moreover, it is password-protected for enhanced security. The FileWhopper client app is used for security reasons and allows you to quickly upload large files and folders. It deletes itself when the task is complete, leaving no traces on your device. With FileWhopper, your uploaded file or folder is stored and remains active for download for the intended recipient(s) for 14 days. The period can be extended upon request. Here is how the system works:
✔️ Select the file or folder you wish to share and instantly receive a price quote.
✔️ Download and install the tiny FileWhopper app to upload your file or folder in a fast and secure manner.
✔️ Copy the link to the uploaded data and the password that has been provided by the app and safely share them with the intended recipient(s).